Rediscovering Penang with BlogFest Asia 2010!
Recently I had attended BlogFest Asia 2010 held in Penang, Malaysia and I had a chance to rediscover Penang. Yes, I used the word rediscover because I am Penangnite and there are many heritage places that I have never visited before.
How irony! Many people always wanted to go overseas trip but know little about the attractions in their own hometowns.
So, I registered myself for the Penang Heritage Tour, co-organised by BlogFest Asia 2010 & Ministry of Tourism Malaysia. A Penangnite going for a Penang Heritage Tour. I might become the laughing stock but I know this is a good chance for me to learn about Penang.
We started off by gathering at Wawasan Open University. There were about 35++ people registered in this trip. We have people coming from Cambodia, Myanmar, Vietnam Indonesia Taiwan, Hongkong, Singapore, United States and also several other Penangnites and Malaysians.
The first stop we went was Chew Jetty. One of the well-preserved jetties in Penang. These jetties are the 1st stop that most Chinese immigrants that came to Penang last time before being segragrated to other jetties based on their surnames.
The entrance of Chew Jetty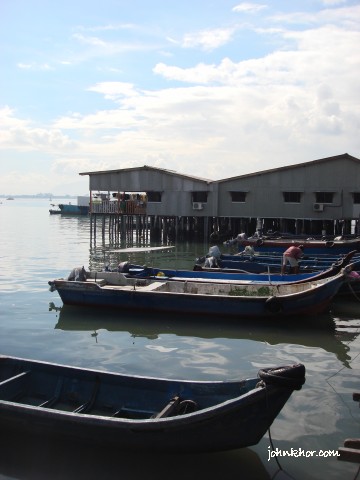 Boats used to transport goods. A means of living for the people.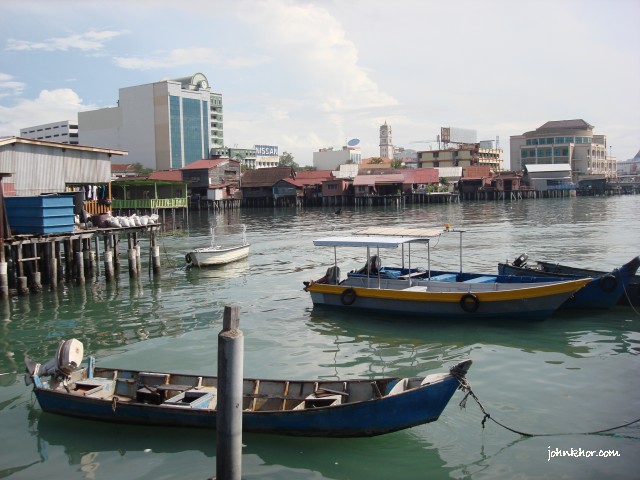 How irony Penang is… Advanced yet still backwater.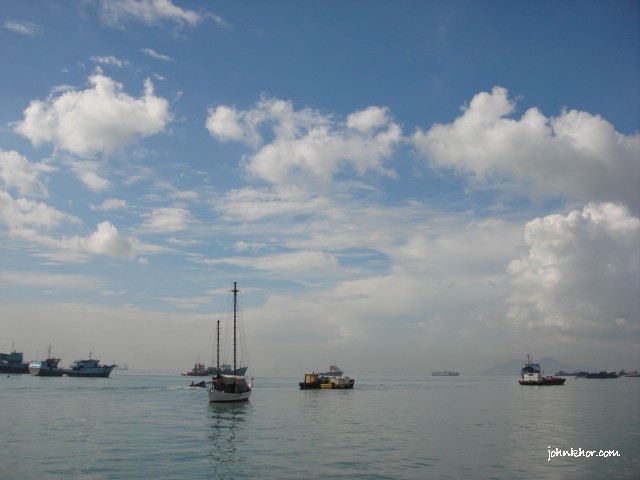 It's very beautiful. You can see Penang Bridge & Penang Mainland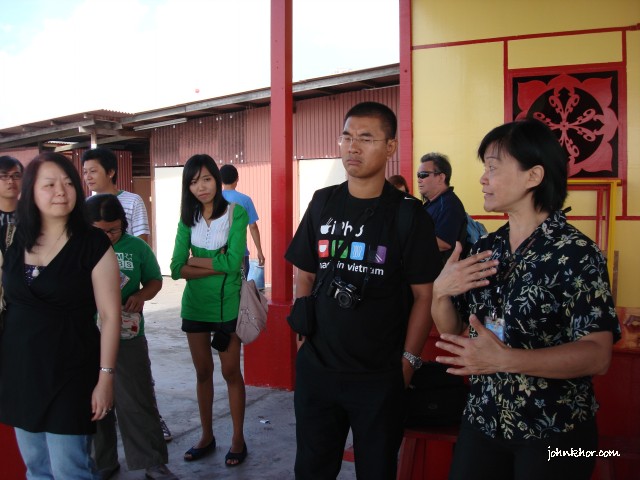 Many people are enjoying the seaview until not listening to our tour guide.
The houses at the jetties are built on top of the seabed with stilts and connected with wooden walkway. And mind you, they are very strong even after so many years!
Next, we went to the Blue Mansion. My fellow Cambodian and Vietnamese people asked me, what is Blue Mansion? With a blank face, I replied, "I am sorry. I also don't know." How embarrassing! I vowed to learn more about Penang next time.
Entrance of Cheong Fatt Sze Mansion.
Do you realise how big is the mansion?
Actually Blue Mansion is referring to Cheong Fatt Sze mansion, located at Leith Street. This mansion was built by Cheong Fatt Sze, the Rockefeller of the East. He was a very powerful and successful Hakka businessman.
It is said that the whole house's qi comes from the area between two small pillars. You will have a sense of warmness in the early morning when you stand at the area.
Potrait of Cheong Fatt Sze, the legendary Hakka businssman.
There were only 3 with this kind of architecture outside of China and we have one in Penang. How could I not know about it? I totally failed as a Penangnite. Never mind, failure is the mother of success right?
This mansion is said to be feng shui perfect and inside the mansion there are so many feng shui elements in it. So happy to be able to see the ancient China architecture in Penang. Our tour guide did a very good job by explaining everything about this mansion and also the history of this great businessman.
Everyone is enjoying our tour guide's explaination.
The Blue Mansion used quality steels from England last time which is inaccesible to the laymen due to the high price.
The Courtyard of the Blue Mansion.
Front view of Cheong Fatt Sze Mansion.
After that, we went to Leong San Tong Khoo Kongsi, the most beautiful clanhouse in the  whole of Malaysia and some say in the whole of South East Asia. This is the 2nd time they build the clanhouse after being burnt down by mysterious forces. Legend has it  that the Khoos built it way too grand and majestic than God himself, that God sent a lightning to burn down the clanhouse. Anyhow, the Khoos finally rebuilt it in simpler form. My my, if the current clanhouse was the simpler form of the previous clanhouse, imagine the 1st time they built. That's what our tour guide told us.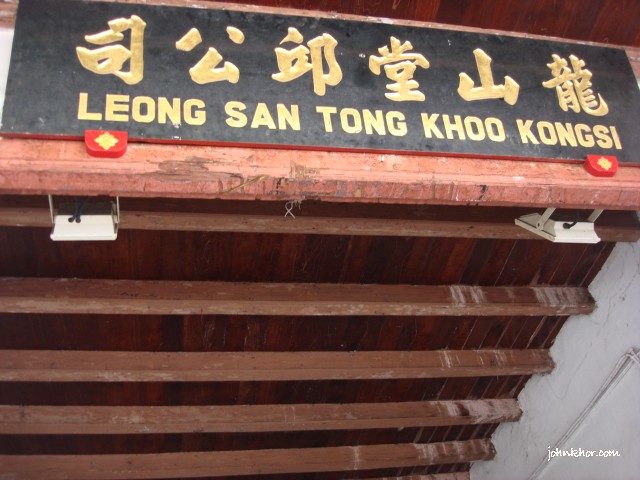 The entrance of Leong San Tong Khoo Kongsi.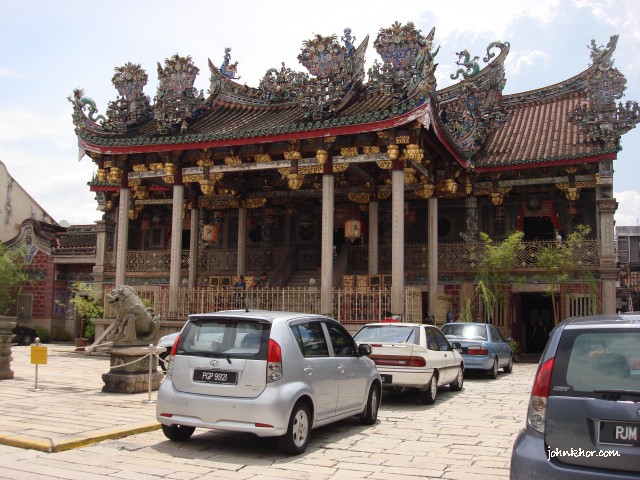 The front view of Khoo Kongsi.
The opera house of Khoo Kongsi.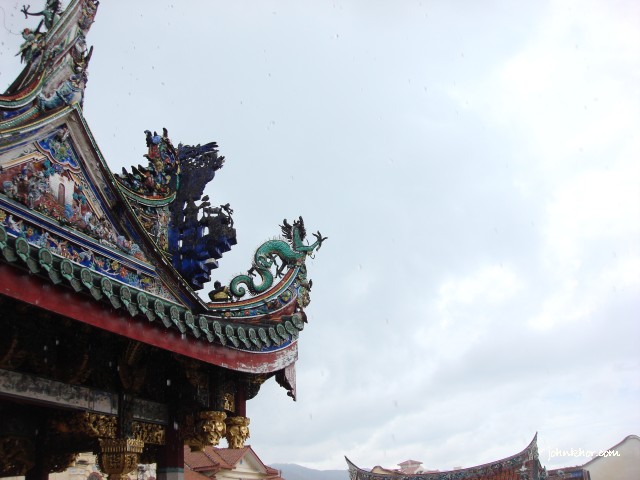 View from Khoo Kongsi.
It was around 130pm++ and my stomach was growling and we were treated by Ministry of Tourism Malaysia for a free lunch at New World Park. We ordered all kinds of Penang famous delicacies and let our visitors to try out the flavors of Penang.
In our table, we have Cambodians, Hongkongese & Taiwanese. They had great time sampling our Ice Kacang, Curry Mee, Char Koay Teow, Laksa, Chai Kuih, Tom Yam Maggi and Hokkien Mee. One tip if you are hosting people from Taiwan or Hong Kong, they cannot really take too spicy food. The poor Taiwanese was burning hot when he drank the tom yam soup. Poor guy!
Lastly, we went to a local products shop to buy the local foods like the Tambun biscuit, nutmegs and etc. The visitors bought some of the stuffs and we left.
That sums up my half day tour around Penang. I am very happy and many thanks for BlogFest Asia and Ministry of Tourism Malaysia for organising such a great and informative trip about Penang!
All I can say about Penang is that it's a fusion of many different cultures and ethnics. You can get to taste, feel and see many aspects of Asian cultures here and also some British influences here. As I usually joke with my international friends, "Come to Penang and you can almost see every cultures of Asia without even going to the Asian countries yet." That's my Penang.
Proud to be a Penangnite.
More posts will come for BlogFest Asia 2010!
More information about BlogFest Asia 2010, click here.
More information about Ministry of Tourism Malaysia, click here.