Penang Hill Funicular Train will resume in mid March 2011?
Is is true? I really hope so. Don't want to sit on the $X$(4X4) jeeps to go up to Penang Hill.  It costs between RM70 to RM90 per jeep per two-way trip to Penang Hill., 830am – 7pm. I missed my ride in the funicular train. 🙁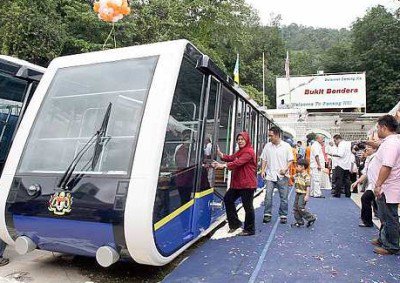 New Swiss-made coaches to replace the old Penang Hill's funicular trains.
Penang Hill's funicular train stopped its service on February 22 2010 for a RM68.8mil upgrade process. It is said that it will complete in 7 months but it seems that it will take longer.
Now the latest claim is that the new Penang Hill's funicular train will resume in mid March 2011. Can't wait for the fresh air on top of the Penang Hill.
The upgraded system will travel non-stop and will not require passengers to change trains half way up or down. And there will be air-conditioned coaches. It will take only 10 minutes (it takes 30 minutes previously) to travel from base station to hilltop station and vice versa. The new coaches will be able to carry 50 passengers each. Still there are no news about the ticket prices for the Penang Hill's funicular train ride.
Welcome back Penang Hill! I LOVE PENANG! PENANG ROCKS!
Any news update about Penang Hill's Funicular Train, please comment!
Before that, let's look at theStar's report about Penang Hill's new funicular train.
What's your say?
*UPDATE: Penang Hill's Funicular Train is open for public already and the tickets for the ride to Penang Hill is RM4.00 for adults and RM2.00 for children. I am not sure about the price for foreigners but I believe it won't be very expensive. 🙂 Go enjoy the fresh air on top of Penang Hill and stop staring at computer all day long! 😛