Ninetology U9 Series & Social Urbanite Launching @ 1881 Chong Tian Hotel!!!
*Disclaimer: I am really sorry for all the low quality photos. I didn't bring my DSLR that day. All photos are captured using my handphone which is my Samsung Galaxy Note 2. Not a good low light camera… Huhu 🙁
Da happy face!!!
It is not always that there is phone launches in Penang and johnkhor.com is so happy that Ninetology will be launching their U9 Quadcore series in Penang. A lot of phone launches and technology-related events are usually in Kuala Lumpur, the heart of Malaysia and due to distance and cost related problems, johnkhor.com seldom get to these events. So, johnkhor.com is so happy to get to attend to this Ninetology U9 series launching. 🙂
Ninetology is actually the ASEAN Mobile Device Technology Company founded on March 1, 2012. People behind Ninetology are very well-versed with the latest mobile internet solutions and determine to provide extensive and outstanding performance on par with global technology progression and renowned international standards.
Ninetology has a big vision to be the nation's largest mobile technology provider with massive range of products and promising exceptional quality products.
The U9 series; X1,Z1 and Z1+ are Android-powered smartphones built around lifestyle and communication needs. The phones are trendy, affordable and looks very stylish too. Striving to meet the users' requirement of speed, precision and high levels of engagement, the new U9 series are powered by Android 4.2 with MediaTek's Quad-core MT6589 chipsets inside which makes a good smartphone with reasonable price.
The U9 smartphones are slim and light (X1, 10mm, 160g; Z1, 9.3mm, 191g; Z1+, 9mm, 158g) using Corning's Gorilla Glass 2 (Z1 and Z1+).The display screens range from 4.8 to 5.7 inches with 309 ppi and 1280 x 720 super AMOLED HD.12 and 13 megapixel rear cameras are exactly what I am looking for in a phone. I like phones with big screens and high in megapixel to take good pictures. U9 smartphones also offer a 'Dual Camera' function allowing simultaneous use of both front and rear cameras which comes in handy for girls these days to take self pics alone and with friends.
U9X1 is priced at RM1,099, U9Z1 is priced at RM1,199 and U9Z1+ is priced at RM1,299. The price is rather competitive considering the specs given. 🙂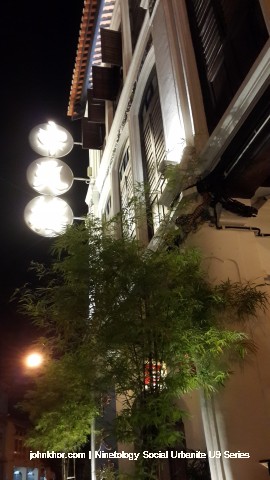 The entrance. Too bad my phone can't capture the beauty of this boutique hotel. 🙁
The place that Ninetology selects for its U9 series phones launch is a rather classy and antique and has strong heritage feel to it. As you enter 1881 Chong Tian Hotel, you feel that you have been transported to ancient China just like what you see in the TV dramas. Lots of antiques and decorations that makes you feel you are China.
When johnkhor.com walks into 1881 Chong Tian Hotel, I am greeted with the registration counter. I am given a Balinese soap with flavours to choose for. And after that, I am asked to take a photo at a designated spot for my participation as Ninetology Social Urbanite. After that, I am asked to share the videos in my Facebook and I will be given a power bank. How nice of them. 🙂 I have always wanted to get a power bank but just didn't find the right one and now I have got it. God never fails to provide. Amen. 🙂
Lots of soaps for you to choose from. 🙂
Share videos of Ninetology U9 Series and you will get a powerbank! How easy was it! 🙂
The beautiful power bank. 4200mAh of juice.
We get to enjoy good food with free flow of wine. The boss of Ninetology is rather generous with his/her giving. 🙂 A rather exquisite dining and phone launching experience. 🙂 It is a 7-course dinner.
How classy and Chineseee!!! 🙂
Chong Tian Hot Combination
Braised Shark's Fin with Dry Scallop and Crabmeat
Fried Special Longevity Pork Ribs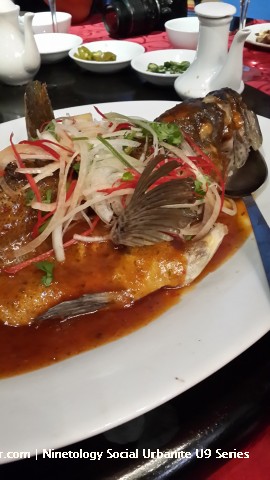 Steamed Grouper with Soy Sauce
Braised Fish Maw with Fresh Mushroom
King Prawns in Noodle Soup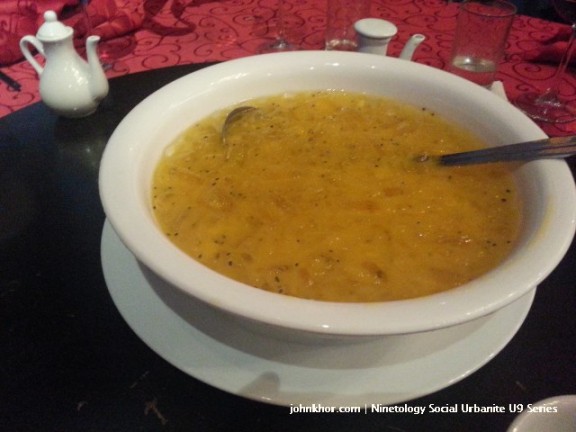 Chilled Fresh Mango with Pomelo
While enjoying our dinner, the MC of the day, Mr Lau Yee, yes, you didn't read wrongly. Hehe 😛 invited the Leslie Loh to introduce us about Ninetology.
MC Lauyee warming up the crowd!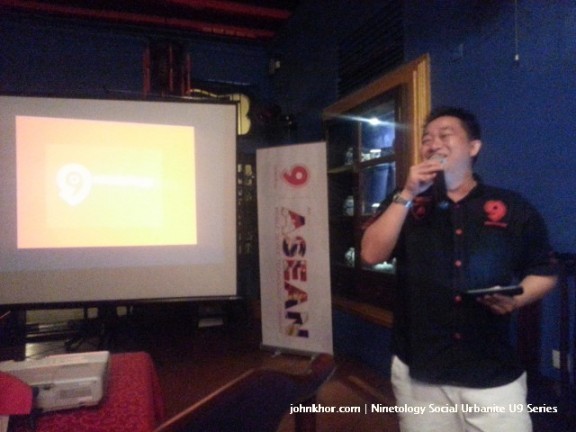 Leslie Loh sharing about Ninetology Malaysia!
Next, Mr Leslie Loh is feeling happy and generous that he throws in a U9X1 as a prize for a quiz game. It started with the table with the most correct answers and after that the people in the winning table will have to answer a question and he/she will win the phone! Imagine how easy is that! And we have a lucky winner that night who answered Z Chen as the brand ambassador for U9 series.
Johnny Tan, the winner of  quiz session, gets a U9X1.
After that, those invited were appointed as Ninetology's Social Urbanites to suit the energy and spirit of Ninetology U9 Series. johnkhor.com is proud to be their Social Urbanite. 😉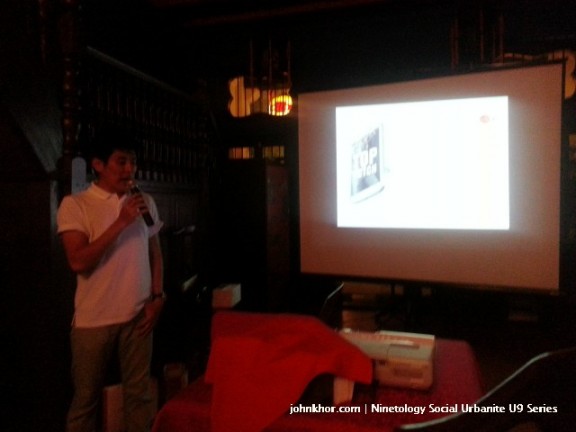 Vin Lim explaining about Ninetology marketng campaign called Social Urbanite and Ninetology lastest phones, U9 Series.
And we are also asked to post with U9 phones and the most creative photo will win a U9Z1. How awesome and easy is that! 😛 Too bad johnkhor.com is not that creative and didn't win that night. However, this beautiful and sexy model wins the phone in this contest. Congratulations. 🙂
Winner of Most Creative Photo contest: Jialin Tye (U9Z1).
With that, the MC wraps up the event and thanking us for supporting their event and our attendance. johnkhor.com had a good time there while learning about their latest phone, great food and great hangout with other bloggers too. 🙂
And of ya, my blogger friend, David Lee won U9Z1+ phone for the lucky draw. Congratulations!
Winner of lucky draw: David Lee. One brand new U9Z1+.
Check out Ninetology's Social Urbanite's website here and also my handsome face in their website. 🙂