[SPONSORED POST] Talent Corp SFCF 2013 @ Dewan Utama Pelajar, Univeristy Science Malaysia Penang!!!
Last Sunday, johnkhor.com was invited by Nuffnang to cover an important organised by Talent Corporation Malaysia Berhad (TalentCorp) called SFCF. For those of you who doesn't know what is SFCF, SFCF means Sector Focused Career Fair. TalentCorp has successfully organised several SFCF around Malaysia and this time, TalentCorp is partnering with University Science Malaysia to focus on science, social sciences and healthcare sectors. It is obvious right since University Science Malaysia's name shows that USM is rather focused on science related sectors. The main difference of SFCF and other careers is that SFCF is focused on the 11 National Key Economic Areas (NKEA) namely, Oil & Gas, Electronics & Electrical, IT, Telecommunication, Biotechnology, Finance, Accounting, Healthcare, Tourism, FMCG and Education.
This is a very successful booth by TalentCorp which let visitors play quiz related to industry career and the person who managed to answer all questions correctly and with the fastest time will win an iPad. How awesome is that!!! 🙂
Butter from www.kayabuttertoast.com is trying her luck at the ICQ. 🙂
SFCF USM Oct 2013 was held for two days, from 5th Oct 2013 to 6th Oct 2013, 10:00AM to 6:00PM at Dewan Utama Pelajar, USM. It is very easy to locate. If you are entering from Jalan Bukit Gambir, the Dewan Utama Pelajar is at your left. johnkhor.com is studying part time degree course in USM and Dewan Utama Pelajar is a scary place because all the examination are taken here. 🙂 Thank God that this is I am here is to cover this event. 🙂
There are total of 32 companies ranging from Alliance Malaysia Berhad, PadiBeras Nasional Berhad, BP Healthcare Group, DNP Clothing Sdn Bhd, Frost and Sullivan, Hovid Berhad, Mattel (Malaysia) Sdn Bhd, Hoya Electronics Malaysia Sdn Bhd, Pfizer, Southern Steel, Telekom Malaysia Berhad and surprise surprise, WWF Malaysia too. 🙂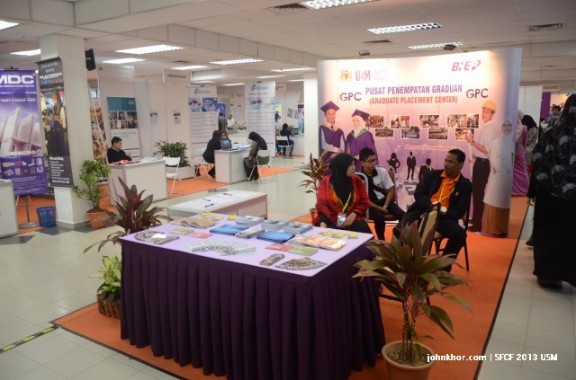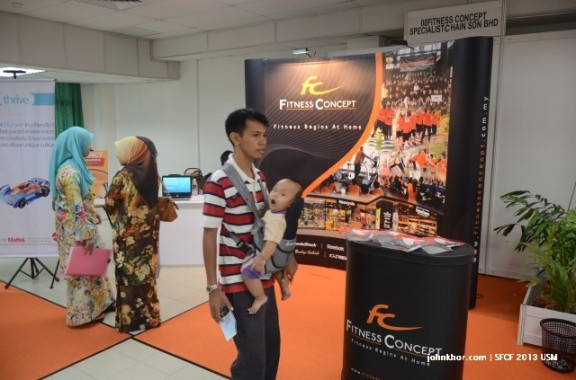 Even Fitness Concept is here. Didn't expect to see it here. Good thing for those who are fitness buff. 🙂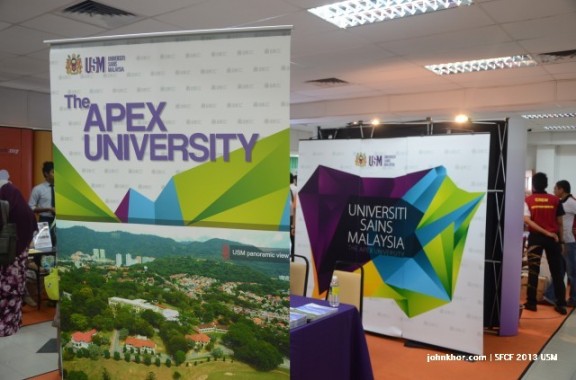 My University. 🙂
And WWF!!! Haha… Didn't expect to see this also. Good thing that they are recruiting great people to join them so that the initiative will continue.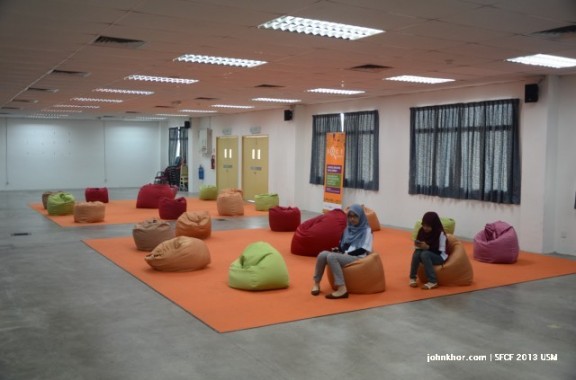 On the first floor of Dewan Utama Pelajar, they have a Couch Corner Slot with comfy bean bags for a more relaxed discussion between visitors and employees from participating companies.
Everyone is listening intently to the Career Talk given.
There is also career talk by invited speakers. I managed to get to listen to En. Mohd Redzuan Mohd Sofian, the Senior Vice President of Business Eco System Division from IRDA. He shared about the Talent Landscape in Iskandar Malaysia.
Overall, I find that graduates are luckier these days because there are so many initiatives done by government to help graduates to find and match their skills with the correct or appropriate career. Undergraduates who are unsure about their career path or the working environment get to talk to the senior personnel from the participating companies to get their opinion and experience sharing.
In case if you have missed this opportunity or wish to keep updated with SFCF or related events from TalentCorp, do visit www.talentcorp.com.my or like their Facebook page to receive updates about SFCF at www.facebook.com/SectorFocusedCareerFairSFCF