[Invited Review] Heaven Gate Penang New Menu Tasting @ King Street!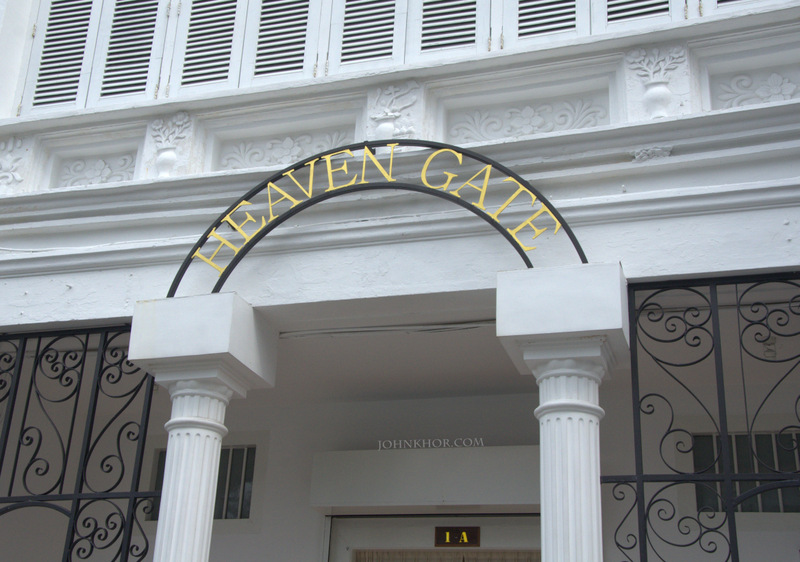 A new fine dining restaurant is opening in Penang and it is in the heart of Georgetown. When we think about fine dining, we usually think of Mansion 32, Suffolk House, Cassis and now we have Heaven Gate. Heaven Gate has been getting rave reviews from food bloggers and also their customers as well for their specialty dishes and affordable prices.
Getting there is not easy as many can be confused with its location. Turn right to Bishop Street if you are coming from Jalan Masjid Kapitan Keling and the Penang Chinese Town Hall is on your left and vice versa. After that, turn left on the first junction that you see. That is King Street. Drive along the street and you will notice a beautiful gate on your right. That is Heaven Gate. It is situated along The Sire Museum.
The white color decoration gives a feeling of purity.
Upon stepping into Heaven Gate, you greeted with a lot of Greek designs.
Yup, I know that I am half way to heaven already. 🙂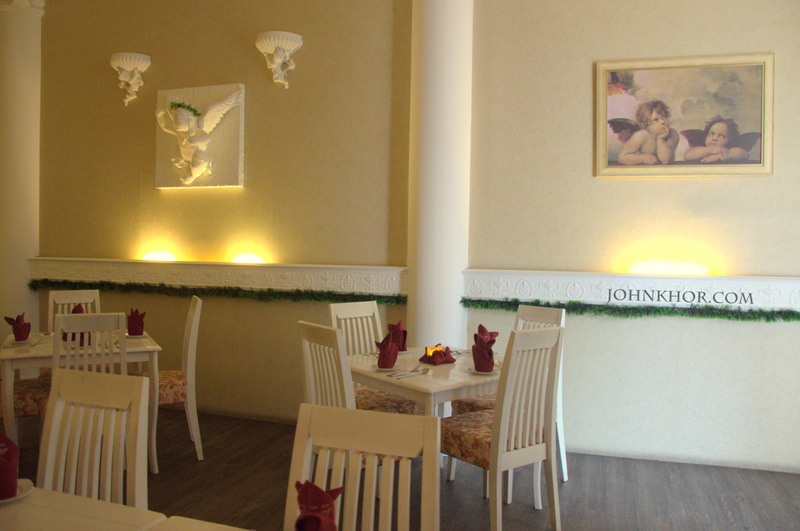 Heaven Gate is a really good place just to chill, or for family and friends outing and also for couples dating or for celebrating special occasions. The atmosphere itself speaks volume. 🙂 I wish to bring my wife there one day. 🙂
Today, we are here to review their new menu. The chef explains to us that the way they cook their dishes is using classical cooking whereby the chef can have the freedom to change the dishes taste according to your request and also depending on the quality of the ingredients that they get, unlike other restaurants that uses instant ingredients that give out almost the same taste. The chef fuses classical cooking with their own creativity to spice up the dishes that they cook. Besides that, most of the fine dining restaurants that I have tried before give out small portion but here in Heaven Gate, they give bigger portion. And for those who are health-conscious, they don't use MSG and retains the originality of the dishes. With that explanation, I have high expectation for Heaven Gate.
Cream of Pumpkin Soup RM10,90.
We are starting with appetizers first. The pumpkin soup is awesome with its creamy and smooth taste. Combined with the crispy garlic bread, it is a very good way to start your meal. The crunchiness of garlic bread and the smoothness of the pumpkin soup leave me wanting for more.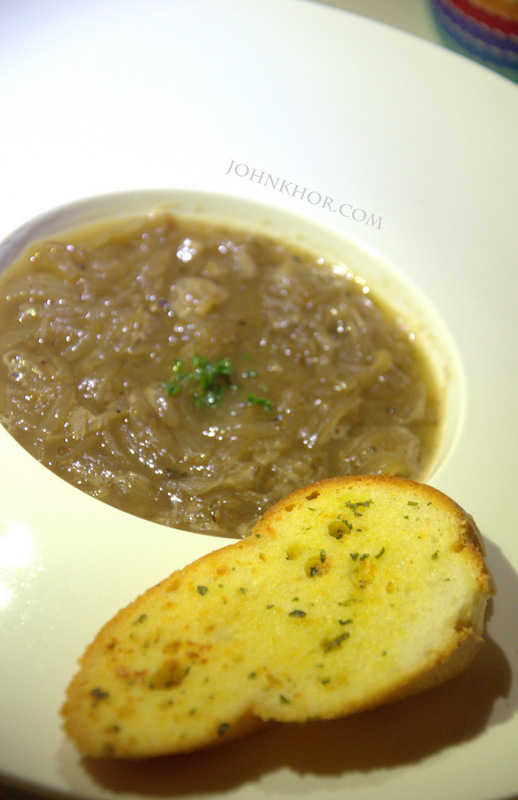 Classic Onion Clear Soup RM8.90.
For those who prefer something less creamy and full, you can try their Classic Onion Clear Soup. The mixed herbs in this soup really jump starts your stomach for the main course. The soup is very aromatic and pungent with oregano and thyme. 🙂
King Prawn Grilled Chicken RM38.00.
What impressed me is the creativity of the food that Heaven Gate prepares. Here, we have king prawn wrapped inside a big portion of chicken and baked in oven. This makes the chicken essence and the prawn essence are mixed together creating a different kind of flavor for both the chicken and prawn. After that, the chicken is then grilled slowly together with the herbs and gravy to ensure that the chicken is not overly cooked or the prawn is too raw. A specialty of Heaven Gate and a must try! Seldom do I see fusion food been executed so well and tasted so good!
Lamb Shank RM68.00
This Lamb Shank created rave reviews among the bloggers who attended the review. Unlike most lambs that I have tasted, the meat of the lamb shank is so tender, easily cut and chew.  The secret to this kind of Lamb Shank lies in the preparation. The lamb shank has been cooked slowly for 4 hours. And they use their own stocks and sauces and not the instant stock cubes or sauces, hence the extra flavor for the lamb shank. Kudos to the chef for preparing for such a great Lamb Shank. Lamb lovers, you know where to go if you have the craving for lamb right? 😛
Laksa Pesto RM24.00.
If you are on a date, you will definitely be able to make a good impression on your date by ordering this dish. This is another of Heaven Gate specialty. A very well executed fusion food of laksa (our local dish with rice noodles and fish gravy) and spaghetti. It is very rich in flavor of coconut milk, laksa leaves, laksa flavor and chopped fine fish. The laksa flower gives the dish a very fragrant smell. Overall, the taste is good although the name of the dish will scare away some people. Do give this a try. 🙂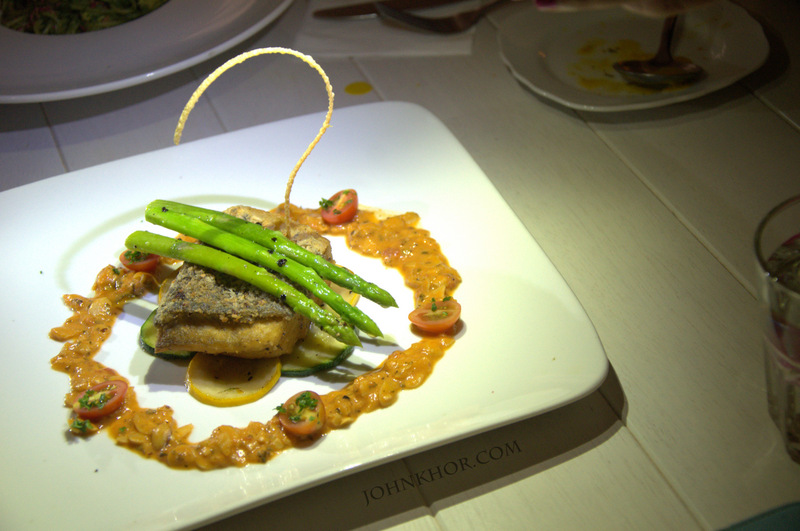 Crispy Baked Sea Bass served with Cream of Almond Sauce RM38.00.
Alright, at this point, I might sound that I am trying hard to push this Heaven Gate to all my readers but if I am alone in saying these food are good, then I might be biased but this dish also received rave reviews among the bloggers there. The skin of the sea bass is very crispy and the meat is very fresh and well cooked. The almond sauce is kind of new for me but it turns out good together with the sea bass. My photo does no justice to the size of the sea bass. It is really kind of big. And the boss told me that the seafood is bought daily fresh from the market and chosen by himself to guarantee the freshness of its seafood. Give this a try if you are fish lovers, you will not be disappointed unless the chef is moody when he cooks this dish. 😛
Miso Cod Fish with Butter Tomato Sauce RM78.00.
One of the highlight of this cod fish is the size of it. Usually, most restaurants will give you around 100-120 gram of cod fish but not Heaven Gate. You can see from the photo already the size of the cod fish. It is around 200-220 grams per dish. How awesome is that! 🙂 It is marinated with miso paste, sake and mirin. The butter tomato sauce goes well with the cod fish although you can also enjoy the cod fish without the sauce. It is that nice and yummy. 🙂
Panna Cota RM12.90.
After we have done with main courses, it is time for desserts to sweeten our taste buds. 🙂 This Panna Cota does not give the usual feel of jelly but much more smoother and feels very nice to swallow. 😛 The strawberry is sweet surprisingly as for most of the time, the strawberry is rather sourish. 🙂
Marble Cheese Cake RM12.90.
I am a big fan of marble cheesecake. Something that is not too heavy or too sweet but just nice. One marble cheesecake that makes an impression on me is Secret Recipe's and nothing else. This one is on par with that. Creamy and cheesy. You must take this together with the chocolate biscuit. It is a combination of chocolate and cornflakes. This desserts WINS! 🙂
Creme Brulee RM10,90.
The creme brulee is good and the egg layer is not watery and tasted like concentrated whipped cream which is good as I like that. 🙂
Overall, Heaven Gate is definitely a very good addition to the ever-few selection of fine dining available in Penang. Its affordable price and the bigger portion of its serving will definitely be well received by its customers and potential customers. 🙂 The ambiance of the restaurant is very good and the service of the staffs is good too. The manager and the boss themselves are very humble and on a side note, the boss is handsome as I am told by the female bloggers. 😛 They are able to take the feedback from us very gracefully. 🙂
contact information
Heaven Gate
1A, King Street 10220 Georgetown Penang.
Contact No: 012-488 5979.
Email Add: hgate.pg@gmail.com
Facebook Page: Heaven Gate FB
business hour
Mondays – Thursdays
12pm-3pm (Lunch)
6pm-12am (Dinner + Chill Time)
Fridays – Sundays
12pm-12am (Lunch + Tea Time + Dinner + Chill Time)