Hungry Go Where Malaysia (HGW MY) Penang Food Trail 2013!
Hungry Go Where (HGW) is one of the Singapore's most popular food website and and famous for its mobile app. It is supported by SingTel Digital Media Pte. Ltd. (Singapore). HGW has been making entry into the Malaysian food scene with the launching of its HGW Malaysia mobile app and The Longest Line of Nasi Lemak Bungkus in Guinness Book of World Records event. And the HGW Malaysia mobile apps users and a group of six lucky bloggers were invited to participate its 1st ever Penang Food Trail.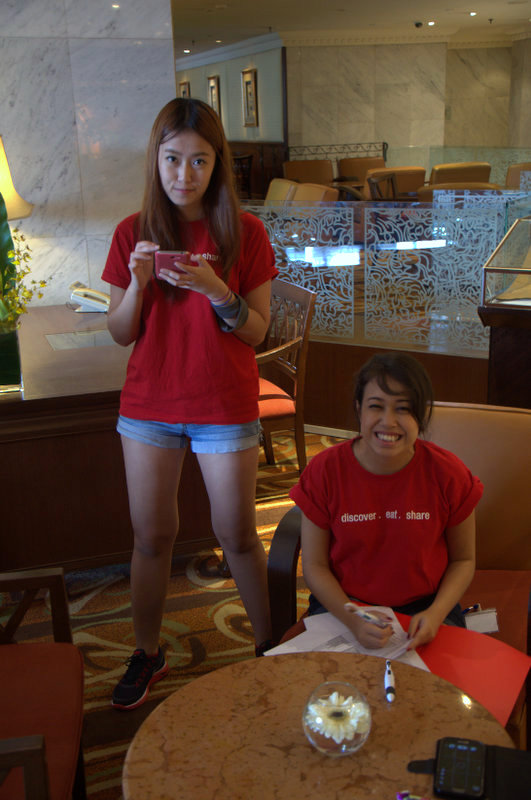 Meet the community managers for HGW Malaysia, Shing and Hanis.
The meeting point is at Traders Hotel at 830am. Everyone is being briefed by two beautiful and lovely community managers of HGW Malaysia community, Shing and Hanis on how to share their Penang Food Trail experience through Facebook, Instagram and Twitter using hashtags.
Let's start our Penang Food Trail journey.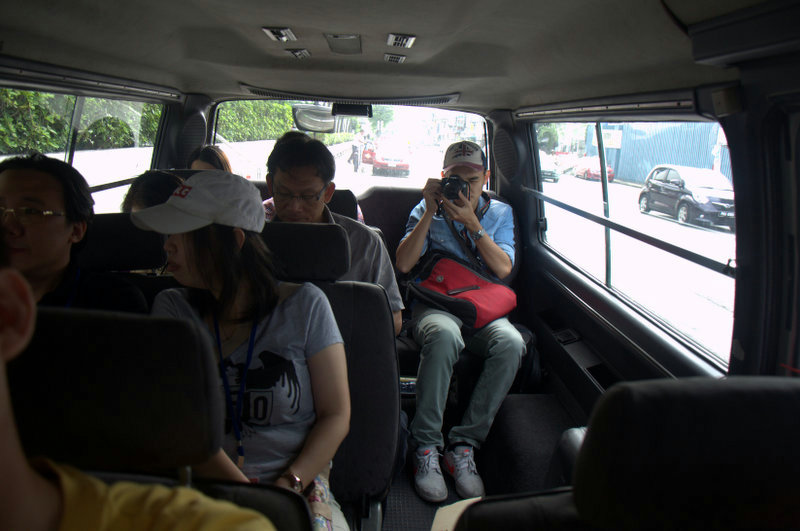 I sit in the van with the group of HGW MY users and also one of the famous blogger, Henry Tan!
The 1st stop that we go for our pre-breakfast meal is the famous Tan Jetty Fried Fritters hidden inside the Tan Jetty enclave, along Weld Quay road. It serves the famous 3 types of mouth-watering fritters called Loh Bak (Pork Roll) or some called it as Ngoh Hiang, Prawn Fritters and Bean Curd Fritters. You must try to dip the fried fritters into their homemade chili sauce made especially for the fried fritters. It is made of red chili, lime, sugar and salt to give the fried fritters extra kick.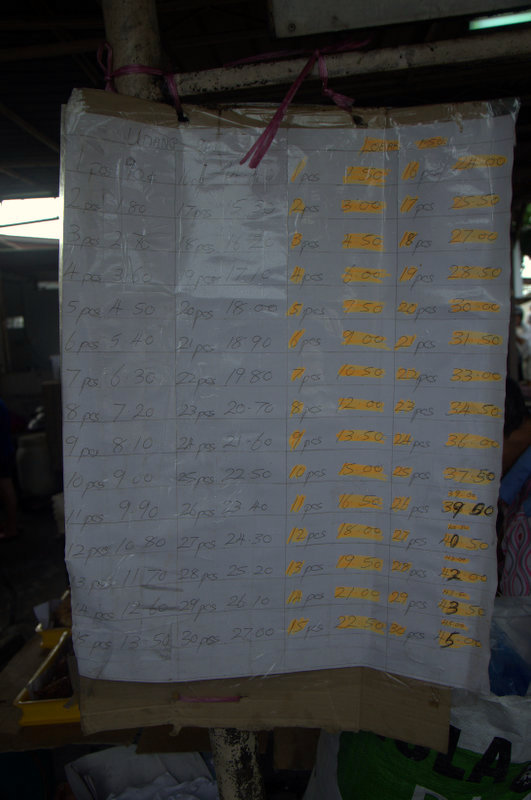 The price list of each type of fried fritters, namely Loh Bak, Prawn Fritters and Bean Curd Fritters.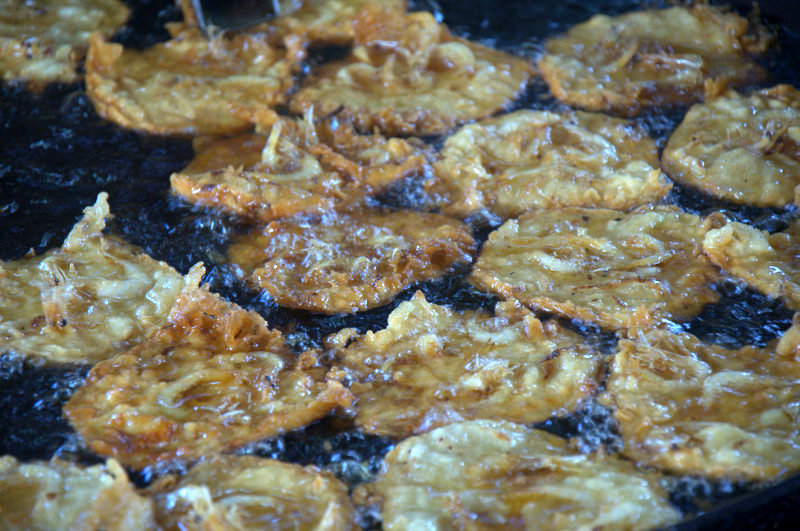 Boiling hot prawn fritters. They are served freshly fried.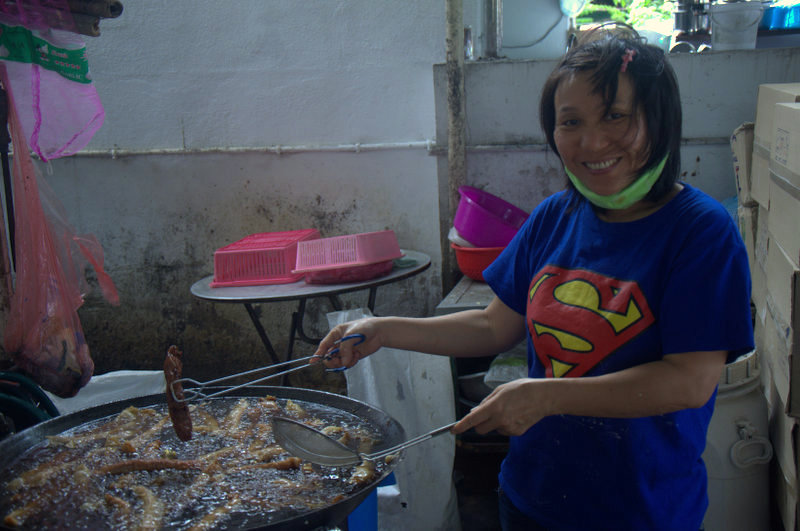 One of the owners doing her frying job. 🙂 Superwoman 😛
The owners of the famous Tan Jetty Fried Fritters. Very happy family and a damn good business. 🙂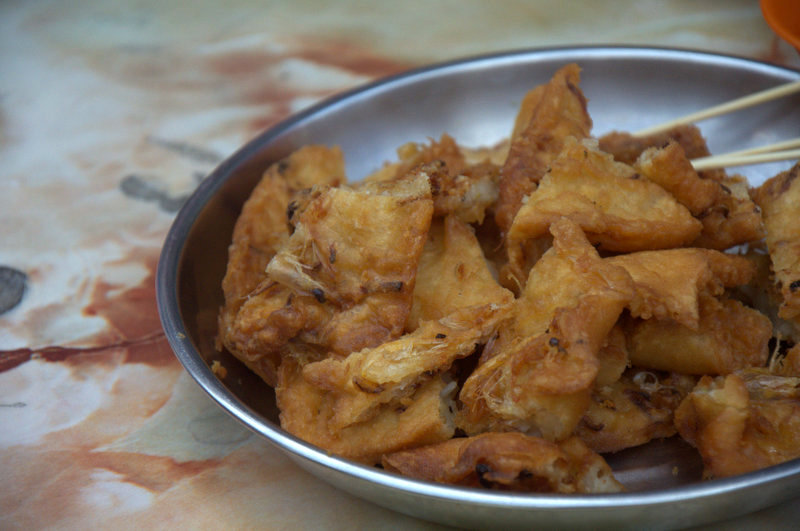 Prawn Fritters that have been cut for easier consumption. I still can remember the crackling sound of the crispy prawn fritters.
My all-time favorite. This reminds me of how my grandma cooks this for me when I was young. Nostalgia. When this dish is cooked, usually I will eat two bowls of rice. Haha 🙂
Bean Curd Fritters. Crispy on the outside and soft in the inside. Yums!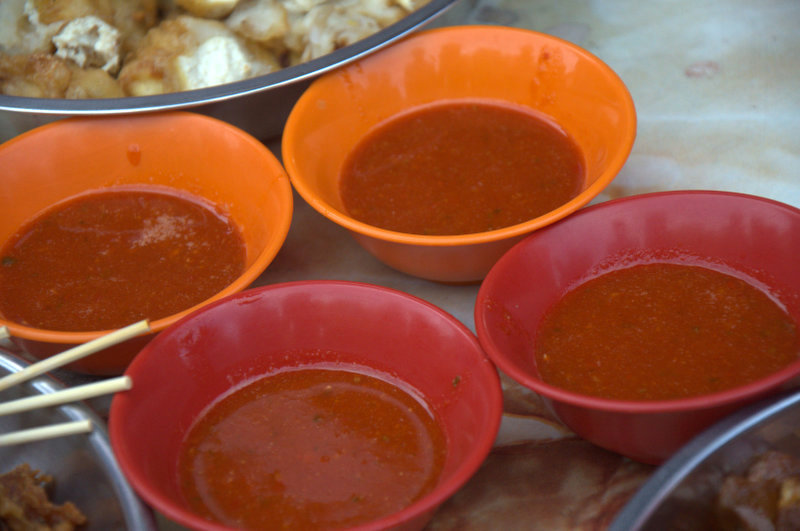 Never miss to dip your favorite fried fritters into this amazing chili sauce. My all time favorite too. Very refreshing and a tad bit spicy.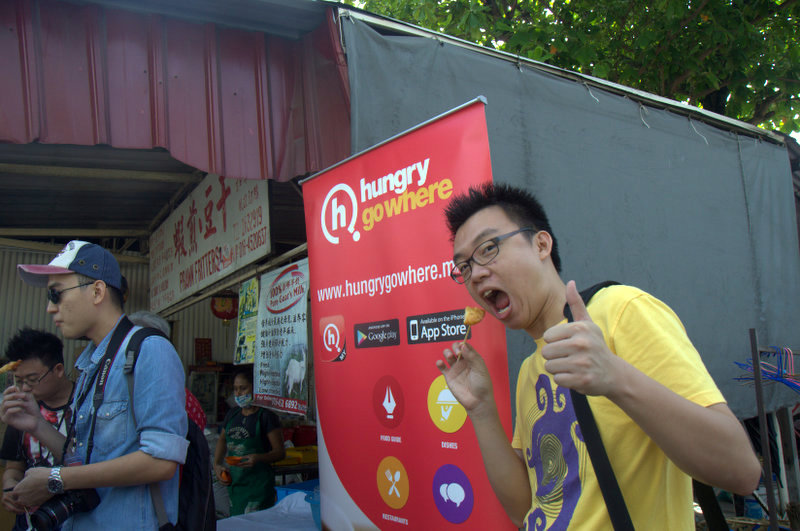 I guess my expression says it all? 😛
After a satisfying pre-breakfast food and lots of cam-whoring and photo shooting, we move to the next stop for our real breakfast. Located at the ground floor of a government flat, hidden from many people is a famous pan mee stall, known mostly to locals only. The eatery is called I Mum Mum and has since flourished around Penang by having branches in All Seasons Place, Farlim and One Precinct, Bayan Baru. We get to try their pan mees with different flavors and different types of noodles at the original place of where the famous pan mee started.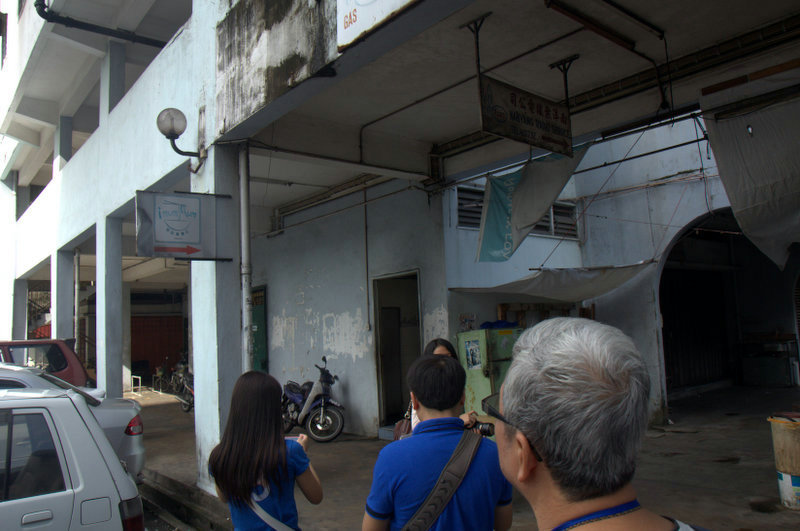 Who can guess that such a place will be spot for a great eatery? Well as the saying says, good food is found in restaurants and hotels but great food is found in such hidden and unexpected places.
This is how the I Mum Mum pan mee started. A very humble start indeed.
Each bowl or plate of pan mee is individually cooked, hence the waiting time and also the quality of each dishes. 🙂
The worker cooking up salivating bowl of pan mee.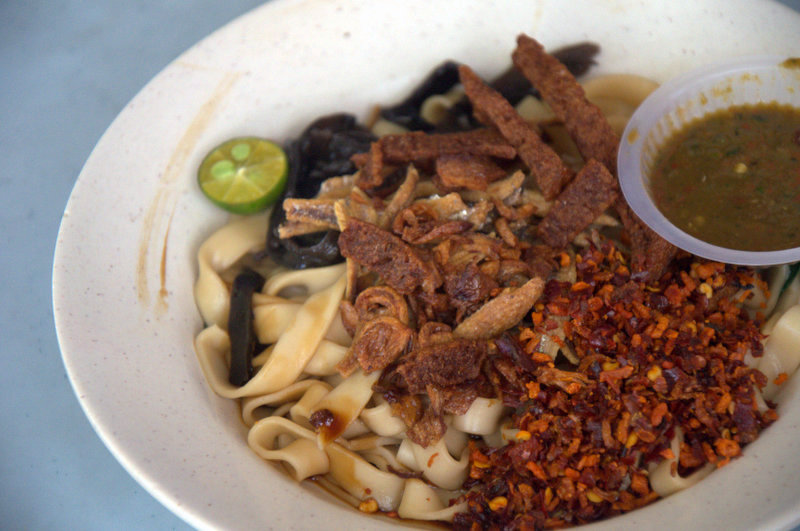 Dry Pan Mee with Chili Flakes (Thick Noodles).
Dry Pan Mee with Crispy Pork (Thin Noodles). This is my favorite. And I always ordered big since the small one cannot make me full. And I love the gravy. Sweet and a little bit spicy. Just nice with the crispy pork. 🙂
My stomach is full after two rounds of breakfast. And we are getting ready for the real deal which is the famous Pulau Aman Floating Restaurant Mee Udang (Prawn Noodles). The journey took us roughly 1 hour from the I Mum Mum eatery which is in Georgetown. When you reached Gua Musang Jetty, you can enjoy a panoramic view of Pulau Aman from the restaurant nearby. We spend some time taking photos there.
At the entrance of Gua Musang Jetty.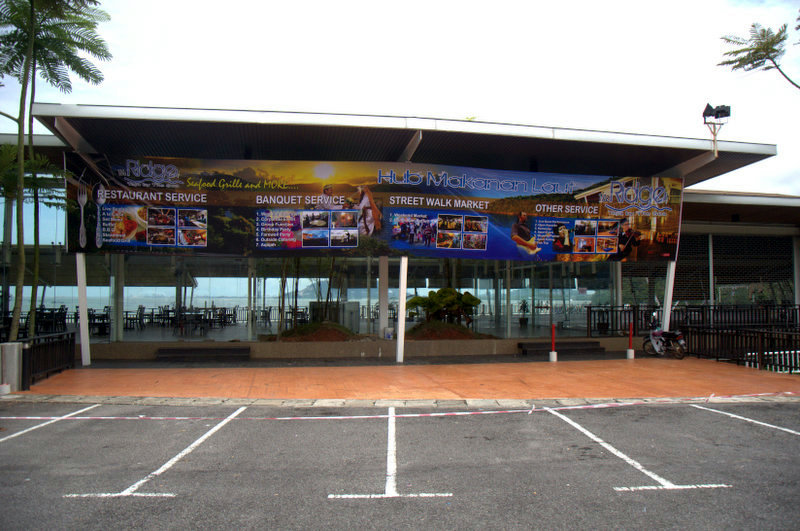 The Ridge – Teja by the Sea. Too bad it is open only at night. 🙂
Doing my favorite pose during photoshoot – Jumping! I do the jump with the HGW name tag but I think it is too small to be seen. 🙁
The price list for the boat service to Pulau Aman and also the time of each departure and arrival.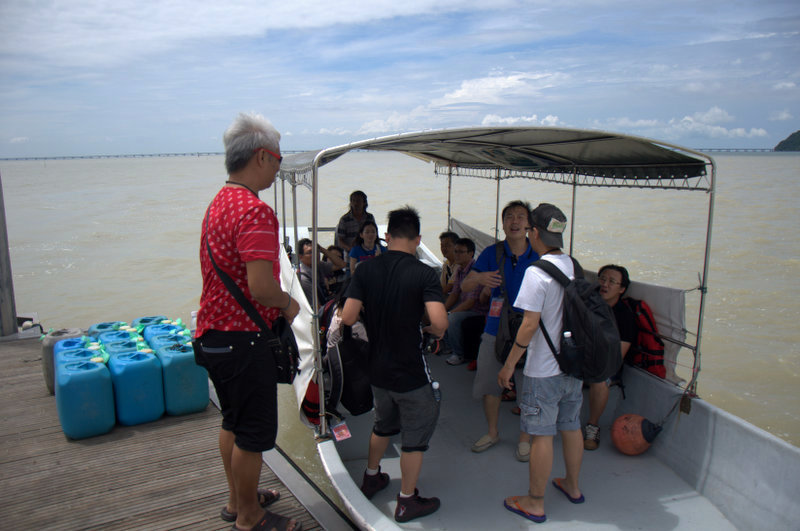 Boarding the sampan.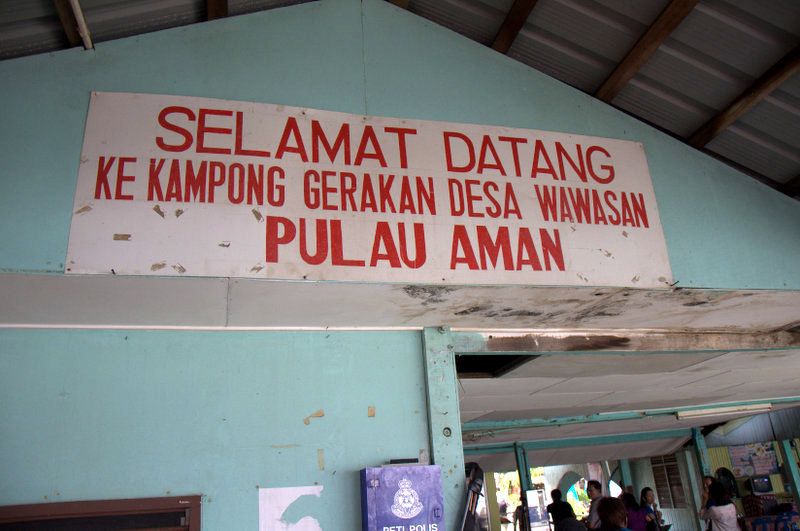 A big welcome will greet you when you reach Pulau Aman.
The map of Pulau Aman. A little bit confusing. Hope they will update a new one with a clearer information.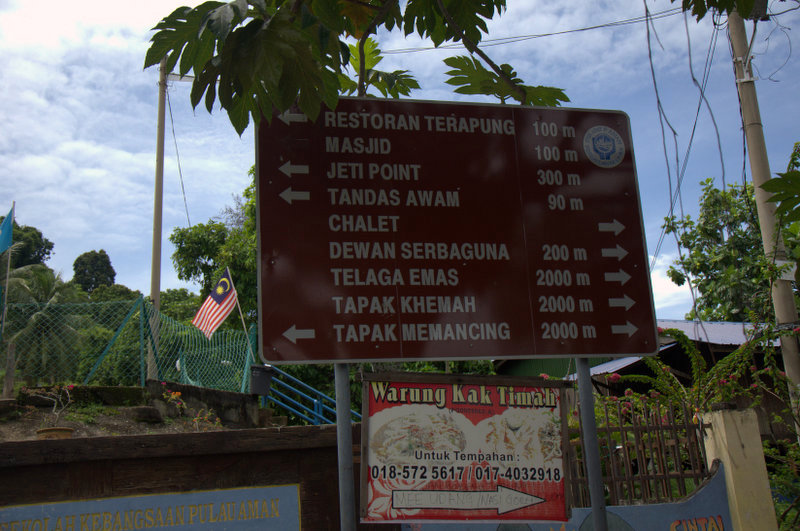 As you walk deeper, you will see this sign which will guide you to where you wish to go. Of course, for the moment, it will be the Floating Restaurant to eat the delicious and big prawns!
Restoren Terapung in Malay or Floating Restaurant in English.
At the restaurant, we are served Mee Udang Goreng, Mee Udang Kuah dan Nasi Goreng Udang. The prawn is big in size and the meat of the prawn is succulent and juicy. You can also buy the mantis prawn nearby the restaurant that are freshly caught and ask the restaurant to steam it for you for a small fee. We take some time to walk around Pulau Aman and get to visit their famous Telaga Emas. It is a rather laid back island and good to relax yourself after a hectic life in the city. It is also quite small and you can cover the whole island in half day. An ideal place for a family getaway or friends outing but definitely not couples dating. 😛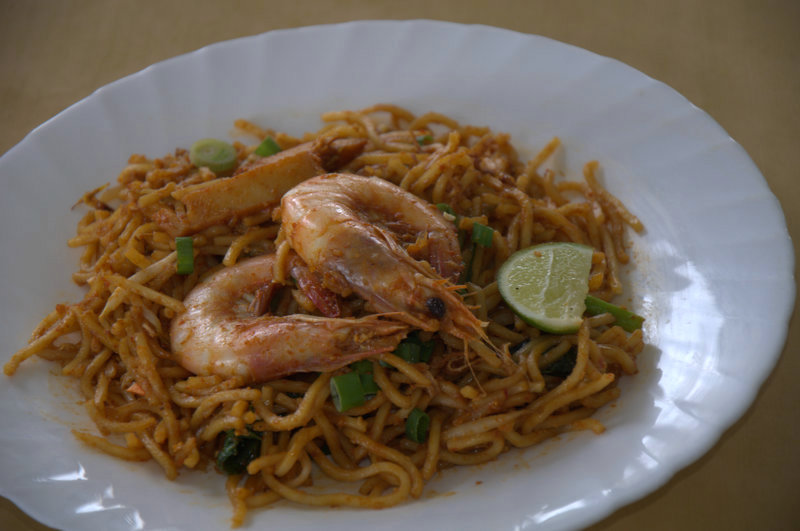 Mee Udang Goreng.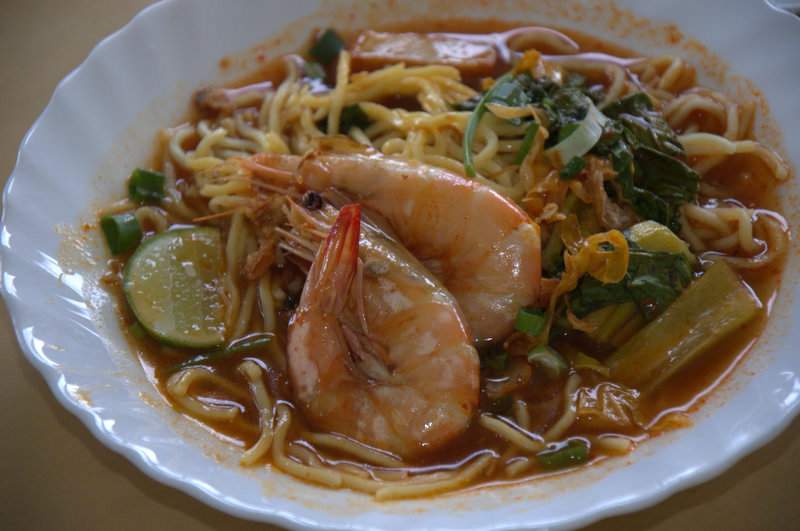 Mee Udang Kuah.
Air Sirap Limau Ais or iced Lemon Tea.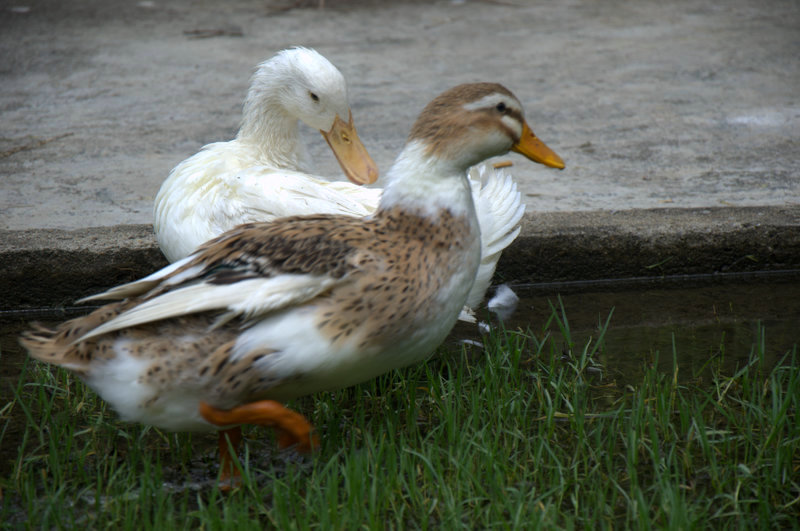 Ducks walking nearby. Helps you to feel more relax and just enjoy the nature.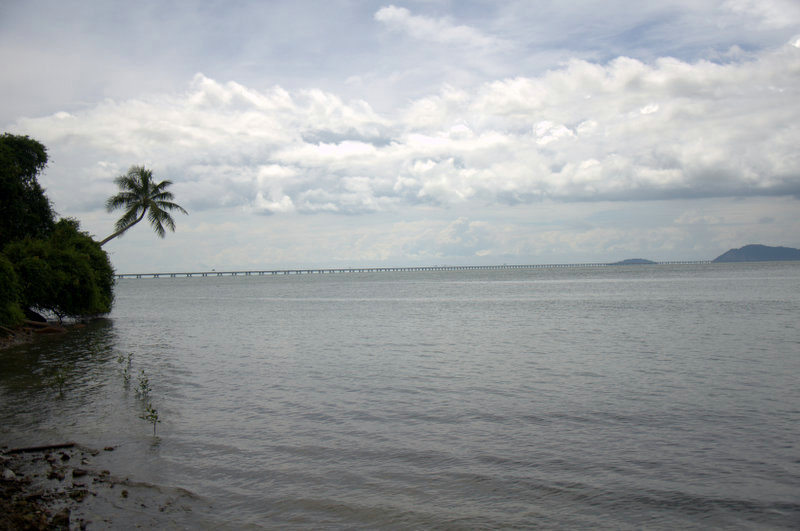 The 2nd Penang Bridge view. A very relaxing view that you get to see as you walk to Telaga Emas (Gold Well).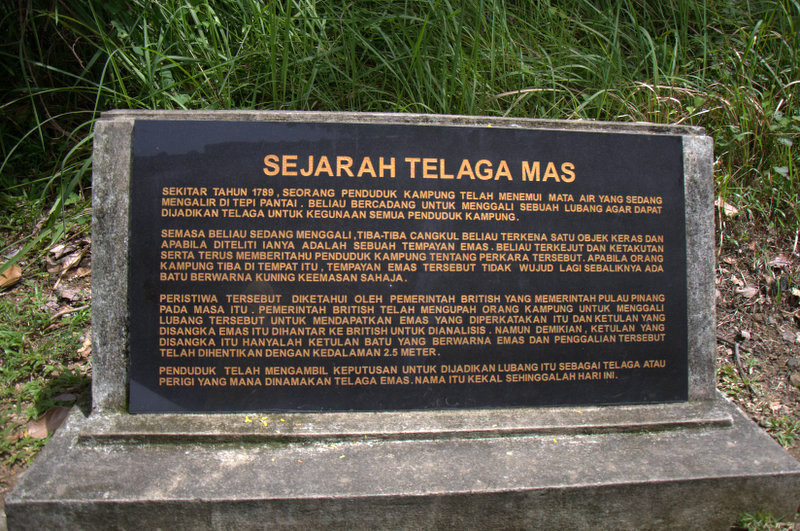 History of Telaga Mas.
I was expecting some kind of gold well but look down and you will be….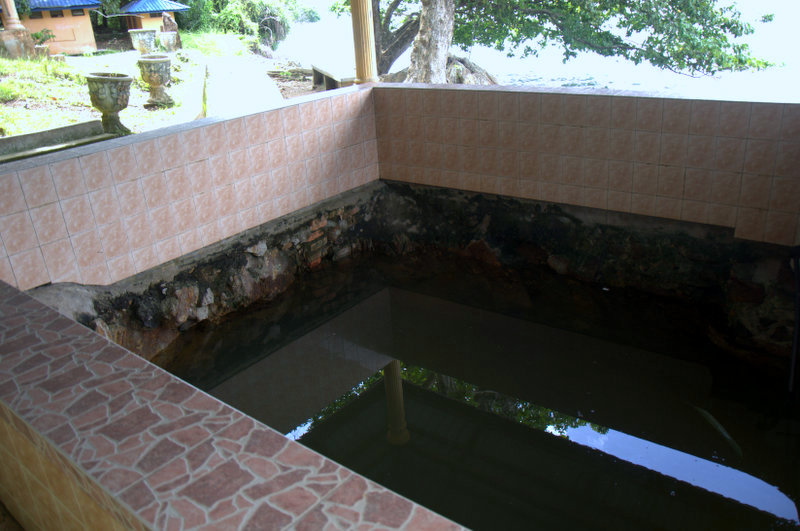 Disappointed right? That's how I feel too. >.< Well, it is a an experience to be remembered and a good walk and adventure. 😛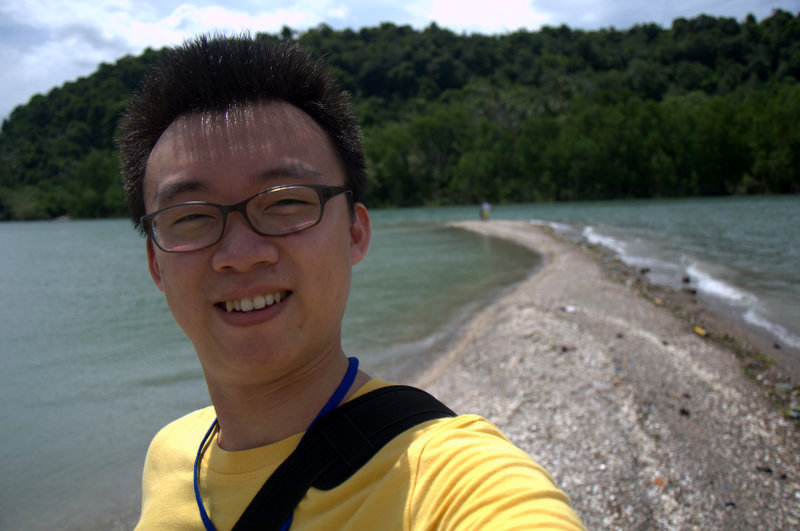 A special kind of beach strip where you have sea on both sides. I was wondering if the sea water subsides, can we walk to the next island? 🙂
Next stop is Farlim Shell Station Laksa for our teatime. This is what we call as Penang Food Trail, non-stop food goodness. Haha 🙂 Many of the HGW users and bloggers ordered the famous Assam Laksa. I ordered Fried Popiah (Spring Rolls) and Laksa Soup. It is a favorite teatime food for people staying in Georgetown. When I was a kid, there used to be a Indian uncle cycling his cart and selling assorted kuih-muih (local cakes) and also fried popiah and laska soup. This dish rekindles me of my childhood memories. 🙂 We also get to try Fish Crackers, Steamed Bun with BBQ Meat, Ice Kacang, Chendul and See Koh Th'ng (a mix and match dessert).
The famous prawn cracker!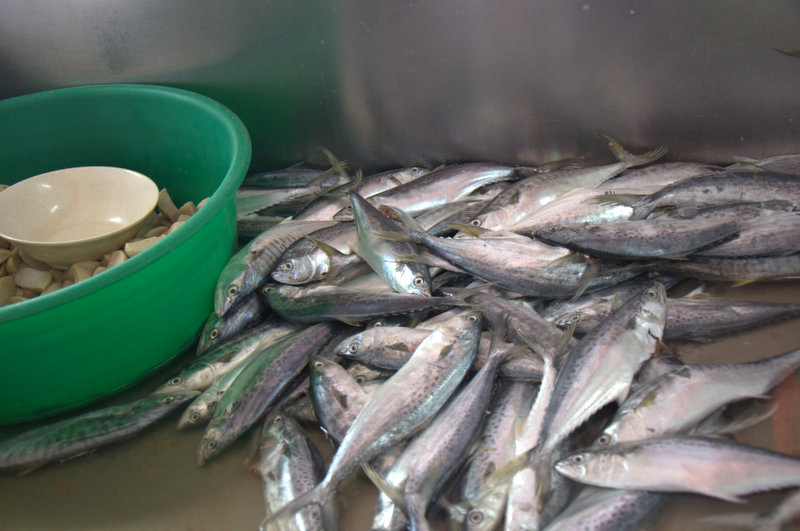 The Indian Mackerel aka Ikan Kembong used in the Assam Laksa. Freshly used in your assam laksa. 🙂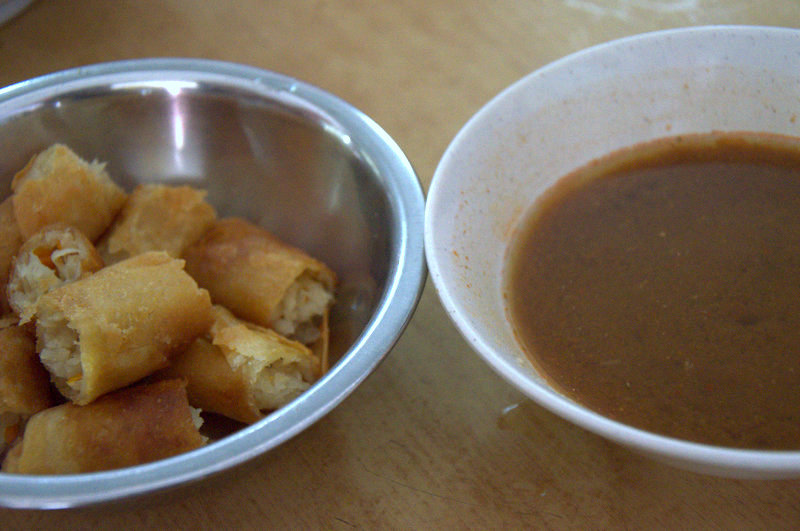 Awesome dish. My saliva starts drooling as I type this. 😛
Assam Laksa.
And the organizer does know how to save the best for the last. For our dinner, we are having zhu char with Poon Choi aka Basin Feast at Zi Zai Restaurant. Besides that, we are served Assam Prawns, Stir Fry Sambal La La, Deep Fried Belacan Chicken, Stir Fry Bean Sprouts with Salted Fish and Stir Fry Yao Mak (Baby Romaine Lettuce). Everyone eats to their fullest.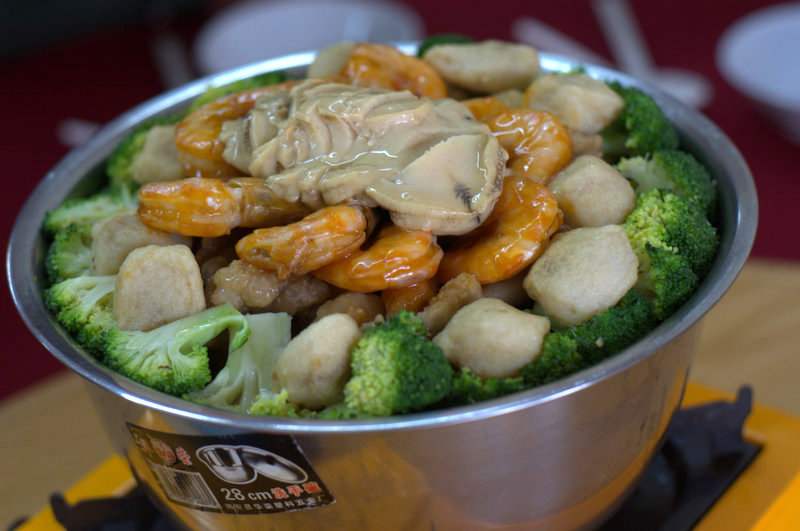 Poon Choi aka Basin Feast.
Fried Belacan Chicken. This is very nice. My all time favorite. I have a lot since everyone else is concentrating digging the Poon Choi.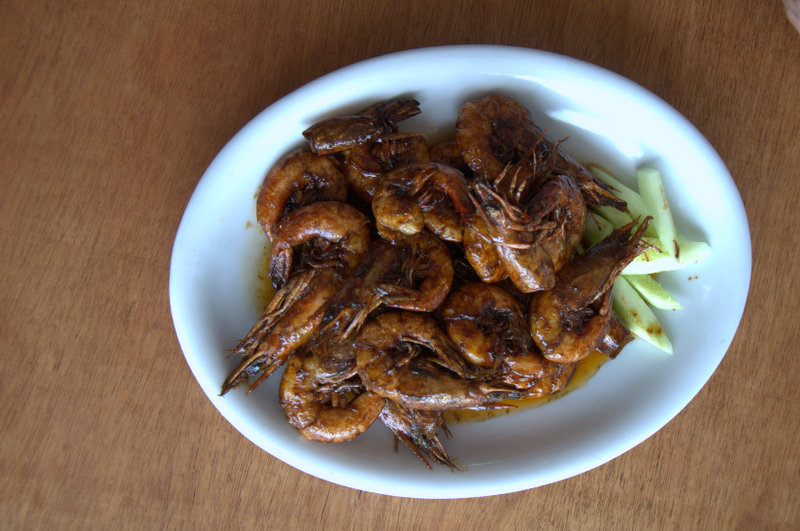 Assam Prawns.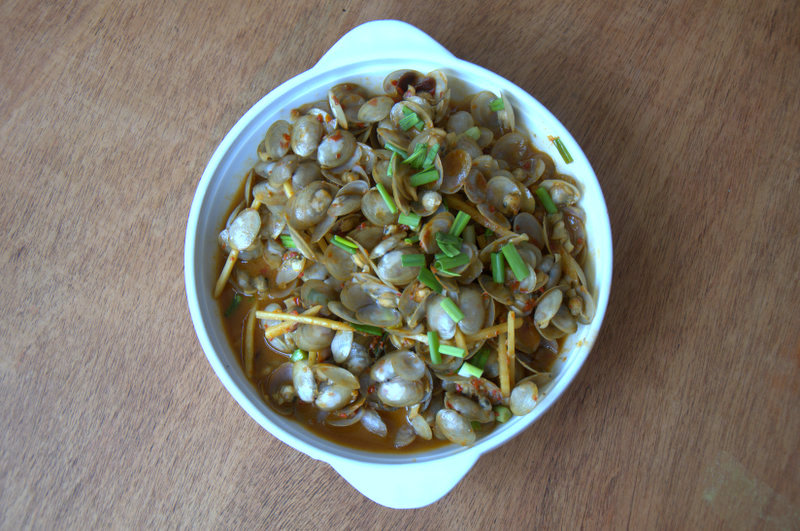 Stir Fry Sambal Lala.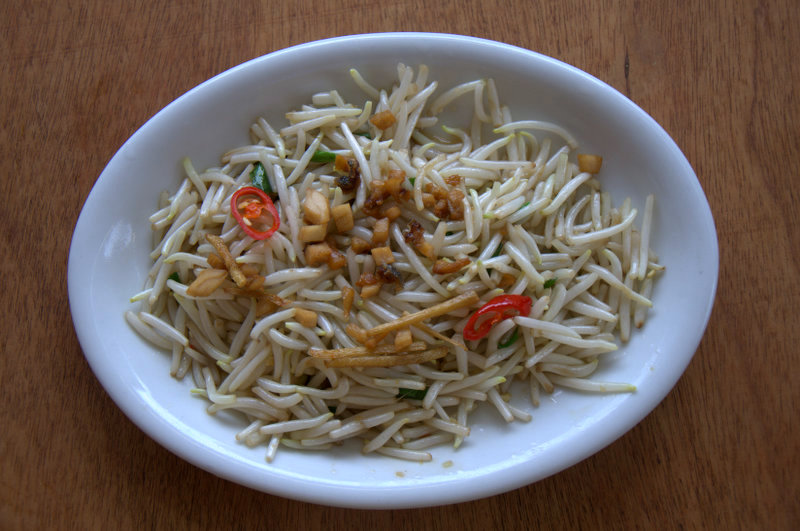 Stir Fry Bean Sprouts with Salted Fish.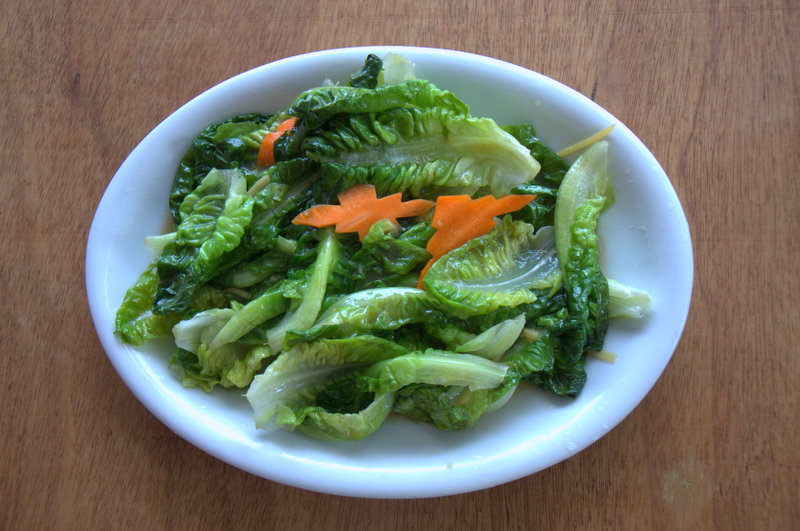 Stir Fry Yao Mak (Baby Romaine Lettuce).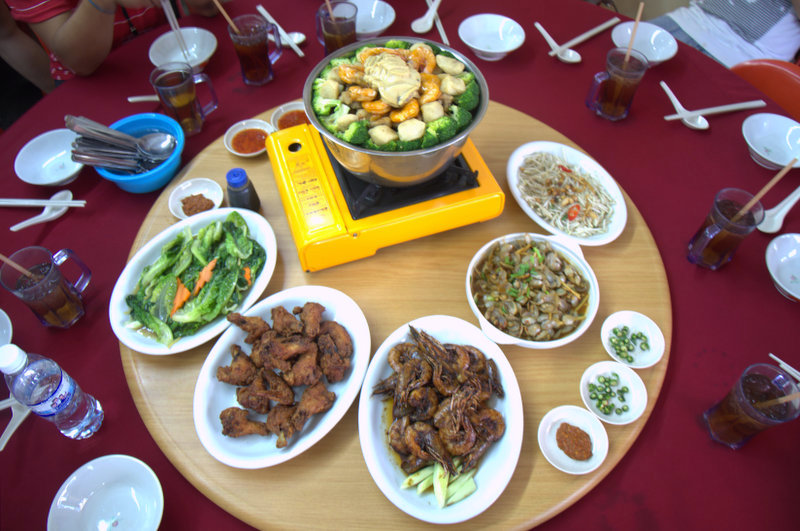 Our dinner! Full until need to unbutton the pants. 😛
As this is the last stop of HGW Penang Food Trail, the community managers Shing and Hanis take this opportunity to have a lucky draw for the HGW Malaysia users. Steven Goh, the famous food blogger is invited to draw the 1st lucky draw winner. And the second lucky draw winner is drawn by the first winner. And last but not least, the two organizers HGW which is a paper bag with a 2014 notepad and HGW pen. That's so nice of them.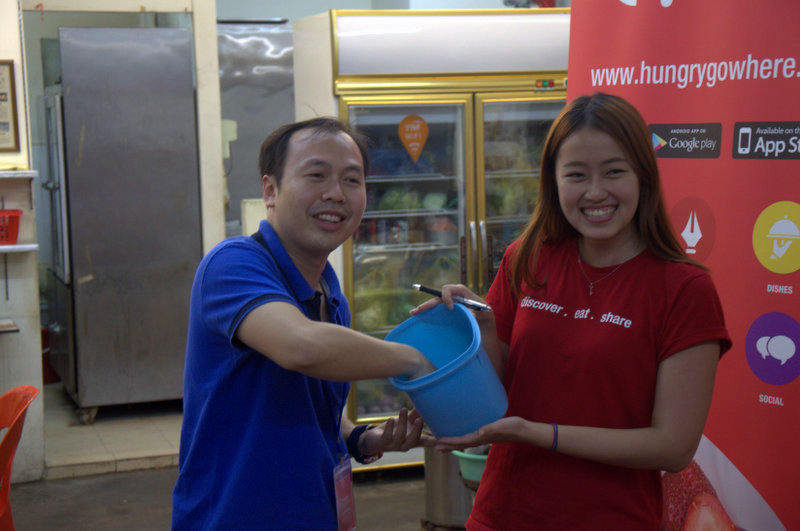 Steven Goh drawing the lucky number.
The 1st winner of the lucky draw, drawing the 2nd lucky number.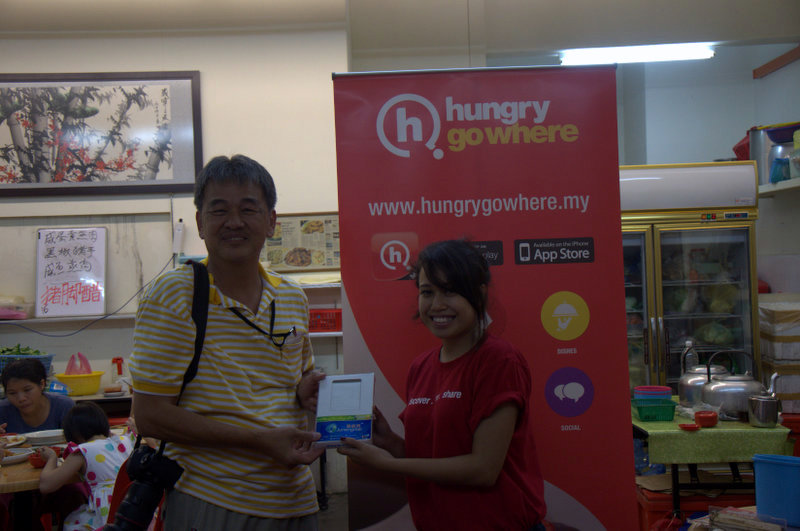 The two lucky draw winners take home one power bank each.
The two community managers of HGW and the two organizers. 🙂 Thank you for organizing such a wonderful Penang Food Trail. 🙂
The food trail lasted for around 11 hours and everyone left with a very full stomach and happy experience. Thank you HGW Malaysia for inviting me for such an awesome Penang Food Trail. This food trail was organised by Hungry Go Where – Discover, Eat and Share today!
About HungryGoWhere Malaysia: You can download the HungryGoWhere Malaysia mobile app through IOS (version 5+) or Android (version 4.0+) or pay a visit to their website at http://bit.ly/HungryGoWhereMalaysia. Being a nation with rich and diverse food culture, HGW Malaysia users would get to gain new experiences in searching, discovering and locating the best dishes and eateries within a 10-30km radius. It would even be greater if you were to register yourself as one of the many users, a smart move to leave your tracksbehind to recommend more new eateries to other users. After all, HGW Malaysia is a platform by users, for users, to archive pure and unbiased recommendations.