RM1 for Stylus? Yes! Limited to 500 Units Only!!!
Ever since Steve Jobs introduced iPhone in 2007, stylus has been dead. Who needs a stylus when you can use your fingers, right?
Well, for normal usage daily, our fingers will be able to do the job very well already. After using touch screen phones or tablets for a year or plus, I start to missed the accurate stylus. I need the stylus for my drawing, writing and sometimes playing games. And finally I I have bought one for myself. Now I can draw, scribble and do more things with my smartphone and especially my iPad 2. Nowadays, some of my friends are picking up Samsung Galaxy Note 10.1 or 8.0 because it has dedicated stylus.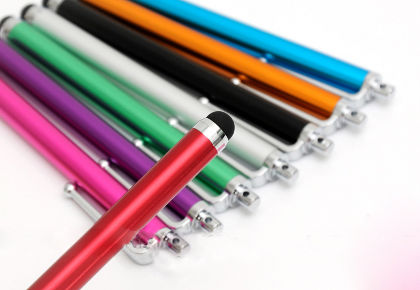 And good news is that you can get RM1 for a stylus instead of the usual RM20 price. How awesome is that? And each buyer is limited to 2 stylus only and there is only 500 units being offered at this crazy price. Hurry up and click here for the link. 222 units have been bought as I wrote this blogpost. 🙂
Pen shape + dome head
Aluminum alloy handle grip
High-grade soft silicone dome header for screen protection, easy writing, gaming, etc.
Dome-shaped header for 360-degree touch point
A clip at the end of handle for you to bring it around easily
Touch Pen length:10cm, width:0.8cm
Better Touch for Tablets
Color: Only black
What's your say? Good? 🙂