One of Our Movie Nights!
I love movie nights. It helps me to relax my minds and refocus my energy and concentration.
Many of my friends usually spend their movie nights at Golden Screen Cinemas but not us.
We prefer to spend our movie nights at our own cosy home. Haha… You can say that we are a boring couple but I insist that spending your movie nights at home is better than queuing up for tickets and snacks, walking out with many people and queuing up again to pay parking tickets and finally stuck in parking area., right? I agree that once in a while, we should go fot moviea at cinema but not always. It's expensive…
So, this is one of our movie nights.
My favorites: Haagan Dazs & J.Co Mini Donuts
J.Co 24 Mini Donuts Box. Very practical for gifts or birthday cakes, if you are bored with the conventional cakes.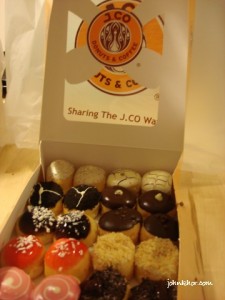 My girlfriend's favorite. All the cute, cute mini donuts.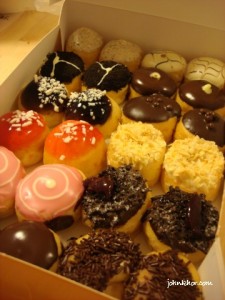 My girlfriend's and my personal favorite, the one with cheese. She said it's like going to heaven! Haha.
My favorite, favorite ice-cream. Hope that I can have it every weekend!
Very thoughtful of Haagan Dazs. They will ask you how long will you reach home and decide how much dry ice they will use.
Perfect Combination: Haagan Dazs Rum & Raisins & J.Co Donuts
Isn't this is better than eating popcorns and drinking sodas? Haha. Just my 2 cents only. Anyhow we enjoyed our movie nights a lot.
We were planning to watch When In Rome but instead watched Lavendar on ntv7 because the movie starred Takeshi Kaneshiro, my girlfriend's idol. My 2 cents: The love story of Lavendar is just so, so. Kelly Chen's performance is quite 'wood'.
Care to share with me how you spend your movie nights?