My New Facial Cleanser, St Ives Apricot Cleanser
Just purchased St Ives facial cleanser series at Guardian, e-Gate.
I am sharing my facial cleanser and scrub with my girlfriend because both of us are combination skin (oily+dry)
It is my first try. St Ives is America's No1 Scrub! That caught my attention.
The smell of the apricot is very refreshing and it really feels good after using it. Very satisfied. Moreover, it doesn't cost a fortune. RM21.90++. I will keep on trying and will let you know what is the effect.
I am using St Ives Naturally Clear Apricot Cleanser Blemish Fighting & St Ives Naturally Clear Apricot Scrub Blemish & Blackhead Control.
Oh ya, their packaging has changed dramatically. Previously, it looked so European and a bit 'auntie' feel but now it looked ultra modern and chic. I even feel proud to take it to the counter and pay for it. Haha.
Another thing, St Ives uses a lot micro bead to scrub your face. I believe it helps you to stimulate the blood circulation and improve the skin texture. It's quite nice. Just that, don't press the beads too strongly, just gently will do. Our body needs exercise, so do our face.

St Ives Facial Cleanser that I have bought!
St Ives Naturally Clear Apricot Cleanser
St Ives Fresh Skin Apricot Scrub Gentle
St Ives Naturally Clear Apricot Scrub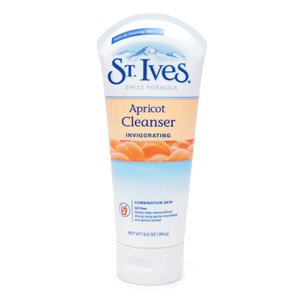 Does it looked like what I said? European feel? But St Ives is America's No1 Scrub! =)