iOS 4 Update for iPhone 3GS
Yes… I am still awake at this very hour. What am I doing now?
Here I am sitting in my living room with the television playing Ghana VS Uruguay World Cup 2010 2nd Quater Final. Actually, I am not paying attention of the football match but I am very anxious waiting for the latest iPhone software update, iOS 4 to complete.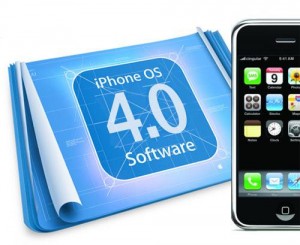 100++ improvements in iOS 4
I am quite outdated in terms of technological developments. I did checked before last month about iOS 4 update but no specific date. A few hours ago, while watching Brazil VS Netherlands,
I casually checked about the iOS 4 update and it's here already since 27th June. I cannot download directly as I was using the internet connection of my handphone. I was at my girlfriend house. There's no internet connection there.
So, Brazil lost (sad…) and I quickly went home and started to download the iOS 4 and twice the download was stopped because of my weak WIMAX connection. Damn frustated. The last download was around 50% already and now I have to start all over again! That's why I am sitting here now, waiting for the download to finish!
Wait for my review about the iOS 4. I am so excited!
These are the lists of improvements in iOS 4:
Multitasking by double clicking home button P3,T3
Support for Apple Bluetooth keyboards
Game Center social network
iBooks with PDF support
iAd mobile advertising network
Portrait orientation lock
Camera
5x digital zoom
Tap to focus video
Settings
App-specific location settings
Cellular data only setting
Password with alphabet characters and numbers
Simple Passcode Lock (4 digit number) option
New Wallpapers
New Wallpaper preview for home screen and lock screen
Set up Internet Tethering
New Gmail and Exchange icons in Mail, Contacts, Calendars account settings
Support multiple Exchange accounts
Custom Dictionary
Compass
Remove the button link to Maps (Added back with build 8A248c β2. Not sure whether this will become part of the final OS)
Home Screen
Ability to categorize apps into folders with default folder naming based on category name in App Store
Up to 2,160 instead of 180 visible apps (12 apps per folder)
Folder name supports up to 13 characters
Custom backgrounds for Home screen and Lock Screen
Dock redesigned to that of the iPad
Rate on deleting app removed
Default utilities folder which contains the clock, calculator, voice memos and compass apps
Photos
Categorized by Albums, Faces, Events and Places (under iPhoto in Mac OS X)
Select multiple photos for mass deletion
Support landscape mode
Camera Roll
Rotate photos
Resize photos
Categorization by All, Photos and Videos
Support landscape mode
App Store
Ability to gift apps
Maps
Unified "locate me" icon
Background location icon shown on status bar
iPod
Playlist creation on device
Nested playlists
Lyrics and Podcast info on Setting
Volume control with Bluetooth headsets
Art in Album View
Notes
Notes syncing with MobileMe, Gmail IMAP and Yahoo! Mail
Accounts management appears if syncing is enabled
Notes setting below Mail, Contacts, Calendars Settings if syncing is enabled
Moved search box into title bar
Calendar
Birthday calendar
CalDAV invitations
Contacts
Unified Info by linking contacts from different accounts
CardDAV
Streamlined "New Contact" Screen
Spotlight
Search with Web or Wikipedia
Safari (Webkit version 532.9)
Bing is now a search option, along with Google and Yahoo
Recent Searches below search field
Top Hit in Search
Google Suggest appears below search field if Search Engine is set to Google
Unified "Search" keyboard button when search field being used
In-Page Video Playback
Youtube
Rotate & Zoom Videos in vertical and horizontal Position
Nike+
Upload workouts to Nike+
Accessibility
Larger fonts in Mail, SMS & alerts
Message
Include a Search bar
Character count (Can be enabled or disabled in Settings -> Messages screen)
Failed SMS Notification
Option to toggle off the ability to send group messages
Stocks
Ability to quick view current market cap in place of stock's price or % change
Mail
Unified Inboxes
Edit from Outbox
Support for multiple Exchange accounts
File & delete Mail search results
Organize By Thread in Mail
Quicklook attachments
Open attachments by registered filetype with corresponding Apps from App Store
Smart Links For Dates and Addresses
Contact Pictures in Emails
International
Spell Check
Added Cangjie and Wubihua Keyboards for Simplified and Traditional Chinese
Text replacement between Simplified and Traditional Chinese
Switch keyboard shortcut (holding the "earth" button on keyboard for a while)
Added support for Danish voice control
Hungarian Language added
Other
Persistent Wi-Fi
Wake on Wireless
Auto-join and Auto-login and IPv6 on individual Wi-Fi Networks setting
Enhanced data protection
Wireless app distribution
Mobile device management
SSL VPN support (both Juniper and Cisco)
Microsoft Exchange Server 2010 support
Improved Bluetooth driver for A2DP devices
Please let me know what you think about iOS 4 after you have upgraded it. TQ.
P/S: Actually, the iPhone is my girlfriend's and it's a special gift from me! She's not so excited about updates. She's more concerned about her sleep!