Gartien Pineapple Cake with 2014 Chinese New Year Theme!
HUAT AR!!! (Prosper in Hokkien) Lai lai lai, ONG LAI LIAO! (Come, come, come, Prosperity is coming)!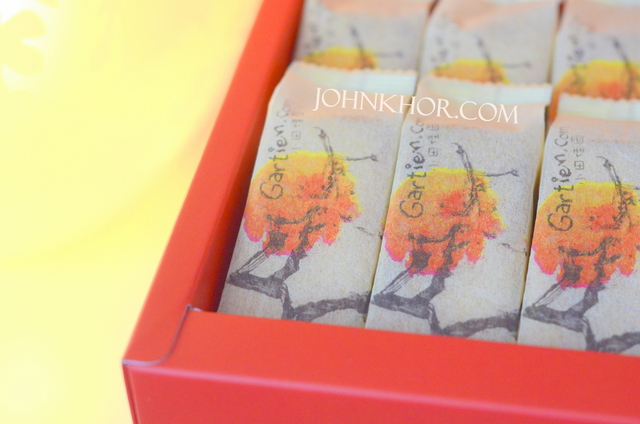 Be different this year with your Chinese New Year (CNY) gifts. Gartien @ 小田佳園, Penang's famous pineapple cake manufacturer has specially designed a Chinese New Year packaging for its pineapple cakes. Pineapple in Hokkien is called as 'ong lai' which means prosperity coming which is a good meaning for the Chinese. The theme of the Gartien's CNY 2014 is peony or also as mudan flower @ 牡丹. Peony is the traditional floral symbol of China and is also known as the flower of riches and honour. It symbolises omen of good fortune and a happy marriage.
Gartien's pineapple cakes comes in individual packings for ease of usage and also gives a sense of exquisiteness. The individual packing comes with Chinese ink painting of mudan flowers. The whole box of 10 pieces of pineapple cakes has the elegant design of red and gold of peony. A very striking presentation indeed.
Gartien uses their own pineapple grown in Nibong Tebal, Penang. After collecting the pineapples, they will skin them and go through coring process and cut into cubes. The pineapple cubes will be cooked for 12 hours until it is golden. That's where the sweetness and the juiciness of the pineapple filling comes from. 🙂
Gartien pineapple cakes are juicy and combined with the milky taste of its pastry. Heavenly. The pineapple cakes are good for tea time or after meals. 🙂
500 boxes of Gartien CNY 2014 Theme pineapple cakes have been ordered by its loyal customers and friends. There is only 1,000 boxes of this auspicious gift sets left for pre-order. Indeed, it is a limited edition packing from Gartien. There are 250 boxes for order every week starting from 30th December 2013 until 26th January 2014. Here is the breakdown of the dates:
Week 1: 30th Dec 2013 –   5th Jan 2014 (250 boxes)
Week 2:    6th Jan 2014 – 12th Jan 2014 (250 boxes)
Week 3:  13th Jan 2014 – 19th Jan 2014 (250 boxes)
Week 4:  20th Jan 2014 – 26th Jan 2014 (250 boxes)
And another good news for pineapple cakes lovers, if you pre-order it now until 31st Dec 2013, you can it at RM38 per box (special promotion price). The normal price per box is RM45. Another bonus is that if you order 10 boxes, you will get one more box for free if you walk-in and collect them at the shop or you can enjoy free postage to your home (Only available for Peninsular Malaysia residents only). The Gartien shop is located in heritage shoplot at Lorong Macaliter. As you drive to Burma Road from Penang Road, you take to the right of the Burma Road and as you see Hong Leong Bank, turn left and drive for roughly 200m and you will see Gartien shop on your left.
CONTACT INFORMATION
GARTIEN @ 小田佳園
Address: 68, Lorong Macalister, 10400 Penang, Malaysia.
Contact No: 604-229 0068 Website: www.gartien.com
Email: info@gartien.com
Facebook Page: www.fb.gartien.com/
GPS: 5.416195, 100.328433
BUSINESS HOURS
Daily.
10.00am-5.00pm for weekdays.
9.00am-6.00pm for weekends.