Aeroline Business Class Coach Review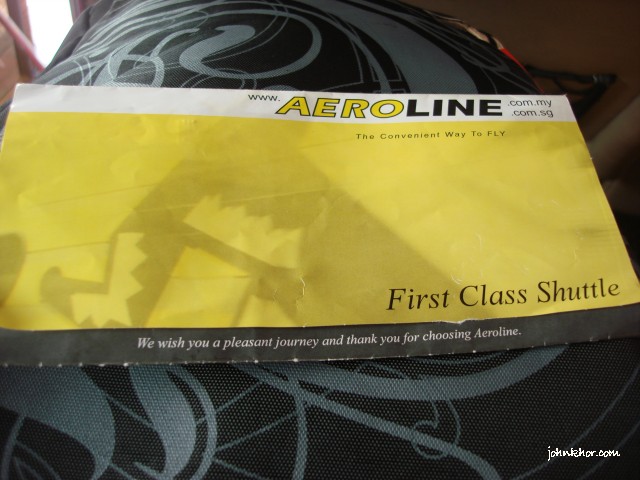 Aeroline bus tickets. Feels very good. It's like buying an airline ticket.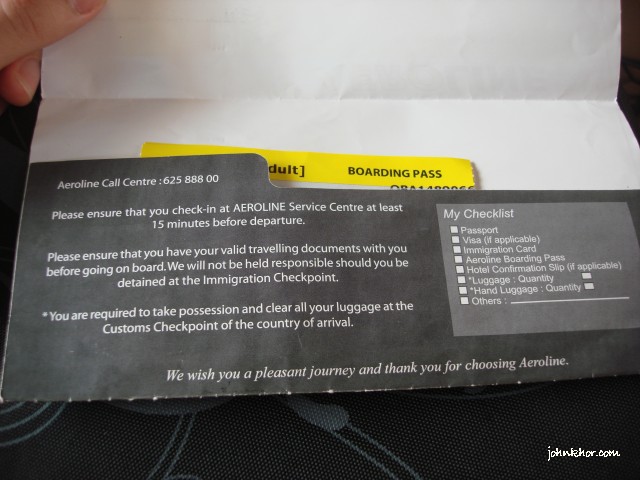 Inside the Aeroline bus ticket. Quite informative and very thoughtful of them to put in a checklist column.
RM60 for adults and RM30 for children which is quite expensive.
This is my first time and also my last time. (OK, unless someone pays the bus tickets for me.)
I bought the Aeroline's bus tickets with great anticipation and excitement. I have heard and read a lot of positive reviews both offline and online. I purposely use Aeroline business class coach services instead of the usual Nice Plusliner to travel to KL for my business trip, paying a premium, RM60 per person.
My friends were saying that you are enjoying 5-stars  airlines services in a bus. They will provide food for you, a blanket and a coffee/milo (a chocolate malt drink, for those of you who are not living in Malaysia).
Aeroline Office @ Queensbay Mall Penang. Very modern and classy.
Inside of Aeroline Penang Service Center. You can sit and relax.
Place to put your luggage @ Aeroline Penang Service Center.
On board of the Aeroline bus, the seat looks normal and uninviting. Once seated, it's not comfortable. Luckily. there's a small pillow for me to rest my back. I still prefer the VIP seat of Konsortium.
Boarding the Aeroline bus from Queensbay Mall, Penang.

The Aeroline bus chasis is supposed to give me the 'extra amount of comfort' but it didn't.
I was seating on the 2nd deck of the Aeroline bus. The main reason that I felt Aeroline sucks was because the bus shook a lot during the whole trip. My girlfriend and I were feeling dizzy and nauseatic during the whole trip. We were sitting on the 3rd row, counting from the front and still having this effect. This automatically put our 1st time with Aeroline as our last time.
| What entertainment would you have?
We have a wide screen television on board with various movies, as well as our Aeroline Airwaves with headphones for four different music channels, one for the movie on screen – all for your journey's comfort, solitude and enjoyment. |
Qoute from Aeroline website's FAQ.
A picture of Aeroline bus from my seat at 2nd deck.
Another thing is that the entertainment features that they promised were missing. There's no Aeroline Airwaves with headphones. I was trying to listen to the movie that they play but it was too soft. I ended up trying to sleep to reduce the dizziness. Ya right, all for my journey's comfort, solitude and enjoyment.
The last thing that makes me limit break (if you play Final Fantasy VII) was the food. The lunch that they provide was chicken rice. The lunch box came with the chicken rice sauce in a different packing. And it's very messy when you try to unpack the sauce and this makes the whole experience worse. My two hands were oily after my lunch.
My lunch (chicken rice) in a box. Can you see how shaky I was? Even the picture is shaky. =)
OK. Enough of all the negative energy circulating around.
As I said before, I am critical but not biased. I will give credit when it's due. So, let's see the pros of Aeroline.
First of all, I like their uniform, office's design and overall, their whole packaging. It's yellow and it looked crisp and energetic. Very different from the rest of the bus companies.
Their website is very accessible and very informative. Their FAQ section almost answered all my questions. They provide online booking. It requires you to register as their member to access the service. I believe they are the only one bus company to provide online booking service.  Here's the link to their website.
Their pick-up locations and also drop-off locations are very strategic. I would love to board and leave the bus at popular shopping malls, rather than the carbon-monoxide-polluted terminal bus. This is a very good point.
That's all from me, a review/comment of  Aeroline bus services. What is your experience with Aeroline or maybe other bus services? Please comment.
Aeroline, the Convenient Way to Fly.
Aeroline Contact No & Service Center Address
Ticketing Call Centre Malaysia
Tel : +603 625 888 00
Monday to Sunday from 7:30 am to 7:30 pm
Ticketing Call Centre Singapore
Tel : +65 625 888 00
Monday to Sunday from 7:30 am to 7:30 pm
Aeroline Service Centre Kuala Lumpur
Corus Hotel, Jalan Ampang
Kuala Lumpur 50450
Tel : +603 2164 9611
Open daily from 5:30 am to 7:00 pm
Aeroline Service Centre Singapore
No. #02-52, 1 Maritime Square,
HarbourFront Centre,
Singapore 099253
Tel : +65 6341 9338
Open daily from 7:30 am to 8:00 pm
Aeroline Service Centre Penang
(Unit facing outwards on ground floor)
GF-143A, Queensbay Mall
100 Persiaran Bayan Indah
11900 Bayan Lepas Pulau Pinang
Tel : +604 641 3122
Open daily from 7:30 am to 7:00 pm
Aeroline Service Centre Penang
Counter No. 38, Terminal Bas Express
Jalan Sultan Aziah Shah, Sungai Nibong 11900 Bayan Lepas, Pulau Pinang.
Tel : +604 657 2122
Open daily from 7:30 am to 7:00 pm
Aeroline Service Centre Bandar Utama
1 Utama Shopping Centre
No. 1 Lebuh Bandar Utama
47800 Petaling Jaya
Selangor Darul Ehsan
Tel : +603 7726 1212
Open daily from 7:30 am to 7:00 pm
Aeroline Service Centre Bandar Sunway
OB3.LG2.1A, Lower Ground Two
Oasis Boulevard, Sunway Pyramid
No 3 Jalan PJS 11/15, Bandar Sunway
46150 Petaling Jaya
Tel : +603 5631 1313
Open daily from 7:30 am to 7:00 pm
Aeroline Service Centre Mines
(Unit in front of Mines Wonderland)
L1-01, Level 1, Mines Shopping Fair,
Jalan Dulang, Mines Resort City,
43300 Seri Kembangan,
Selangor Darul Ehsan.
Tel : +603 8945 8830
Open daily from 9:00 am to 5:00 pm
(temporary operating hours)