2nd CSL 3S Care Center & Northern Hub Launching in Penang together with 4 models of Swarovski CSL Phones!!!
Again, johnkhor.com was invited to attend the opening of CSL 2nd 3S Care Center in Penang at Megamall Penang on 21st August 2011 (Sunday). This is the 2nd time that johnkhor.com is invited to CSL events. 🙂
Switch from Mobile to Mobile Internet!

Switch from Single SIM to Dual SIM!

Switch from Unaffordable to Affordable!
That's the motto for the CSL in their current campaign called Switch. And CSL has a BIG dream. A dream to enable every Malaysians to own smartphone!
That's a very noble dream. I mean, everyone hopes to own a smartphone, right? They hope to play Angry Bird, surf the Internet, Facebook and Twitter everytime and everywhere and many more.
But the prices of a good smartphone is way beyond reach for average Malaysians. They can only drool when they see their better-off friends playing Angry Bird with their iPhone 4 or Samsung Galaxy S II. Thanks to CSL, our very own Malaysian company, Malaysian can own smartphones. 🙂
OK. Back to the event. The 1st CSL 3S Care Center is opened in Plaza Low Yat, Kuala Lumpur on 17th April 2011 and the 2nd one is in Megamall Penang. They have selected the right place as Penang is the hub for Northern region. This CSL 3S Care Center is able to service customers from Penang, Perak, Kedah and Perlis.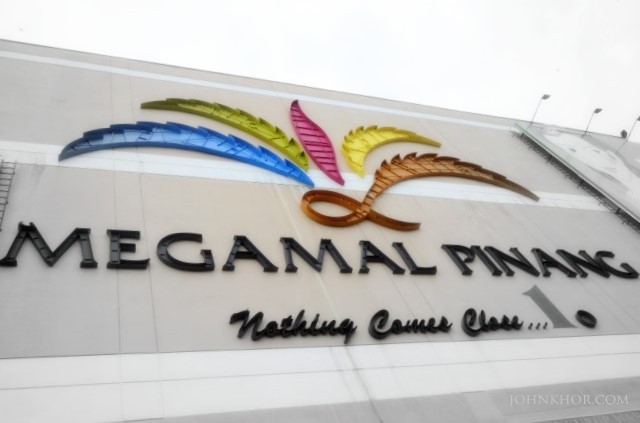 Mr Edwin Gan, CSL Country Manager taking photos with his colleagues & models.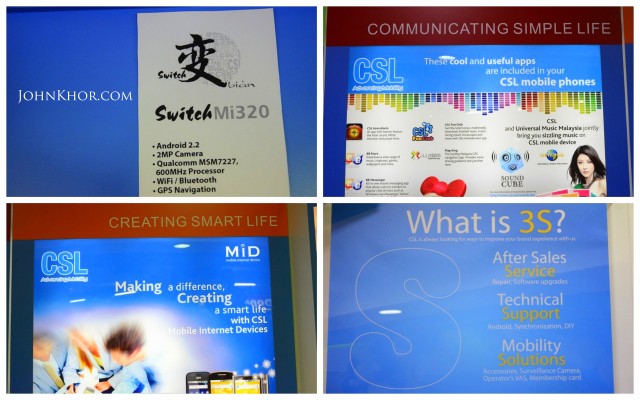 What is 3S? 1st S – After Sales Service. 2nd S – Technical Support. 3rd S – Mobility Solutions or short form as 3S – Service, Support & Solutions.
Various models of CSL phones on display in CSL 3S Care Center.
CSL Andorid powered tablet, Droidpad MI700
Opening ceremony and Dato' D. Eric Chuah taking a tour of CSL 3S Care Center.
The opening ceremony was officiated by Dato' Dr. Eric Chuah, CSL Group Managing Director, Mr. Edwin Gan, CSL Country Manager and 17 Master Key Distributors from all over Malaysia.
Prior to that, Mr Edwin Gan was invited to the stage to give an opening speech. It was very motivating to listen to the vision and mission of CSL Group. Here's the speech.
In conjunction with their CSL 3S Care Center opening, CSL had a great promotion for its customers on that day itself. Discount of RM100 – RM400 was given to their smartphones series called Switch Series. This promotion had managed to create a queue of more than 100 eager customers.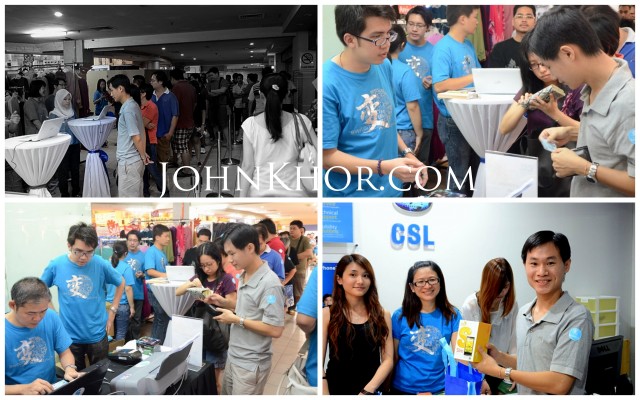 The queue was forming before 10am, even before all other shops are open. The 1st buyer of the day on the lower righ picture. He's one happy customer! 🙂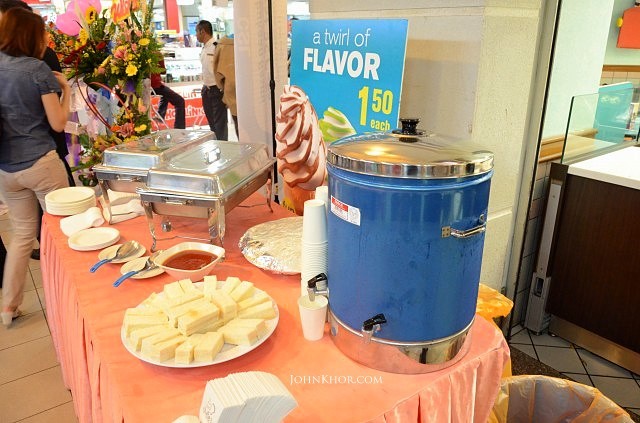 Light refreshment provided by Life 1 Café. Nice orange juice but the food are a it salty.
Here are 2 videos from the CSL event.
On that itself, 4 models of CSL Swarovski series phones were introduced. This Swarvoski series are introduced to cater to the ladies who loves bling-blings and more feminine phones. Nowadays, mobile phones are quite masculine and men-oriented and the introduction of this Swarovski series will certainly make the girls happy. And the phones have built-in BMI Calculator and Menstrual Calendar. How cool is that? 🙂 I knew that many female bloggers here like the Swarvoski phones a lot.
The 4 Swarovski models are Blueberry Princess 9200 @ RM299, Blueberry She 9300 @ RM399, Emma DS900 @ RM299 and Sophie G16 RM399.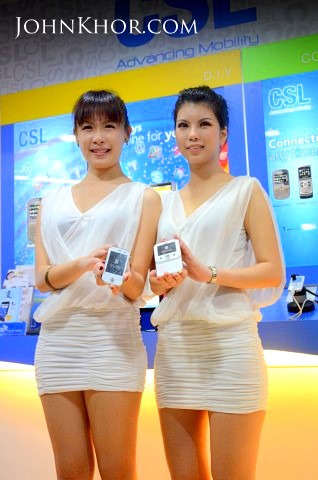 Models posing with the CSL Swarovski Series phones.
Overall Features Of The CSL Swarovski Series Phones:
• Dual SIM
• CSL Fun Club
• Sound Cube
• BB Messenger
• S. Push Mail
• Opera Mini
• Facebook / Twitter / Tagged / Skype
• Google Apps / Yahoo Apps / MSN Apps
• BMI Calculator / Menstrual Calendar
• 2.0 Megapixels Camera
• MP3 / MP4 Player / FM Radio
• Video & Sound Recorder
• MicroSD Card Expansion
SPECIFICATIONS:
• GSM 900 / 1800Mhz
• GPRS / WAP / MMS / EDGE
• Color: White
Here are the more specific specs for each CSL Swarovski phones: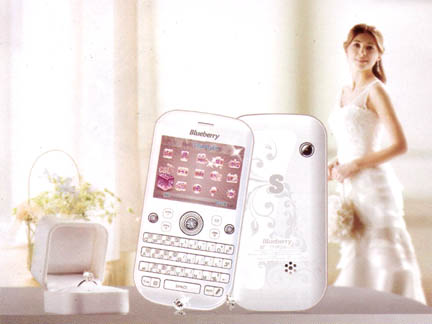 Blueberry Princess 9200:
• Display: 2.4" TFT QVGA
• Size: 115 x 59.5 x 11.5 mm
• Weight: 94g
• Standby: up to 188 hours
• Talk Time: up to 454 min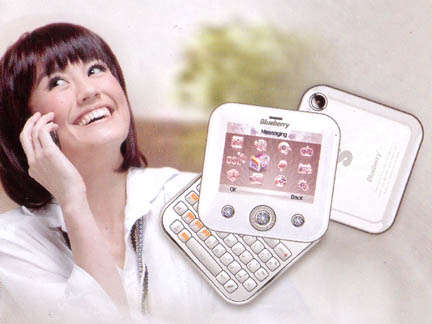 Blueberry She 9300:
• Display: 2.4" TFT QVGA
• Size: 70 x 70 x 16.3 mm
• Weight: 110g
• Standby: up to 264 hours
• Talk Time: up to 353 min
Emma DS900:
• Display: 2.2" TFT QVGA
• Size: 114 x 48 x 12 mm
• Weight: 82g
• Standby: up to 248 hours
• Talk Time: up to 496 min
Sophie G16:
• Display: 2.8" TFT QVGA (capacitive screen)
• Size: 102 x 55.5 x 13 mm
• Weight: 97g
• Standby: up to 145 hours
• Talk Time: up to 421 min
After the opening ceremony, we bloggers were ushered to Life 1 Café, a restaurant in Megamall near to CSL 3S Care Center to have our Social Hour among bloggers and the company representatives. 🙂
I find that CSL are very nice. Every CSL event, they will have a social hour with us
in a restaurant with great food and ambient enviroment for us to ask questions and get more information. That's really nice of them.
We had a lot of finger foods and a spagetthi for our lunch.
And we were briefed by the Deputy Manager of Northern Regional Sales, Mr Chuang about the Swarovski phones and an Android phone, CSL MI350.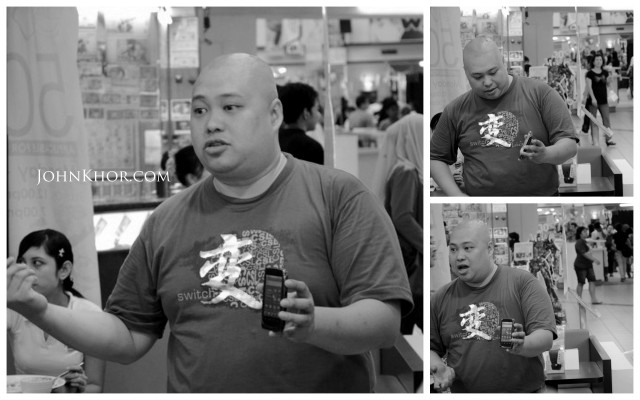 Mr Chuang trying his best to explain about the CSL phones and answering our questions.
We were also given the Android phone to review which is CSL MI350.
Unboxing CSL MI350.
Features of CSL MI350 Switch Series phone:
• Size: 114.8 x 62.8 x 14.7mm
• CPU: Qualcomm MSM7227-1 with DSDS BSP
• Network: GSM Quad bands: 850/900/1800/1900
• Data, SMS, MMS, Email
• Display: 3.5" HVGA(480 x 320)
• Memory: 512MB NAND Flash/512MB DDR
• Camera: CMOS 5MP
• Battery: Li-ion 1500 mAH
• Expansion Slot: Micro SD
• Features: GPS/AGPS, Bluetooth, FM
After Q&A with Mr Chuang, we bloggers have the insider's news that CSL will launched another Android phone soon and another tablet that is SLIMMER than Samsung Galaxy Tab 10.1-inch in a few months time.
Tablet fans, do you read me? Slimmer and will be running dual-core processor. Maybe you should hold your purchase of iPad 2 or Samsung Galaxy Tab 10.1-inch?
I find that this Android phone is very fluid and smooth. You can just slide and slide and it won't hang or lag. I am quite impressed with the performance of the phone. Too bad, it didn't have a dedicated camera button. Mr Chuang said you can compensate that by downloading an app that enable touch-to-snap feature.
Moreover, Mr Chuang testified that the battery life of the phone is minimum 12 hours with constant usage of phones, listening to songs, casual social media usage like Facebook and Twitter, casual web browsing and some videos. This is based on his own experience.
That's impressive. With just RM699, isn't it a kill? 🙂 I am seriously considering this phone as a temporary phone before I get iPhone 5. 🙂
Overall, I am very impressed with CSL company's products and vision. They just keep on improving and improving. If they keep on producing phones with the quality like MI350 or better, I bet the next product launch from CSL will have queues longer than iPad 2 launch queue. 🙂
And their vision of enabling every Malaysian to own a smartphone is very noble. With their commitment, I believe this is not a dream but a reality.
CSL made us Malaysians proud with their current and achievements and development. I can see that CSL will make a big difference in our Malaysian lives. 🙂
I am proud and confident to recommend this produk buatan Malaysia to my friends and families.
Special thanks to Mr Chuang, Ms Slyvia Ng for organizing this event and Leslie Loh and Criz Lai for iniviting me to this event.
Hope to see more of CSL in the future.
What's your say?
For more information, click here for CSL official website.
P/S: Pictures without watermarks are courtesy of crizlai.com