Star Cruise Pisces 1 Night Trip
I have never been to any cruise before in my whole life.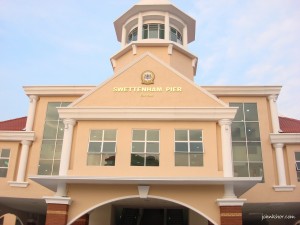 This is where we board the Star Cruise Pisces
Star Cruise Pisces in Penang!
Star Cruise Pisces side view
15th APRIL 2010 was a very memorable day in my life.
I boarded Star Cruise PISCES for one night trip. I went there with my girlfriend and my mum. I am so excited. Imagine in my whole 25 years++, I have never stepped into a ship. The total cost for three of us for Inside Stateroom only cost us RM90. We only have to pay for the Passenger Handling Charges which is RM30 per person. Why? Because I used my mum's Genting Points to redeem a room and paid for our charges. The whole trip used up 75 Genting Points points. I heard that there are many kinds of promotions for Genting cardholders. Any ideas?
A view of Star Cruise Pisces from Swettenham Port Penang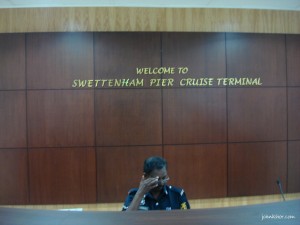 The police was very shy! Haha =)
Star Cruise Pisces. Here I come!
First impression of Star Cruise PISCES is that the cruise was a very classy cruise, in its olden days. Now,  the design and outlook were a bit outdated and needed refurbishing but overall it still exudes the classy feel.
All the gamble ghosts! 'Kiao kui's
The food was a disappointment. I was expecting a hotel standard buffet where there are many kinds of foods, appetisers and desserts. What do we get? Buffet ala economy rice standard.  I had The overall food standard was so-so only. By the way, the fish is quite nice.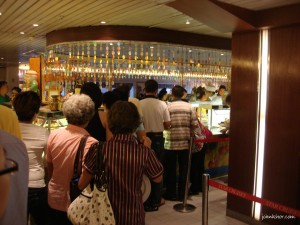 Makan also have to queue up??? But the food is so so only!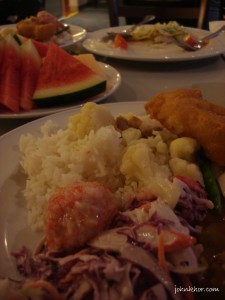 A simple meal! It's like economy rice!@!@! LOL!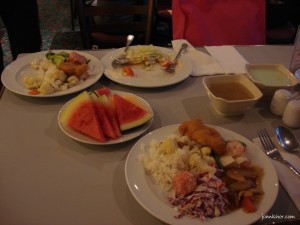 Overall, the food is just nice! Sorry for spoiling your mood for those who still haven't go there before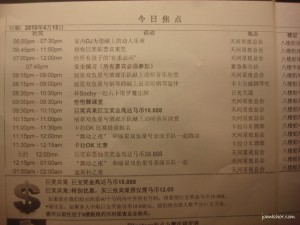 Star Cruise Pisces 1 Night Itinerary in Mandarin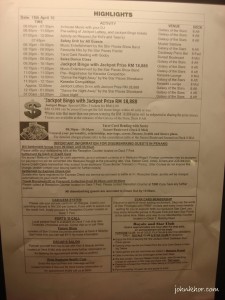 Star Cruise Pisces 1 Night Itinerary in English. The casino starts at around 930pm, if I am not mistaken
Later, we went over to the disco to watch salsa dance class. The instructor is kinda cute. A few 'mommies' was invited to learn the dance together. It was kinda of cute to watch them dance. By the way, they were dancing cha-cha because all the 'mommies' were requesting it.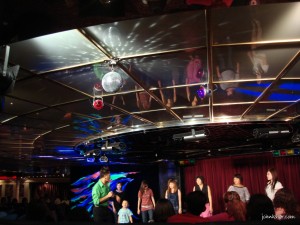 A cute teacher teaching the 'mommies' cha-cha
After that, came the main event of the day, "JACKPOT BINGO".  While the emcees were busy explaining the rules, my girlfriend and I was thinking of whether to play this game or not. I was reluctant but finally I went over to the counter to buy. 1 ticket is RM5. 3 tickets is RM12. I bought 1 ticket only even though salesgirl insisted on 3 tickets, saying that they do not process 1 ticket sale and they are having promotion now. What kind of service is this? After selling me the ticket, she didn't even bother to explain to me what to do or pass me the toothpick for me to mark the numbers.
Never mind about it. Now about the JACKPOT BINGO. The rules are very simple. There are 15 numbers in your ticket. Once if all your 15 numbers matches the numbers that the emcees draw, then you shout 'BINGO' and you will win the jackpot of RM18,888. You need to complete your 15 numbers within 40 draws. After that, they will still continue to draw until a person BINGOs but you will only win the consolation prize. I have forgotten how to calculate the consolation prize but it's around RM200-RM300 only, depending on the number of tickets sold that night. It's really a very exciting game and it's very thrilling as you are nearing to complete the 15 numbers and you are competing with others who are also very near to BINGO. A must try!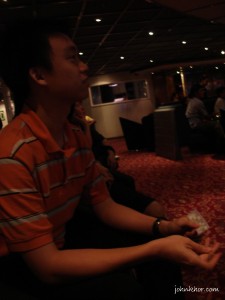 Listening to the numbers of Jackpot Bingo! Aiyoyo! Very focuslo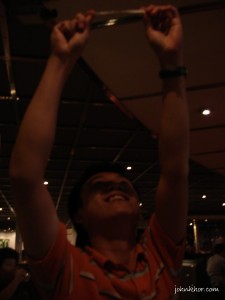 Checking… Checking… Is it BINGO?
Another reason why I say that the trip is very memorable is because on that night, I hit the BINGO JACKPOT! Haha =) But not RM18,888(la) only RM144.20. Caught ya! Yup, I managed to finish my 15 numbers with 70++ draws. Actually I was very lucky because there was an auntie who had actually BINGO-ed earlier but she didn't notice. Then I shouted BINGO earlier than her. So, both of us were given a choice to either compete again by drawing a number. Whose number the highest wins or we can split the winning. The jackpot is RM288.40. So I won RM144.20. So the whole trip for all of us is FREE! What a special moment!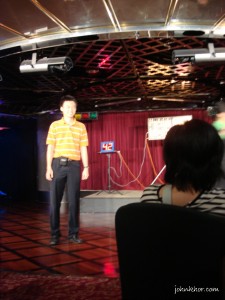 BINGO-ed! At the stage!
Should we share the Jackpot $$$ or play again?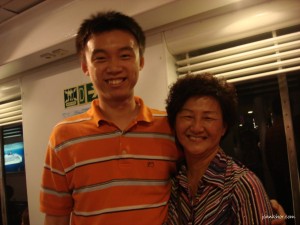 Finally, we share! Two lucky Jackpot Bingo winners! Congratulations!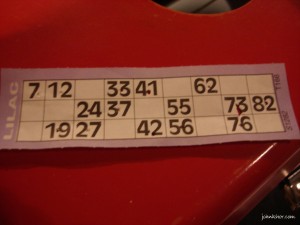 The Jackpot Bingo winning ticket!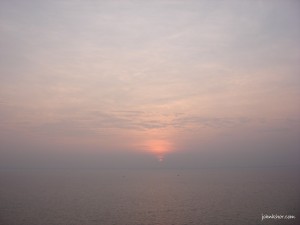 Sunrise at Star Cruise Pisces deck
The 'eggyolk' is coming out!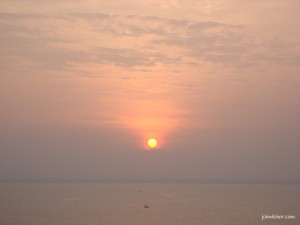 Finally out! Very beautiful!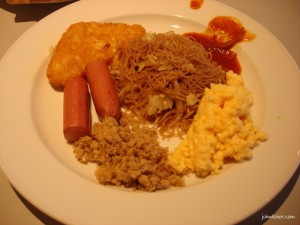 Breakfast at Star Cruise Pisces Buffet!
Overall,my 1st Star Cruise is very memorable. I am so happy. All of you should try it. Star Cruise Pisces will still be in Penang until June 2010.