Review: Pulau Langkawi One Day Trip by Langkawi Nature Discovery Part I
I have been invited to review the Langkawi Nature Discovery trip. It's a 1-day tour in Pulau Langkawi. Yeah!!! I am so happy. Good things seems to be coming nonstop. It seems that my blogging has taken me to new direction. Let's keep it that way. 🙂 Thanks for everyone's support especially my readers.
Pulau Langkawi, an island with legends and myth.
Pulau Langkawi. The name means an island of reddish brown eagles. Pulau is island in Malay. Lang, a short form of Helang means eagle. Kawi means reddish brown. Hence, the name Pulau Langkawi.
On July 15, 2008, Sultan Abdul Halim of Kedah had consented to the change of name of Pulau Langkawi to Langkawi Permata Kedah aka Langkawi, the Jewel of Kedah, in conjunction with his Golden Jubilee Celebration.
We met at Swettenham Pier at 7:30am before boarding the ferry to Langkawi. The ferry starts at 8:15am sharp. The organiser is so nice to give us VIP seats.
Oh ya, for those of you who are sea-sick, this includes me too, remember to bring the sea sick pills, not THE pill and take it 1/2 an hour before your ferry trip. Or on the safe side, take it 45 minutes before your ferry trip. One of the bloggers took the pill 30 minutes before the ferry but still no effect. This caused him to pening (dizzy) during the trip. Should asked him to take double dosage! :-p
On the way to the ferry.
It's a rather big ferry that we took.
Some of the beautiful views of Georgetown from the top deck of the ferry.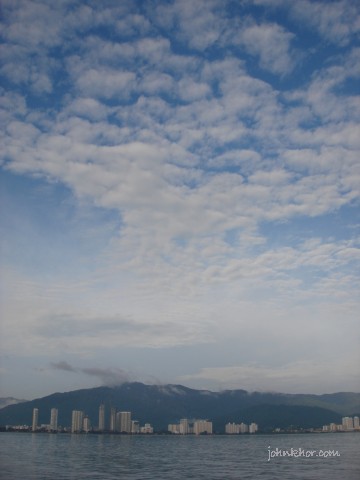 You can take photos on the top deck after the ferry departs from the jetty for a while.
Or you can enjoy the sea breeze like me. 😛
It took us 2 hours 45 minutes++ to reach Pulau Langkawi  from Penang. The estimated time to reach Pulau Langkawi from Penang is around 2 1/2 hours ~ 3 hours++, depending on the sea conditions.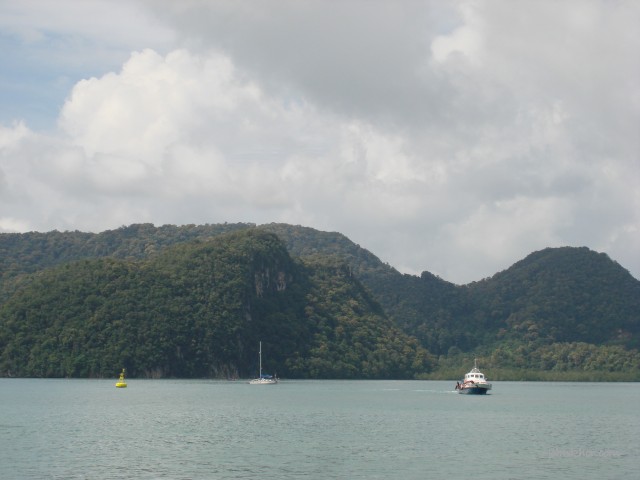 Some of the sceneries that you can see during the ferry trip to Langkawi Island.
A large billboard will greet you the moment you reach Kuah Jetty. "Selamat Datang ke Pulau Langkawi"
Arriving at Kuah Jetty, Langkawi Island.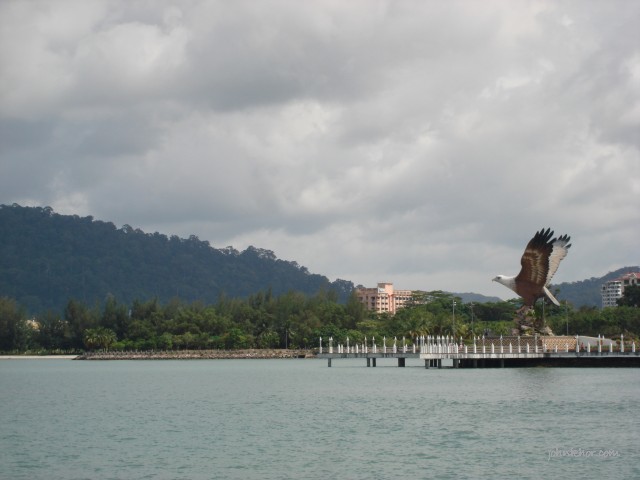 Eagle Square aka Dataran Lang. It's the first 'eagle' that greets you when you reach Langkawi Island.
The smallest Big Apple Donuts and Coffee shop ever in Malaysia!!! It's so cute.
Jetty Point. This is one of the few shopping malls in Pulau Langkawi. You can rent your car or motorcycle here. You can book your hotel rooms here and your tour guides or tour packages.
It's very nice of them to pass us a Langkawi map, complete with all the attactions and all the F&B outlets in Langkawi. Sure shop till we drop liao.
In the Langkawi tour, they used a van to ferry us around Langkawi Island. Now it's time for lunch!!!
We were taken to Royal Langkawi Yacht Club for our lunch.
The exterior of Royal Langkawi Yacht Club. It's certainly nice to dine at the seaside.
The restaurant at Royal Langkawi Yacht Club is called Charlie's Place.
The view from Charlie's Place. Very relaxing view.
Haha. It seems that the IKEAs here are a bit outdated here. They are so yellow. 😛 Overall, the dining area looks very relaxing and laid-back although more ceiling fan or cooling fan will be better.
The waiter who prepared the table and served us our lunch. Very polite and fast.
After taking photos of the restaurant, we finally settled down and start to look at the menu.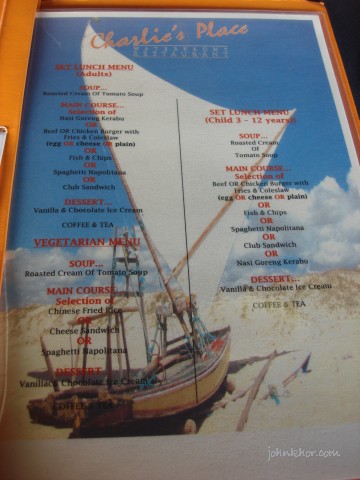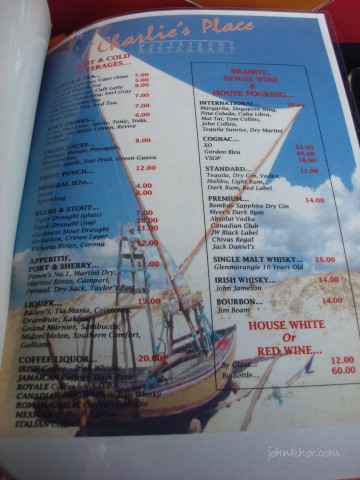 We are given a variety of set lunches to select from. The soup is roasted cream of tomato soup. There are five main courses to choose from, Nasi Goreng Kerabu, Beef or Chicken Burger with Fries & Coleslaw, Fish & Chips, Spagetthi Napolitana & Club Sandwich. The dessert is Vanilla & Chocolate Ice Cream. After the dessert, they will serve us coffee or tea, or me? Haha 🙂
Our bloggers group ordered a few kinds of main courses to test their foods.
Roasted Cream of Tomato Soup. Very nice. Quite thick and not watery.
Chilli sauce, tomato sauce and tartar sauce. Beautifully presented.
Bloggers busy taking their pictures. Nowadays, there's even a powerful God who is Camera God. The Camera God has to 'eat' first before we get to eat. Haha 🙂
I ordered Fish & Chips. The portion is quite large and it's very filling. It's a bit salty. If you prefer less salty, do let them know earlier.
Nasi Goreng Kerabu. The crackers are very nice!
The Beef or Chicken Burger is also quite large in portion. If you are a light eater, you can share with your partner. It's quite nice.
I am a sucker for ice-creams and cherries also. It's very nice and I can never get enough. It's a sweet thing to conclude my lunch.
So far so good. Now that my stomach is filled, I am ready for ADVENTURES!!! Langkawi, here I come!!! 🙂
What's your say?