Review: Pulau Langkawi One Day Trip by Langkawi Nature Discovery Part II: Langkawi Cable Car
Now the adventure of Langkawi Island starts!!!
After the hearty lunch, we are brought to the main tourist attraction of Langkawi Island:
THE  LANGKAWI CABLE CAR RIDE & MOUNT MAT CHINCHANG &  LANGKAWI SKY BRIDGE!
This has been the place that I wanted to visit ever since my first visit to Langkawi Island. I have been seeing pictures of Langkawi Cable Car and the sceneries in Facebook and the pictures are so marvellous.  I really can't wait to see it myself.
At first, we are brought to Oriental Village, the place to ride the Langkawi Cable Car. The village looked 'Oriental' enough and it bears some similiarities with Bukit Tinggi's buildings.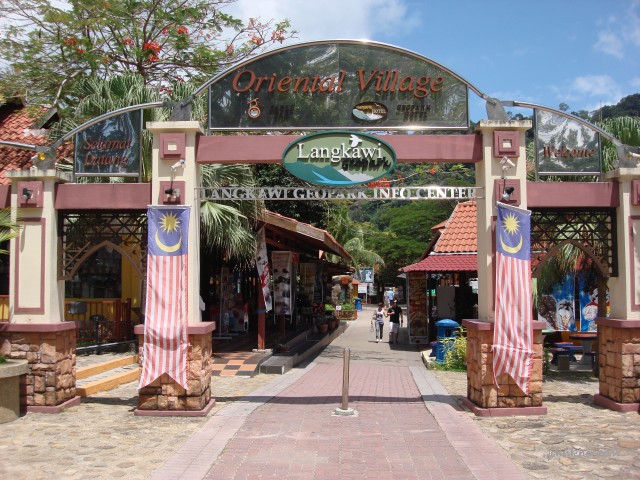 The entrance of Oriental Village.
Oriental Village's map. They even have place for you to camp. Cool!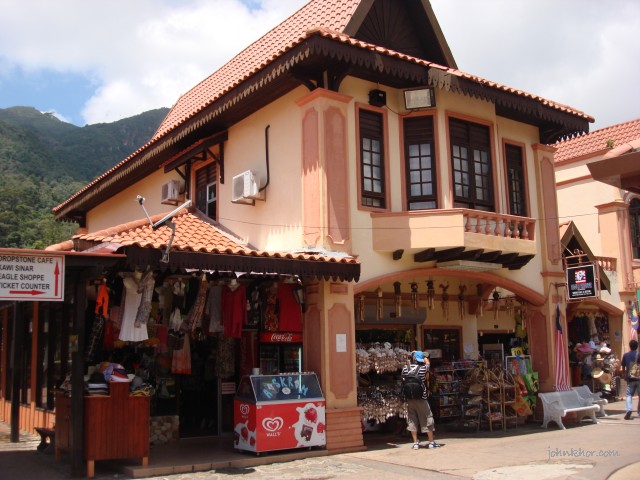 Some of the shops in Oriental Village. Remember to bring hat or cap as it's get quite hot during the afternoon.
A lake for you to relax your mind.
This is one thing that I had missed during our Langkawi Trip. I had read about this SEGWAY long time ago but never had the chance to try it. SEGWAY is a two-wheeled, self-balancing electric vehicle invented by an American inventor called Dean Kamen and manufactured by Segway Inc.
It's RM17.00 per ride but never mentioned how long. I didn't managed to ask more as we were rushing to the cable car.
I saw a few of them playing with SEGWAY in the Oriental Village. It's so nice. Imagine the girls will be damn happy to have one in shopping malls especially One Utama. No more tired legs. Bye bye Osim's USqueeze! 🙂
Langkawi Cable Car, here I come!
Operation Hours & Days of Langkawi Cable Car. Depending on the weather, they might temporarily stop the operation of cable car. So, if you see black clouds while on the way to Langkawi Cable Car, the you can literally 'Kiss Goodbye' (a song by Wang Lee Hom) to it already. 🙂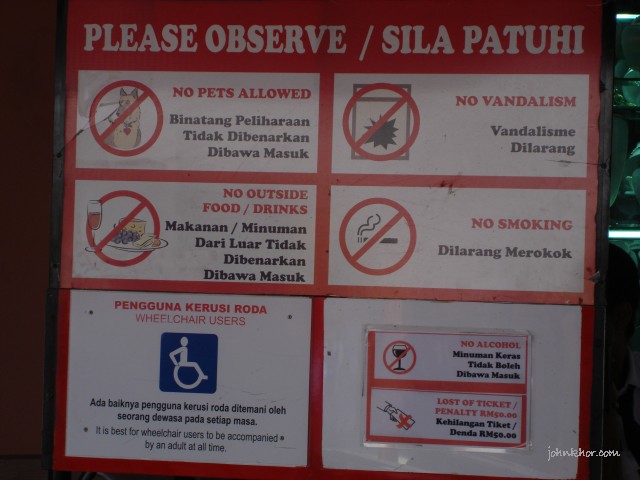 Some of the rules & regulations before boarding the Langkawi Cable Car.
The most hated part of any great rides. Queuing up. But luckily, it's quite fast.
For those of you who love adrenaline rush, you can try to board this gondola. Haha. Sure scared until 'lao jio' (urinate in Mandarin).
It's a really big wheel. Speechless.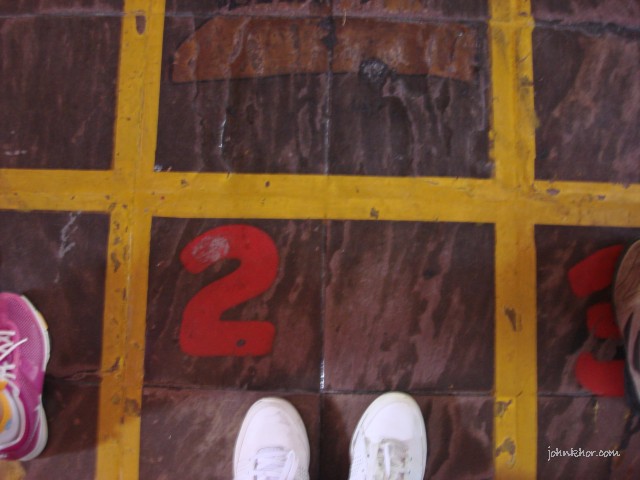 They have a cute queuing system whereby they draw boxes with numbers to indicate which group you are in. One gondola can fit up to 6 persons at one time.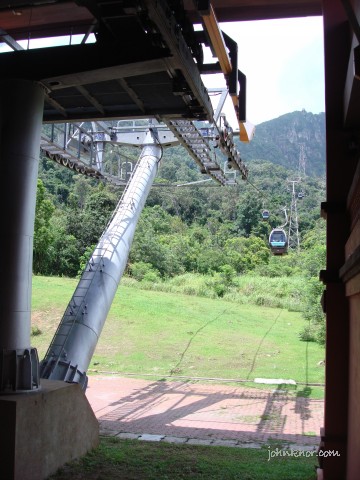 Going Up!
This is the scariest part while hanging up so high. You will feel the gondola shake like hell when passing these towers. Faint-hearted people, remember to hug your boyfriend tightly!!! Or guys, it's a good chance for you to get some free hugs!!! Haha 🙂
It's so beautiful and serene while going up. As you go higher, it becomes cooler and the breeze are so cold! It's damn nice!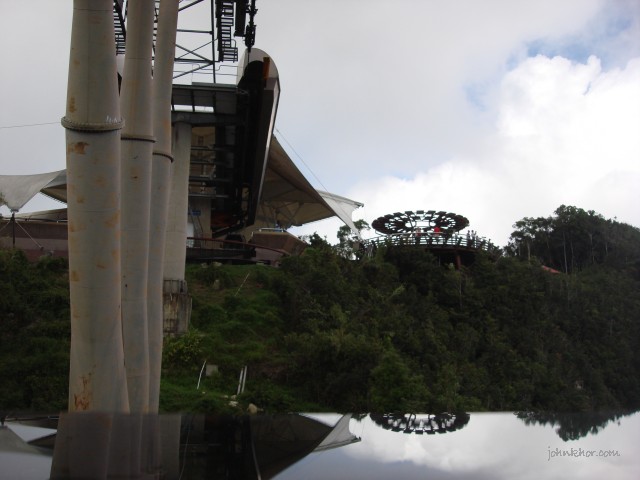 At this point, you can choose to go up all the way to Top Station/Sky Bridge or you can go out and have a look at Middle Station.
Did you see how cold was it up there? Even the signboard is freezing. Haha. Joking only. The plastic has blurred.
After enjoying the breath-taking views, we proceed to the Top Station as we can see the black clouds are coming. Certainly, we don't want to get stuck here and freeze under the rain, right?
Sky Bridge, here I come!
Welcome to Mount Mat Cincang/Mount Mat Chinchang. There's a variation for the name.
Here I would like to add a precaution too. For those of you who are lazy to exercise people, this will certainly take your breath away. It's quite a walk to Sky Bridge.
Here is another stop. I need to catch up my breath first. It's indeed very tiring.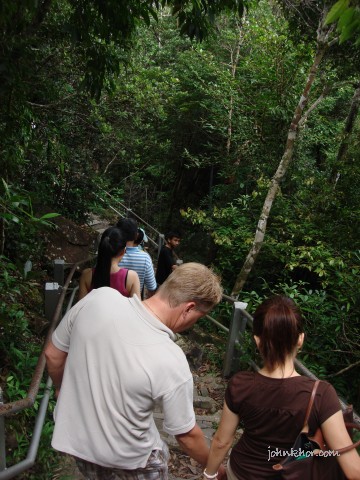 Beware, it's quite steep.
Finally, SKY BRIDGE!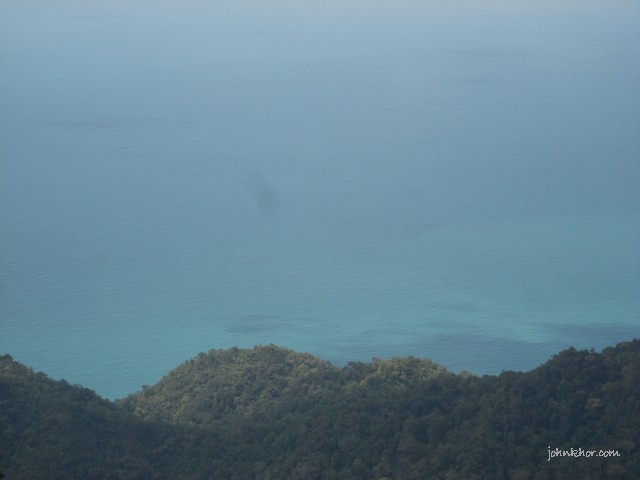 Andaman Seas. It's so so so so X 100 beautiful and the wind is so nice! Very cooling.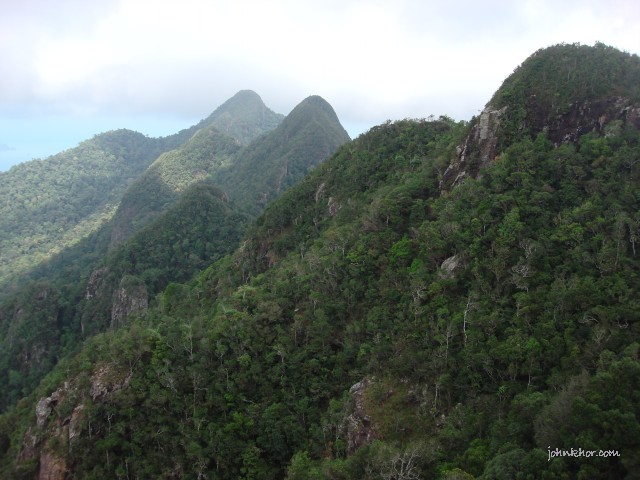 Good bye Langkawi Cable Car, Mount Mat Chinchang & Sky Bridge!
All of us enjoyed the cable rides and the views of Mount Mat Chinchang. It's really worth and it and the experience is priceless.
Ticket: RM30
Queue Time: 15-20 minutes.
Experience: Priceless.
Mastercard Advertisement. Haha! Simple but precise.
P/S: Hope to have a chance for sunset view at Sky Bridge, Langkawi Island.
What's your say?
For more information:
The Prices /Rates for Return Trip from BASE STATION to TOP STATION.
| | |
| --- | --- |
| Adult | RM30.00 |
| Children (2 – 12 yrs old) | RM20.0 |
Note: There will be no refund, exchange or credit on cable car ticket.
Journey to the top of Mount Chinchang & vice versa: 15 minutes++ each (exclude queuing time).
Operation Hours
Monday – Thursday *                              10:00AM – 6:00PM
Wednesday *                                              12:00PM – 6:00PM
Friday – Sunday & Public Holiday **      9:30AM  – 7:00PM
Note:
Langkawi Cable Car operation is subject to weather condition. Customers are advised to call us at +604-959 4225 before visiting to avoid disappointment.
* Last admission at 6:00PM and last trip down at 7:00PM
** Last admission at 7:00PM and last trip down at 7:45PM
Do take note that Langkawi Cable Car will close down a few days in each month for maintenance to ensure the highest level of safety and reliability. So, remember to check this page of their official website for their maintenance days to avoid disappointment.
Panorama Langkawi Sdn Bhd (594195-D)
Cable Car Station, Oriental Village
Burau Bay 07000 Langkawi,
Kedah Darul Aman, Malaysia.
Tel: 604-959 4225
Fax: 604-959 3120
Email: info@langkawicablecar.com.my
Website: www.langkawicablecar.com.my