Penang Visit #1: Penang Butterfly Farm, the World's 1st Tropical Live Butterfly & Insect Sanctuary
Last month, our eChiro trainer and his wife (also our HQ Trainer) came over to visit our eChiro centre and also gave a training on how to become a better team member. Learned a great deal.
The next day, we took them to visit our Penang Butterfly Farm, the World's 1st Tropical Live Butterfly & Insect Sanctuary, located at Batu Ferringhi. At first I was reluctant but after my girlfriend's insistence, we went. And I had not regretted. The trip to Penang Butterfly Farm was unforgettable.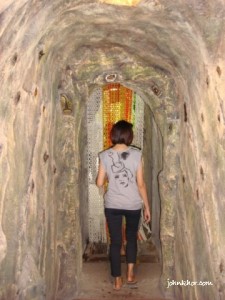 Walking into Penang Butterfly Farm
When we first went in, we are shocked to see so many butterflies flying in the farm, in front of us. Yeah, the butterflies are flying everywhere and we can touch them and feel them too. Impressive.
One of my girlfriend's favorite shots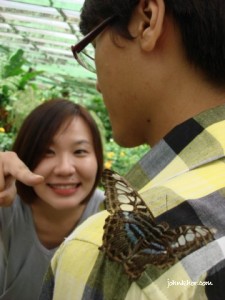 The butterflies are very friendly and love visitors. Look at this one!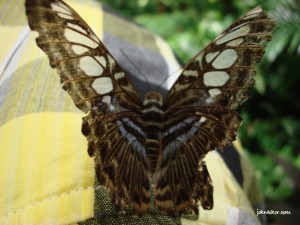 The butterfly trying to suck the nectar but failed! Haha
Another of my girlfriend's favorite shots @ Penang Butterfly Farm
A rather cool butterfly
It took us a while to found it, the java leaf insect. Very pandai!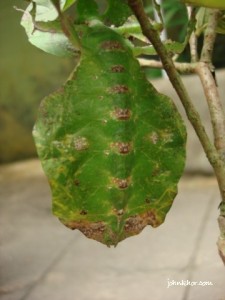 Guess what? It's not a leaf but java leaf insect. Suprise! Suprise!
Just for fun! Hope you laughed!
This reminds me of Baja Hitam! One of my favorite Japanese heroes when I was a kid.
Beautiful is it? Must be wondering where to get this shot right? I took it from a picture displayed! Haha
One of the cool insect in Penang Butterfly Farm. Fluoroscent scorpions.
Man-face bugs!
Another beautiful shot by my girlfriend!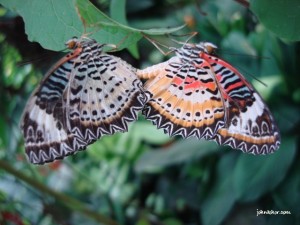 Rare sighting of butterflies mating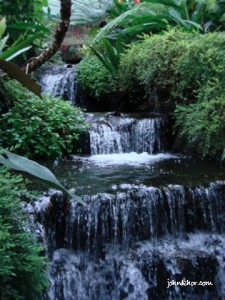 A small waterfall in the middle of Penang Butterfly Farm. Amazing!
We are going home
So happy! So all of you must visit Penang Butterfly Farm ya!
That's all folks. See ya again! Remember to visit Penang Butterfly Farm especially Penangnites. If not very shameful, ya! Haha =)
Information about Penang Butterfly Farm.
Opening Hour:
Monday-Friday: 9:00am to 5:30pm (Last Entry at 5:00pm)
Weekend & Public Holidays: 9:00am to 6:00pm (Last Entry at 5:30pm)
Admission:
Adult: RM20.00
Children: RM10 (4-12 years old)
Camera/Digital Camera Charge: Free
Video/Digital Video Camera: RM5.00/pc.
Special Promotion for Malaysian Citizen:
Adult: RM10.00
Children: RM5.00 (4-12 years old)
*Must present MyKad to enjoy the promotion. So, remember to bring your MyKad.
Discounts are available to school bookings and other large groups. Please contact the Penang Butterfly Farm for prior bookings and other services such as educational program which can be conducted with groups and more information to enjoy special rates.
Going There:
Penang Butterfly Farm is located at Jalan Teluk Bahang. About 10 ~ 15min drive from Batu Ferringhi. Don't worry, plenty of signboards has been put up to make sure it can be easily found.
Address:
Penang Butterfly Farm
No 830 Jalan Teluk Bahang, 11050 Penang, Malaysia
Tel: 604-885 1253   Fax: 604-885 2011 / 885 174
www.butterfly-insect.com