My Pageviews Per Day passed 800 mark & Unique Visitors Per Day passed 600 mark!!!
This is a dream come true! Let me feel the cosmic energy once again. The Law of Attraction is just getting better. Don't play play ya.
On November 11, 2010, I was a happy boy as my pageviews and absolute unique visitors a day passed the 300 mark. That time, I wrote that I hope to get 800 pageviews and 600 absolute unique visitors pageviews a day. After 7 days, my wish got fulfilled. Thanks everyone, my readers and also my one-time-visitors. Hope you find my blog useful.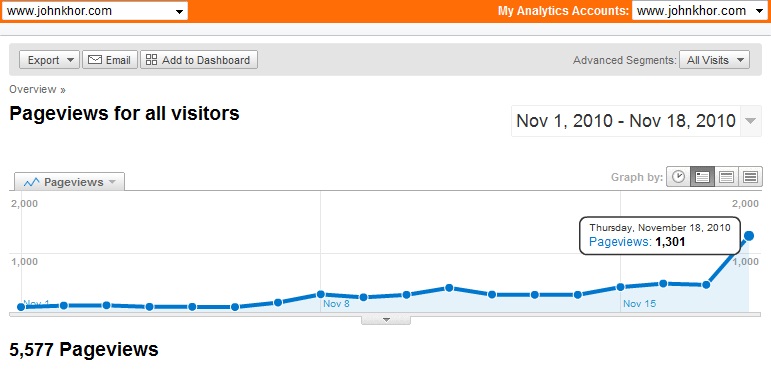 www.johnkhor.com Pageviews for November 18, 2010. 1, 301 pageviews!!! I have got more than I have bargained for!
www.johnkhor.com hits 774 absolute unique visitors on November 18th 2010. Thanks for everyone!
Today is a happy day for me. I am very happy that I can reach this milestone after 6 months of blogging. I am also happy to be able to contribute something into your life. Thank you!
What's your say?