Mean Machines 2010 @ Highway Autocity, Bukit Mertajam, Penang!!!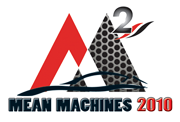 Mean Machines @ M2 Logo
Fast & Furious are coming to Penang again! It's on 23rd Oct 2010 & 24th Oct 2010.
Mean Machines (M2) is dubbed as the largest motoring events and outdoor motorsport performance in Malaysia. M2 is also the longest successive motoring event in Malaysia.
For motor enthusiasts, there will be a lot of events to quench your thirst for motoring needs and not mention, the Mean Machine Girls. There will be Drift Demonstrations, Classic Car Gymkhana, Meanest Modified Car Competition, SuperCar Charity Drive and Showcase, Superbike and Classsic-Bike Gathering & Search for Miss Mean Machines.
There will also be 500++ more supercars, modifired cars, classic cars and car club cars showcasing their mean power, mean looks & design to the public. And 50++ leading auto accessories companies will also showcase their products and offering special promotion and offers only on the days of the event.
So, don't miss this opportunity to tune up, upgrade or redesign your car and bikes.
Mean Machines Supercar Display & Miss Mean Machines.
Mean Machines 2010 Event
23rd Oct 2010 & 24th Oct 2010
1200pm – 1200am
Highway Autocity, Juru, Penang.
See you there. Those who had been to this Mean Machines events before, please give me some tips or leave your comments/reviews of Mean Machines @ M2 event.