Latest Promotion from Burger King @ Promenade 28, Jelutong, Penang!!!
Yeah!!! Just got to know about this Burger King promotion.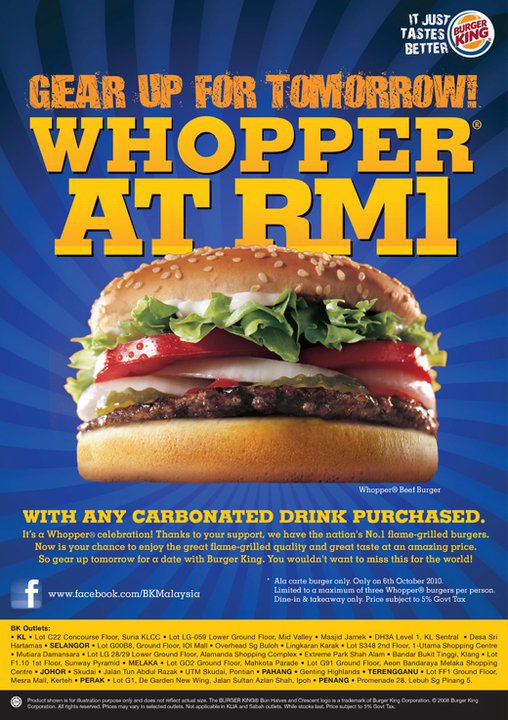 RM1 for Burger King's Whooper burger.
At first glance, I was thinking, "Wah, are you sure? Is there such a nice thing to happen?" It's not that really RM1 but still a good deal! You purchase any one carbonated drinks and you will be entitled to buy up to 3 Whoopers burgers.
There are 3 kinds of Whoopers burgers. Whooper (RM9.60 ala-carte), Whooper Black Pepper (RM9.60 ala-carte) & Whooper Junior (RM5.90 ala-carte). There is no specific mention whether the RM1 Whooper burger applies to which Whooper Burgers. Just have to check it out to know!
1 Whooper Burger & 1 carbonated drink including 5% government tax will total up to less than RM5. Quickly grab one. Only 6th October 2010. From 11am to 10pm only. Dine in or take away only.
Mind you, the place is quite small and prior to this promotion there are people complaining about the long queue or lack of place to seat. So, be prepared for tomorrow's 'battle'. Haha. =P
For those of you who do not know where the hell is Burger King @ Penang or those of you who are still 'blur blur' as to where Burger King Penang is, check this map provided by Burger King.
See you there!!!