Invited Review: Vintage Bulgaria @ Tanjung Bungah, Penang
I was invited for another food review. Hooray!!!
Good things do happens when you think about it. Keep it up!
This time, I am invited to review a Bulgarian restaurant located in Tanjung Bungah, Penang. The name of the restaurant is Vintage Bulgaria. It is run by a Bulgarian lady who is married to a Penangnite.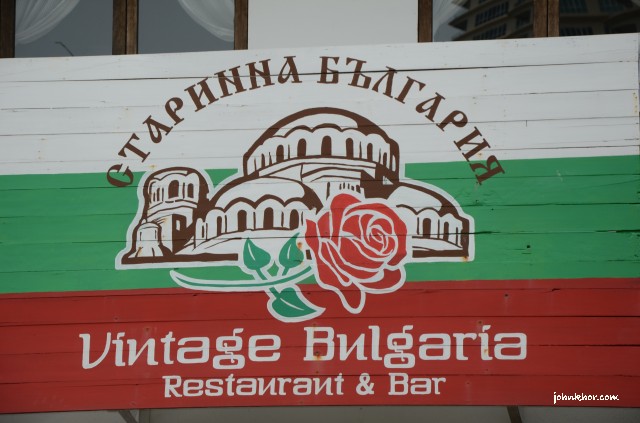 Vintage Bulgaria Restaurant & Bar @ Tanjung Bungah, Penang.
Vintage Bulgaria opens everyday from 4pm – 12am.
A very beautiful decoration while stepping into the restaurant.
My first impression when I first stepped into the restaurant is the restaurant looked really vintage and beautifully done. I can see that the owner put in a lot of efforts & $$$ to make her restaurant a really great place to be.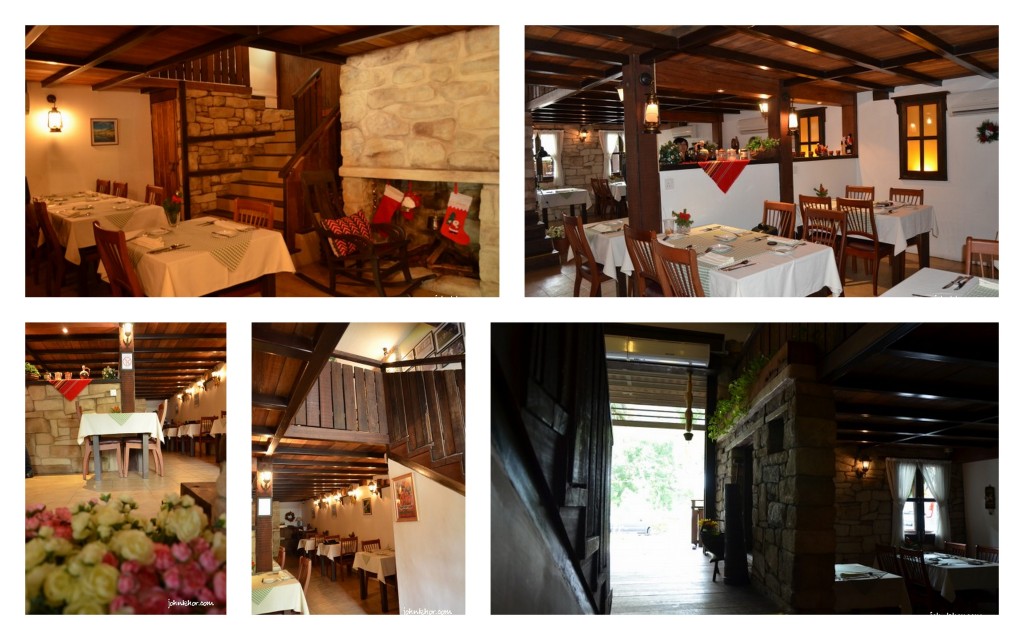 Vintage Bulgaria has a mezzanine floor between two floors to have a larger space for dining.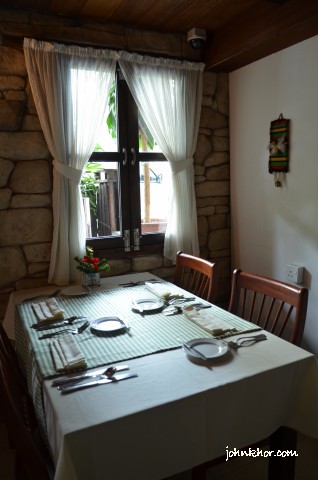 This restaurant is suitable for romantic dinners for couples too. There are some private corners like this one.
They have a floor dedicated to functions like birthday parties, private parties or events, suitable for large crowds or company gatherings.
A look of the upper floor (function floor).
After taking pictures of the atmosphere, now it's time for food review.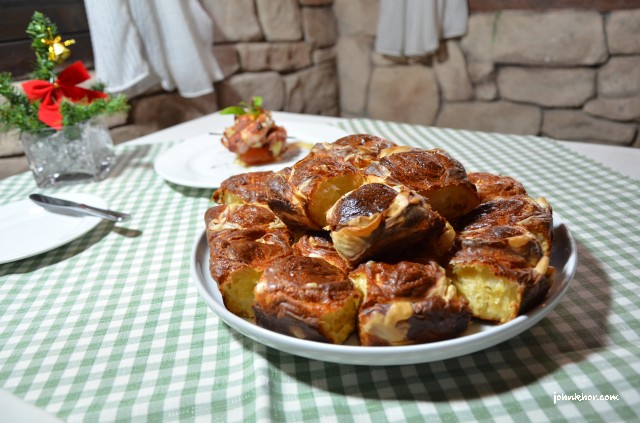 This is an appetizer called Banitsa. It's a traditional Bulgarian cheese pastry. It's made up of layers of light pastry with pieces of feta cheese and whisked eggs and baked until golden brown.
It tasted very nice. Fluffy and easy to chew (I am talking like old man already, :-)). You literally can taste the flavors but it's a tad bit salty. From what I was told, Bulgarian dishes are a bit salty than our normal food in Malaysia, so be prepared. Maybe salt in Bulgaria is cheaper? 😛
This dish is personally prepared by the parents of the lady owner of this Bulgarian restaurant and it's home made. So any orders has to be made minimum 3 days in advance before you get to enjoy this dish.
Mushroom soup.
The standard soup in most Western restaurants. This time, Vintage Bulgaria did it in a different way from the standard out-of-can mushroom soups. It's very original and has a lot of ingredients in the soup. I was told that they cooked the mushroom soups themselves and it really tasted good.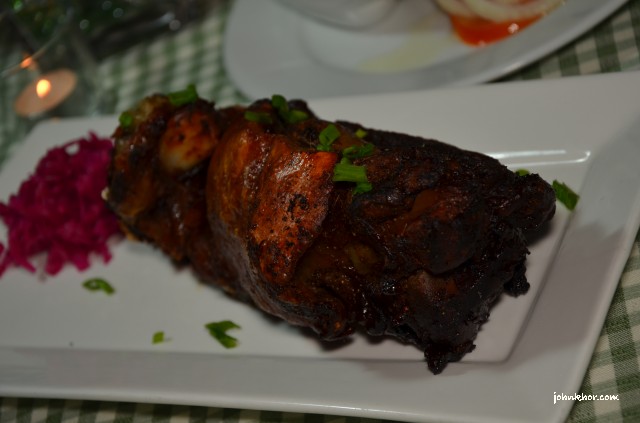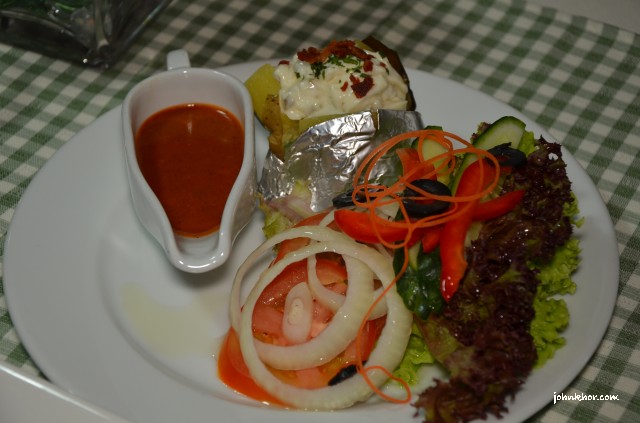 Roast Pork Djolan (1.2kg) Available only on Fridays, Saturdays and Sundays only. RM53
This is one of the highlights of the day. Damn tender and nice. It's like having M&M that melts in your mouth and not your hands. Whole oven-roasted pork knuckle served with Bulgarian traditional barbeque sauce. You can taste the barbeque sauce in the meat while you are munching on it. One of the must-recommend dish.
The salad that comes with this dish tasted very nice too. The dressing is very nice and made me really hungry to eat my next dish.
Shopska Salad. RM15.
One of the most popular Bulgarian salad consisting of cucumbers, peppers, tomatoes topped with feta cheese and Bulgarian traditional dressing.
For salad lovers, this is a must try. And they do recommend that you eat with one of their wines. I am not a wine drinker. So, I cannot comment further. Those of you who enjoys wines, give it a try and leave me a comment, OK? Thank you.
Orley Warps. RM18.
A traditional Bulgarian dish consisting of cheese wrapped in bacon, skewered and grilled to perfection.
Perfect combination. Bacon and cheese. Once eaten, considered sold. This is another must-try dish. Look at the cheese. So inviting and sinful. 🙂
Bulgarian Chicken Shashlik (500g) RM38.
A generous skewer of boneless chicken drumstick and vegetables grilled to perfection.
This is also one of the highlights of the day. Damn nice and you just can't stop. I wished that other reviewers were not there so that I can gallop all of it. Haha 🙂 So greedy! The chicken tender and tasted just right. The flavors are very rich. Very inviting. Even the onions are very crispy and nice.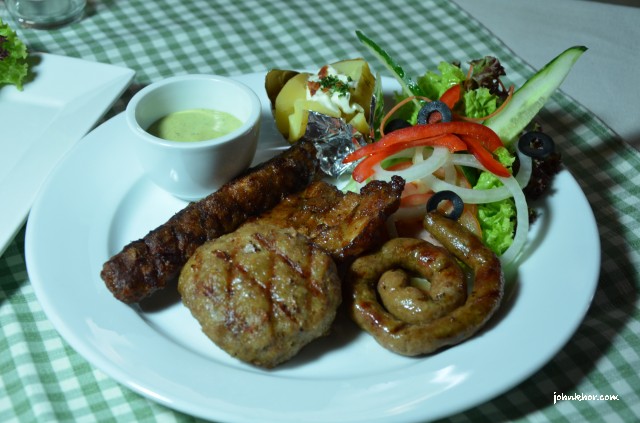 Bulgarian Platter. RM35. 30% of the price on Mondays & Tuesdays.
A classic mixed grill of homemade kebapoche (grilled spiced mince pork and beef), kyofte (meatball), karnatche (pork and beef spiced sausage) and succulent pork fillet.
Meat lovers, this is your heaven. All the meats are well done and tasted so right that I must confess that I am becoming addicted to Bulgarian cuisines. I tend to take less meat in my daily meals, for healthy reasons but this is making me cross the line. This is another must try when you visit Vintage Bulgaria.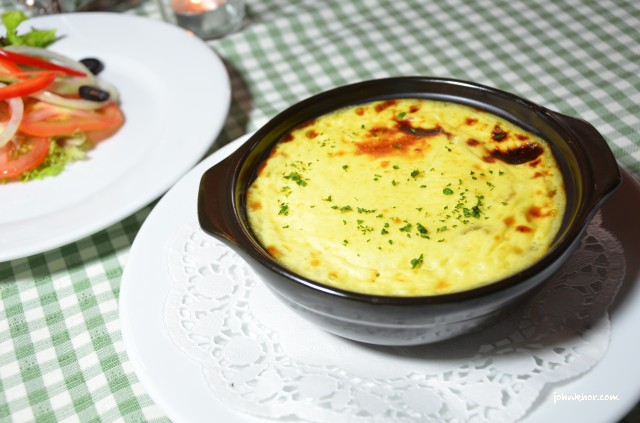 Set meal – Vegetarian Bulgarian Zapekanka (250gram). RM26.
This dish consists of baked potatoes, spinach, mozzarella and topped with egg in a claypot.
This dish tasted average to me, maybe because after trying so many great dishes before it 😛 Again, it's quite filling and tasted a bit salty.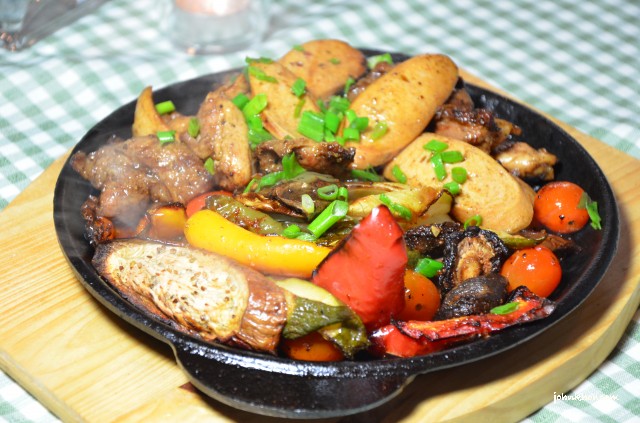 Bulgarian Sach (Sizzling Plates) 600grams. RM49.
A Bulgarian traditional sizzling plate of grilled meats and vegetables that serves 2 persons.
This is also one of the highlights of the day. It's suitable for couples who dine there. The portion is enough for both of you, unless you eat like King Kong. Again, Vintage Bulgaria is proven to be really good with meats and it's same with this dish. It's a must try.
Set Meal – Chicken Kiev (250grams). RM32.
Tender boneless chicken drumstick wrapped around garlic butter, fried in breadcrumb till golden brown.
The chicken is fried to perfection. It's very crispy. It tasted very nice when you bite it. It's a nice alternative to all the highlights that I have mentioned above, if you are getting bored with all the red meats.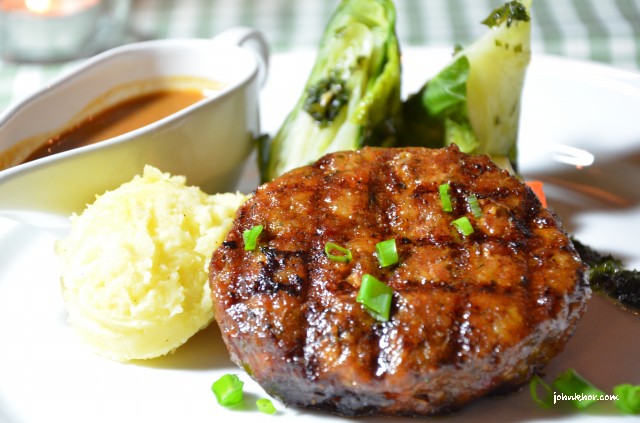 Set Meal – Tatarsko Kyofte (200grams). RM32
A traditional recipe of grilled seasoned mince pork stuffed with roast peppers, parsley and cheese.
This is another must-try dish. The mince pork is so tender and tasted so juicy. And I like the combination of all the stuffs especially the sauce. It felt so nice.
Vegetarian Moussaka (250grams). RM25.
Herbed potatoes, rice, carrots, eggplant and tomatoes baked with their special topping.
It's quite nice that they prepare a vegetarian dish. Just in case there are some vegetarian who accompany their friends to dine here. It's quite filling and tasted nice but it's a bit salty. Just as I have said earlier, Bulgarian cuisines tends to be a bit saltier than our Malaysian cuisines.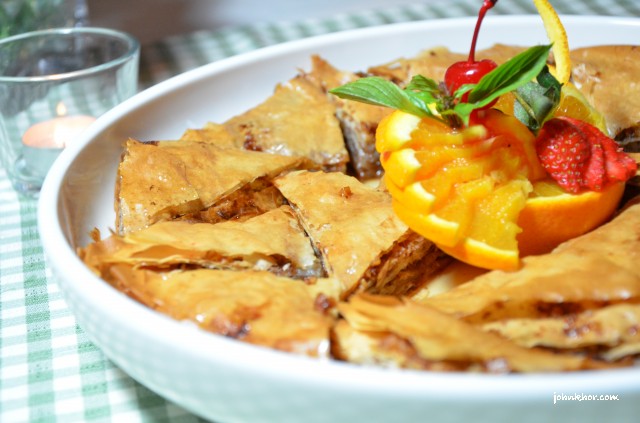 Baklava. For group orders, you need to place order 3 days in advanced.
For those with a sweet tooth, baklava is irresistible. Layers of light golden pastry, with a filling of walnuts & cinnamon, soaked in rich honey-lemon syrup. It's a must have after your meals as a dessert.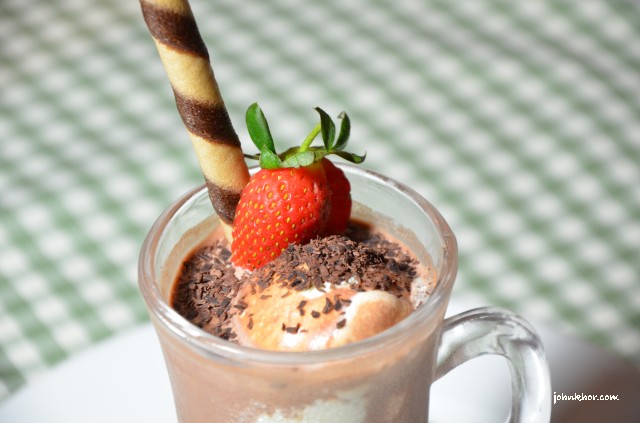 Chocolate 'Soup'. RM12.
Unique and delicious thick cold chocolate served with vanilla ice-cream.
Well, it's quite a nice dessert for those who love chocolates. I am just not so used with chocolate combined with milk powder. It leaves some powdery feel to me. Would be better if they used fresh milk.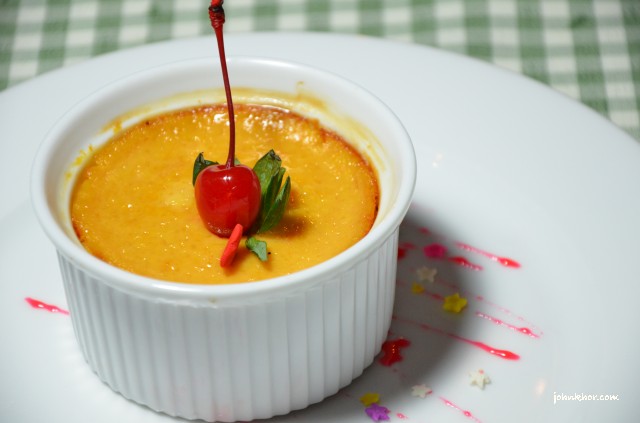 Traditional Sweet Pumpkin Pie. RM12.
Vintage Bulgaria's secret sweet, light and smooth recipe to entice your taste buds. Very Bulgarian.
Not exactly a fan of pumpkin. So, the taste to me is just average. Should give it a try if you are a pumpkin lover.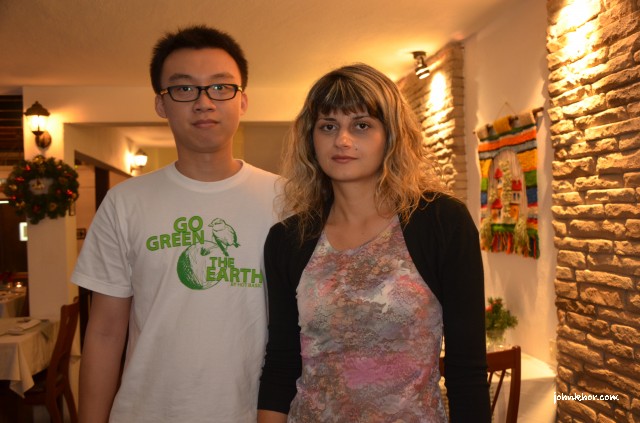 The lady owner of Vintage Bulgaria.
Conclusion, Vintage Bulgaria is a great place for those who enjoy meats a lot. They really have some great dishes for meat-lovers. Coupled with a great atmosphere and ambiance, this is a place you should give it a try. сбогом.
Vintage Bulgaria Restaurant & Bar
1E, Jalan Sungai Kelian, 10200 Tanjung Bungah, Penang.
Business Hours/Opening hours:
4pm – 12midnight
Mondays to Sundays
Tel: 604 – 898 1890
www.vintagebulgaria.com
info@vintagebulgaria.com
P/S: Special thanks to Jason Wong & Gill Giam from GourmetGarden.com.my for inviting us for the food review and all the preparations, Christian Lai from RoundU for organising the food review and the owner for the chance to taste such great food and all other food bloggers who made this event a success. Thanks. Orz.