[Invited Review] DIY Tau Sar Pneah @ Tean Ean Local Products 田园土产, Jalan Sultan Ahmad Shah, Penang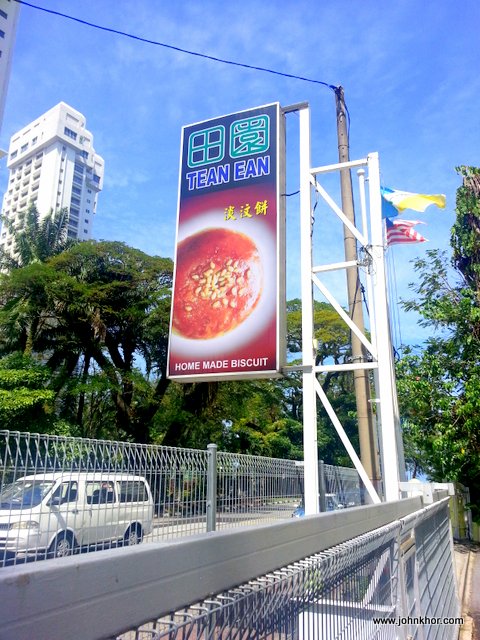 Not sure what to buy for your family members, relatives or friends when you are in Penang? Or just wish to taste some good tau sar pneah or our Penang local products? Head on to Tean Ean Local Products 田园土产. Located at the corner of Jalan Sultan Ahmad Shah, you can hardly miss it. As you come from Gurney Drive, at the end of Gurney Drive as you turn into Jalan Sultan Ahmad Shah, you will notice the big yellow building. That's Tean Ean 田园.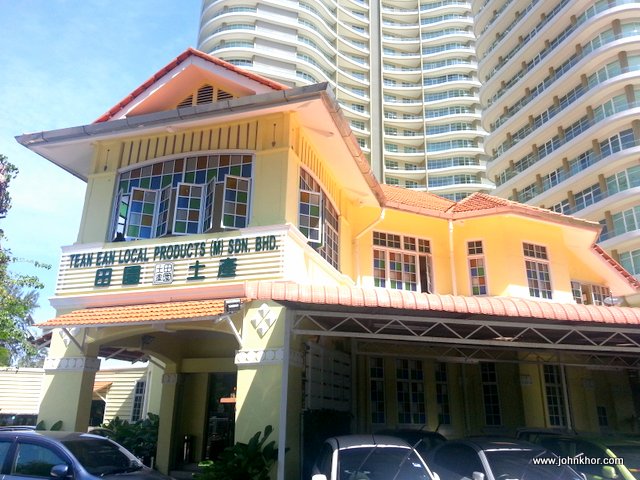 There are ample parking inside their shop. If it is full, you can always park across, around Northam Hotel.
You can take photographs here if you like! Such a lovely and cute old couple. 🙂
Founded in 1995, Tean Ean took pride in selling quality and good local products to tourists all around the world and also to locals alike. Tean Ean is also famous for their bah kut teh or called as Pork Bone Soup, freshly baked tau sar pneah and nutmeg products! The owner of the outlet, Mr Teh is a very humble boss. He personally told us on how to cook their famous bah kut teh and the history of this pass-down special bah kut teh recipe from his grandfather in 1900s. 🙂
RM48.90 per box. 6 sachets in a box. 17 types of herbs and spices in each sachet. 🙂
The instruction on how to cook bak kut teh is well written behind the box. If you are still unsure, then you can call them to ask for instruction. The boss particularly remind us to put in garlic to make the bak kut teh more flavorful.
This is the story of Mr Teh's grandfather's bak kut teh. 🙂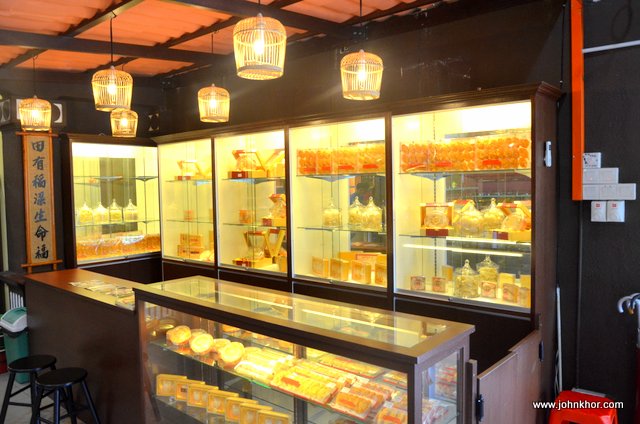 As you step into the shop, on your right they are selling bird's nests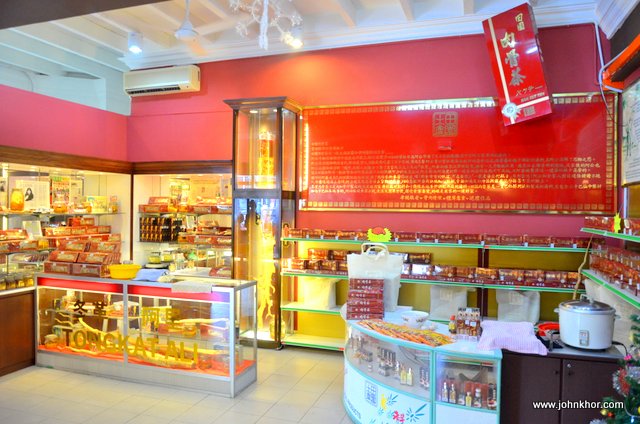 On your left as you step in, you will see the counters, one is selling tongkat Ali, a tonic herb good for men 😛 and another is bak kut teh.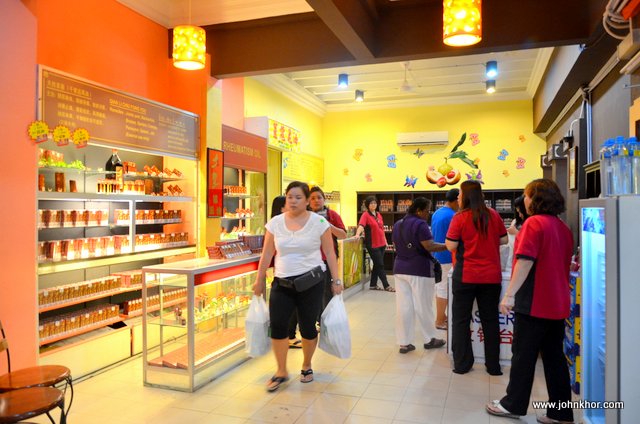 As you walk further in, you will come to nutmeg products especially nutmeg oil which is good for rheumatism.
As you walk in further, there is a counter selling coffee.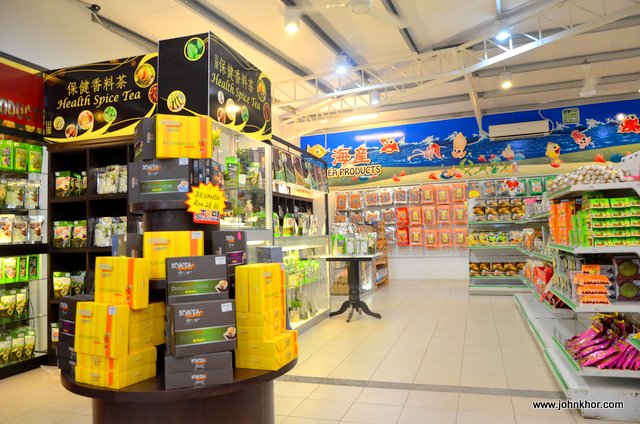 And there is also a very spacious counter selling dried seafood products, teas and many more dried products.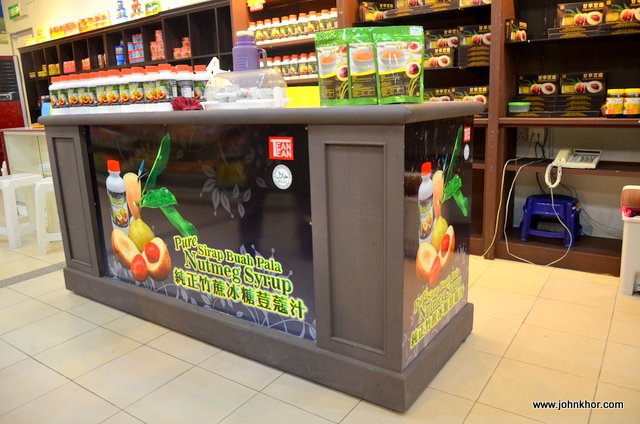 This is the famous nutmeg drink. It is good for those who has a lot of phelgm and improves digestion problems.
And the main purpose of us visiting Tean Ean is to try out their newly introduced DIY Tau Sar Pneah class. The chef is a very friendly and kind person. 🙂 RM15 per person and you will be given a box of 4 pieces of tau sar pneah that you do and a tau sar pneah magnet and also 8 pieces of tau sar pneah.
Tau sar pneah is also known as tambun biscuits or dragon ball biscuits to some. Tean Ean's tau sar pneah has no preservatives and MSG. Their kitchen is transparent as the boss wish to let his customers know that they have nothing to hide behind their process and customers can see how they handles the cleanliness and hygiene of their kitchen.
Let's see how the DIY class looks like. 🙂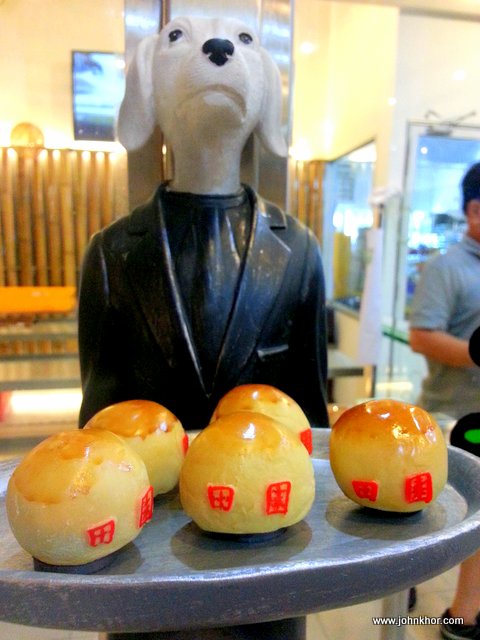 There is a guard dog in front of the DIY place. 🙂
Actually not a big one la. Just for decoration only. 🙂 Here is where you take your DIY class.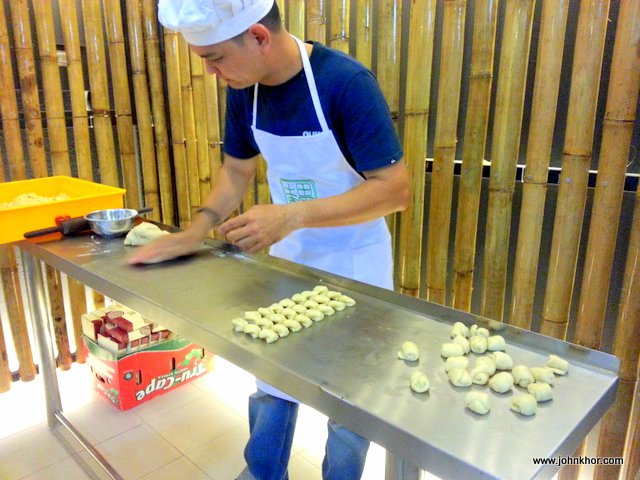 The chef is preparing the materials for our DIY class.
This is the mungbean paste as the filling for our tambun biscuits.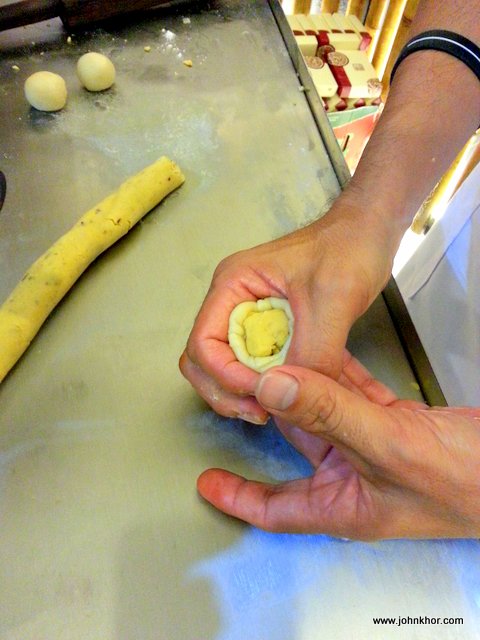 After the chef's demonstration, it is my turn to perform.
You need to dance 1st before you start. Just joking! Haha!
My wife says that I am trying to do siew mai rather than tambun biscuits. Haha. Guess I don't have talent in bakery. 🙂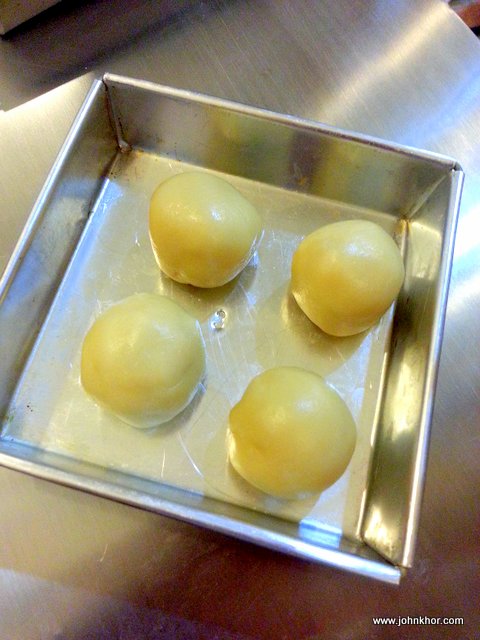 Before going into oven. We need 20 minutes++ to bake the tambun biscuits.
Ta da! My final creation. Rather good looking and tasty. *Pats on my shoulder* Haha. I purposely take another biscuits to do because I missed taking photo of the process. So, the actual one is 4 pieces only ya.
They give us a very classy and premium packaging for your own Tau Sar Pneah. Good job!
One of the bloggers, Barry Teh got a surprise birthday celebration since it was his birthday on that day. It is the first time the boss celebrates birthday for his customers or partners. And the prepared something that is so special. A big sized tambun biscuit. That day is also a history in making as they have never done those things in 19 years.
Happy Birthday, Barry Teh.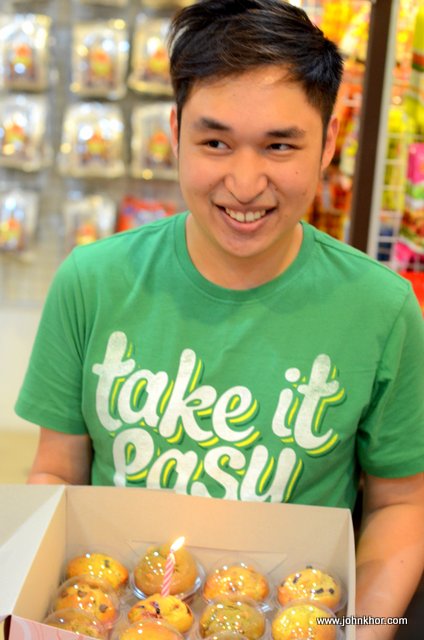 Criz prepared some tasty cupcakes for us also. Thank you very much.
Group photo before we leave
Overall, the DIY Tau Sar Pneah is a very good experience to try hands-on to prepare one of Penang's signature product. It is a good family bonding experience too. Go give it a try when you are in Penang.
And the boss is so kind to let us bring home some of the tambun biscuits and horseshoe crisps. And I can tell you that the horseshoe crisps (RM8.20 per box) get rave reviews among the bloggers who tasted the biscuit when they are at home. Remember to buy this one. 🙂
And the tambun biscuits are also good. Crispy and sweet filling. Try to consume the tambun biscuits as early as possible to retain their crispiness and taste. 🙂 Here are the prices of the tambun biscuits:
Original Flavor- Small (16 pieces/ Rm 5.70 nett), Large (32 pieces/ Rm 9.60 nett)
Pandan Flavor- Small (16 pieces/ Rm 6.20 nett), Large (32 pieces/ Rm 10.20 nett)
Coffee Flavor- Small (16 pieces/ Rm 6.20 nett), Large (32 pieces/ Rm 10.20 nett)
Coconut Flavor- Small (16 pieces/ Rm 6.20 nett), Large (32 pieces/ Rm 10.20 nett)
Sambal Udang Flavor- Small (16 pieces/ Rm 7.20 nett), Large (32 pieces/ Rm 12.20 nett)
contact information
Tean Ean Local Products (M) Sdn. Bhd 田园土产
90, Jalan Sultan Ahmad Shah, 10050 Penang.
Contact: +604-229 7973
Website: http://www.teanean.com
Email: teaneanlocalproducts@yahoo.com
Facebook Page: http://www.facebook.com/teanean
GPS: 5.428441, 100.320853
business hours
Daily
9:00am – 6:00pm