Invited Review: Bravo Italiana @ i-Avenue
Shortly after Hydro Hotel's invited review, I am being invited to review an Italian restaurant located in i-Avenue, Bayan Baru. The restaurant is called Bravo Italiana, specializing in seafood, steak, pizza, pasta, dessert and Italian coffee.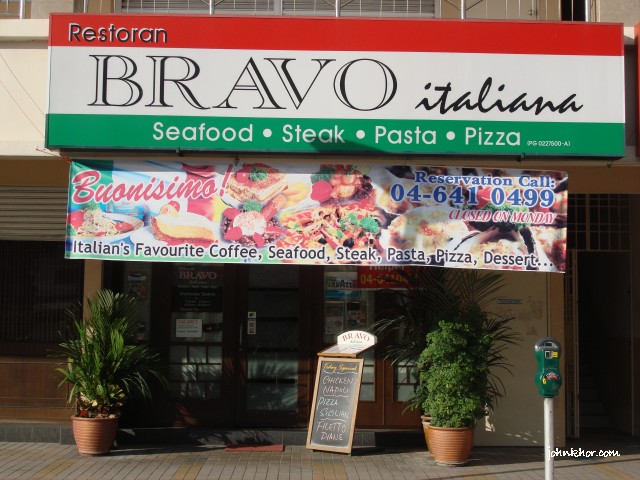 Entrance to Bravo Italiana @ i-Avenue, Bayan Baru, Bayan Lepas, Penang.
Their opening hours: Tuesday – Sunday. Closed on Monday.
1130am – 3:00pm & 6:00pm – 10:00pm.
They have Today Special to introduce some Italian food.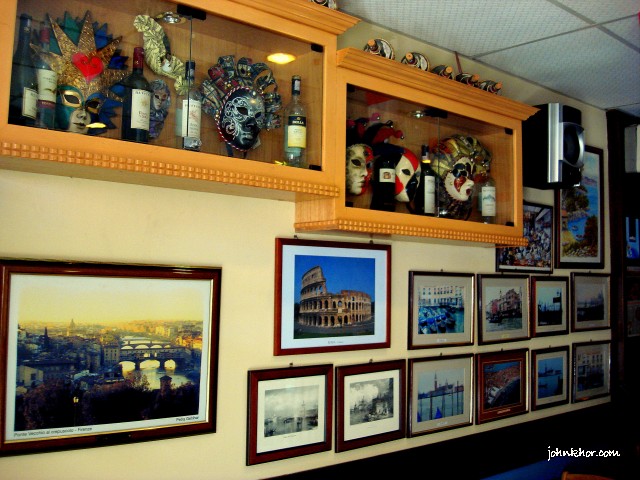 Here's our food review:
Bruschetta. RM8.80
Toasted bread topped with fresh diced tomato, Italian cheese, olive oil and melted cheese.
The bread is crunchy. Since I am a cheese lover, if they added more cheese into the bread, it would be better.
Grilled Chicken Salad. RM17
Stripes of grilled marinated chicken, topped on fresh mixed salad.
A very refreshing salad. It really betters my appetite and made me want to eat more.
Baked Oyster. RM28
Half shell baked oyster topped with mushroom, cream and melted mozzarella cheese.
This is the highlight of the day. It's a must-try. Very nice and great combination of everything. If the cheese is more, it would be even better. Bravo!
Pizza Alla Sicilian. RM31
With beef pepperoni, chicken sausage, onion, green pepper, black olive and crushed pepper.
I like crispy pizza and this is just what I like about this pizza, very crispy and they put in a lot of ingredients. Overall, it's quite nice. Maybe I am a person who like food with strong flavor cause I prefer if they put in more cheese.
Spaghetti Capitano. RM29.80
Spaghetti with fresh shrimps, scallops, mussels, squids and diced salmon, sauteed in a delightful marinara sauce.
Lasagne Al Forno. RM24
3 layers of lasagne pasta baked in the oven in famous Italian minced beef sauce & mozzarella cheese.
I am a lover of lasagne. Just the look of the lasagne already made me drooling again. I was getting hungry after doing this post. Haha 🙂 It's nice only if they put in more cheese, in my opinion.
Pesce Misto alla Milanese. RM43. It's a set meal with soup of the day, drinks (lavazza/tea/iced lemon tea) and dessert of the day.
Grilled salmon fillet and jumbo shrimp with classic Milanese sauce.
The sauce is awesome. We LOVED the sauce. Combine it with the salmon fillet and the jumbo shrimp, it's pure pleasure. This is another must try.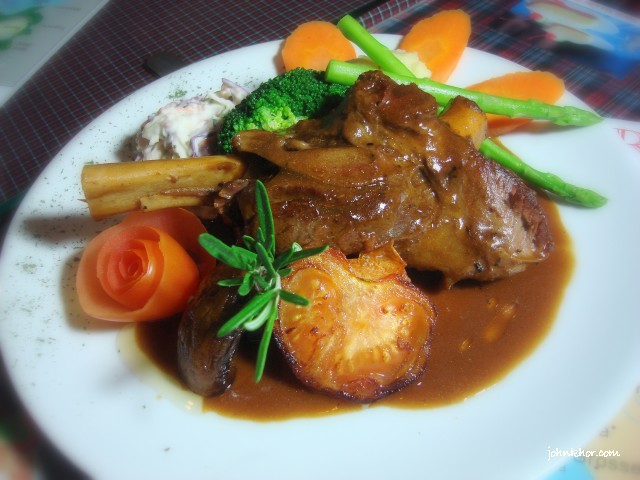 Lamb Shank. RM32
Braised New Zealand lamb shank with fresh Italian herbs, garlic, tomato, mushroom and red wine.
The lamb shank is good and the meat is quite tender. Overall is quite good.
Set Lunch. Starter = Soup of the Day. Main Course = Chicken Parmigiana. Dessert = Ice cream. Drink = Ice Lemon Tea. RM25
This is another set meal. It is for lunch. The chicken is good and the ice lemon tea is very refreshing and nice. It's a worthwhile set lunch, suitable for the executives who want to enjoy Italian meals in a cozy environment.
Bravo Italiana is also famous for their desserts. We are lucky to get to try some of their desserts.
Tiramisu. RM12.80
The cake is soft and nice.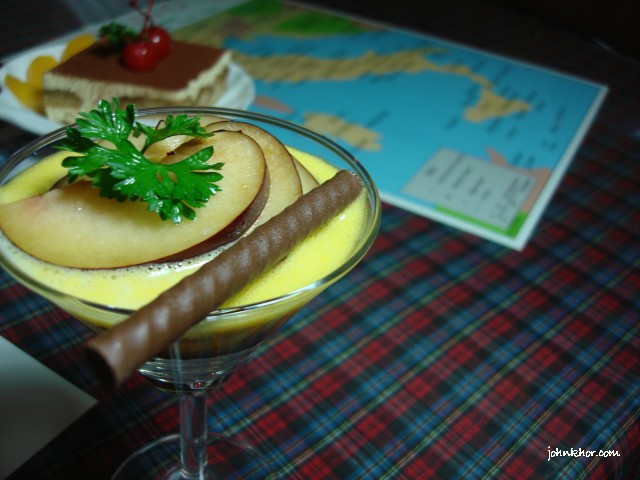 Bravo Zabaglione. RM12.80
This is a special dessert. It has some apricot brandy liquor in it and taste special and very addictive. It's one mouth after another. You just can't stop. Must-try!
Italiana Mousse. RM12.80
Just the look of the dessert is already so tempting. Very attractive decoration. Just nice.
Key Lime Pie. RM8.90
Another special dessert. If you like sour stuffs, you must try this out. Quite sour for me and made my whole body shake. Haha 🙂 That's how sour it is.
Pumpkin Pie.
We had a great time doing the review and the owner of Bravo Italiana came out from the kitchen to have Q & A session with us. He was a humble person and was able to take constructive feedback from us. I learn that he spent more than 10 years aboard in Italy to learn all the culinary skills of the Italians before coming back to Penang to setup this restaurant. So, be prepared to taste some flavors of Italy.
If you want to taste some Italian food, give Bravo Italiana a try.
Bravo Italiana
Address: 01-01-11 Complex i-Avenue, Medan Kampung Relau 1, 11900 Bayan Lepas, Penang.
Opening Hours/Business Hours:11:30 am – 3:00pm & 6.00 p.m. – 10:00 pm
Tel: 04-6410499
P/S: Special thanks for Jason Wong & Gill Giam, from GourmetGarden.com.my for the invitation and all the pre-event preparations, RoundU for the opportunity and the owner of Bravo Italiana for a chance to review their food. Thanks.