[How To] Add side bar for single posts and pages in WordPress Twenty Eleven theme
I loved the simple and elegant Twenty Eleven WordPress theme. Previously, I have used Twenty Ten before and Twenty Eleven is even better especially its design and layout. It looked more contemporary. It's one of the most downloaded WordPress theme, more than 17,000++ downloads.
Then, I realized that it does not provide an option to enable sidebar for its single posts. You still have the option to enable the sidebar in pages. This is very troublesome for me. I don't really know about the coding and I am afraid that I will screw up the theme.
I googled for 'How to make Twenty Eleven single post has sidebar' Sorry for my poor English but I am very desperate to find a solution. But there's a some solutions but  they requires a lot of coding. I gave up and stick with it until I found the solution now.
It's very simple. Just download this Twenty Eleven Theme Extensions plugin. Here is the snapshot of the plugin.
Twenty Eleven Theme Extensions gives us more options for easy theme customization.  As you can see in the picture above, I have ticked the option to enable sidebar widget on pages and single-post pages. God bless. 🙂
Here are the benefits:
Adds the widget sidebar to all pages, and single-post pages.
Optionally centers the navigation links at the top of single-post pages with a sidebar.
Changes the default height of the banner image in the header.
Adjusts the alignment of sidebar widget titles.
Automatically turns sticky posts into single-line headlines to alert your readers of something important.
Adds custom CSS styles for your site safely in a place that won't be overwritten when you update WordPress or Twenty Eleven.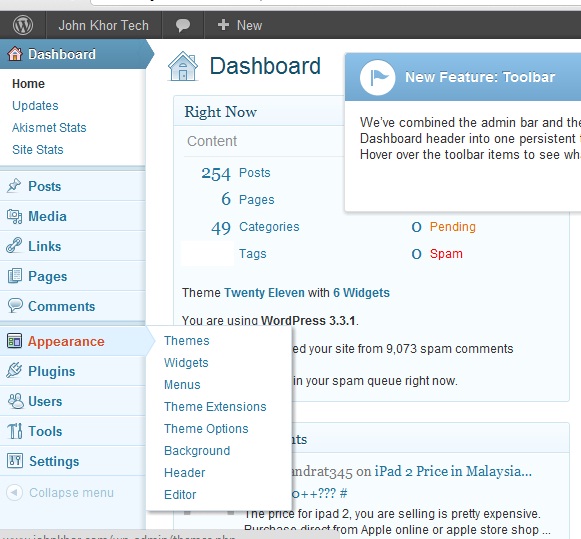 Remember to look for Twenty Eleven Theme Extension plugin page here at the Theme category. I looked in the Settings but can't find it. 😛
Hope this blogpost can help you.
What's your say?