BlogFest Asia 2010 @ Penang SUCKS!!!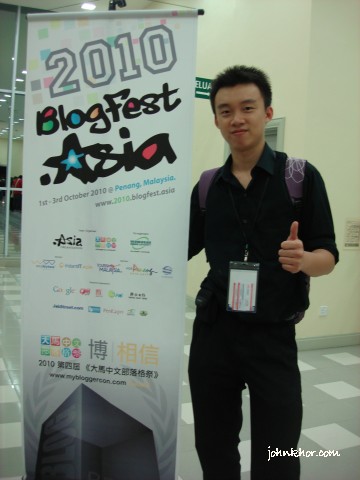 BlogFest Asia 2010 @ Wawasan Open University, Penang.
That's what I felt before actually attending the event.
Why I felt that way?
I got to know about BlogFest Asia 2010 while I was surfing the Internet. The thing that attracted me the most was the event was held in Penang at Wawasan Open University. As I had never attended any bloggers event, I quickly registered.
Shortly after that, I received an email from the organiser, informing me that The Ministry of Tourism Malaysia sponsored a Penang Heritage Tour on the 1st day of BlogFest Asia 2010. Again, I quickly sent an email to register.
It was a day before the Penang Heritage Tour and still no news from anyone from the organising committees. My you-got-to-be-efficient-&-effective button was activated and I was very angry. I emailed them again and finally a guy called Vincent replied me and everything was settled.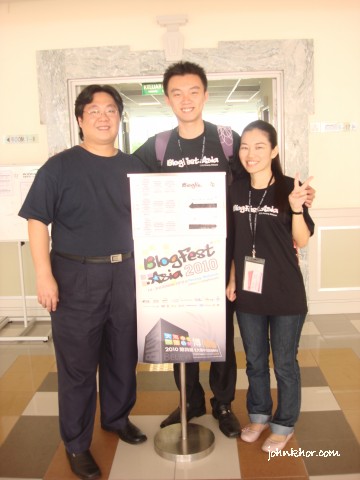 Left to right: Vincent Hu, John Khor, Angelia Teoh.
Vincent Hu, receiving his Blogger of the Year 2010 award from Jeremiah Foo, chairman of mybloggercon.com.
At that time, I was thinking, "Blogfest Asia 2010 sucks!" That's my initial response. I mean, we had been trained to think this way. We wanted everything to be perfect. Faster internet connection, better handphones, greater customer service, more delicous food and the list goes on. When something went wrong, we started to blame them and giving all kinds of acidic comments and making their lives miserable.
In the pursuit of betterment of our lives, we often forget something very simple, the act of courtesy.
This is what happened to me.
I am not currying favor from the organisors or sponsors but it's a fact. I mean the whole event is free and what can I ask for more.
Some might say that without constructive critism, the event cannot be better. That's half right only as who am I to give the criticism.  We leave the criticism to the organisers or the sponsors but not participants. We must show appreciation and gratitude because it is really not that easy to organise event in such proportion.
I will give credit when it's due. That's me. And I can say that the whole  event is very successful with many insights on blogging and social media, mini seminars on blogging issues, great food and etc. The whole event was made even successful with the friendly & helpful attitude of the organising committees and most of all, the participants. I met a lot, a lot, a lot of new, exciting, friendly, special, international, pretty, beautiful, celebrity-status and outgoing friends.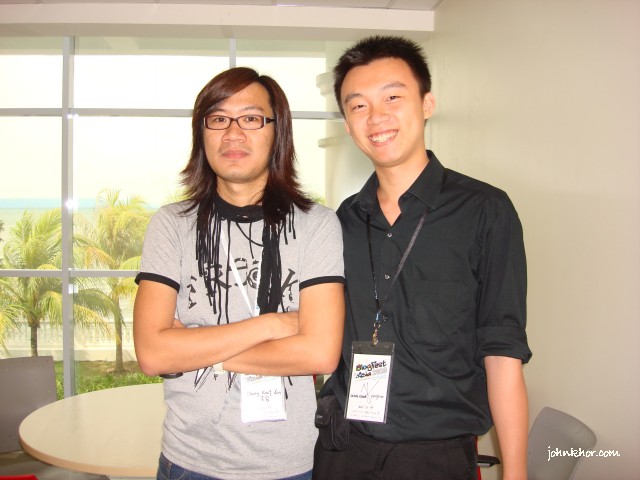 Ji Aun, AI FM DJ, giving a talk about blogging.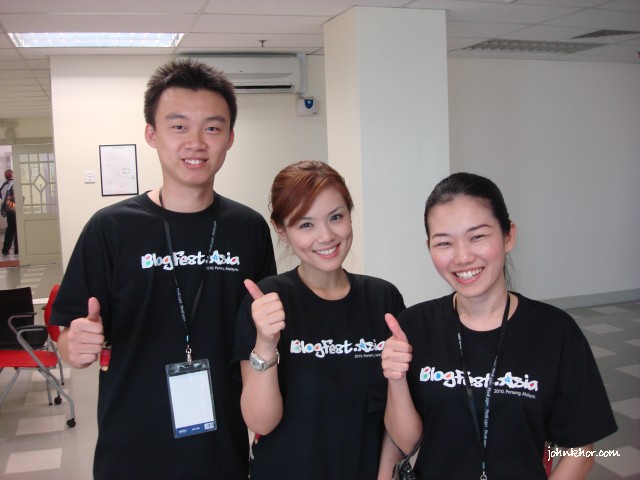 Singaporean Celebrity Blogger, Silver Ang @ Blogfest Asia 2010, Penang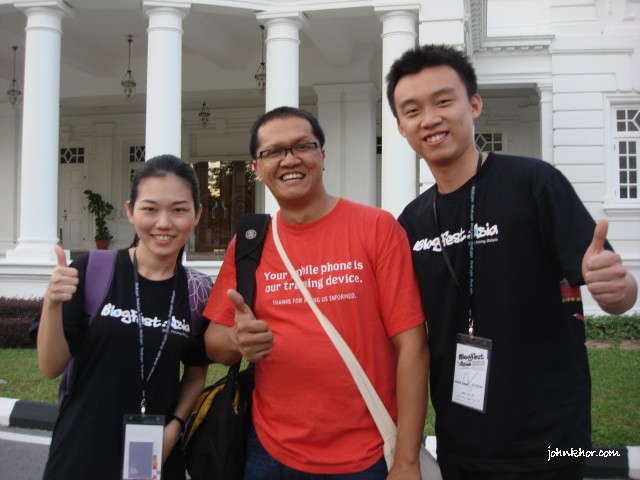 Bobby, Phillipines from Tactical One @ Blogfest Asia 2010, Penang.
Cambodian bloggers @ Blogfest Asia 2010, Penang.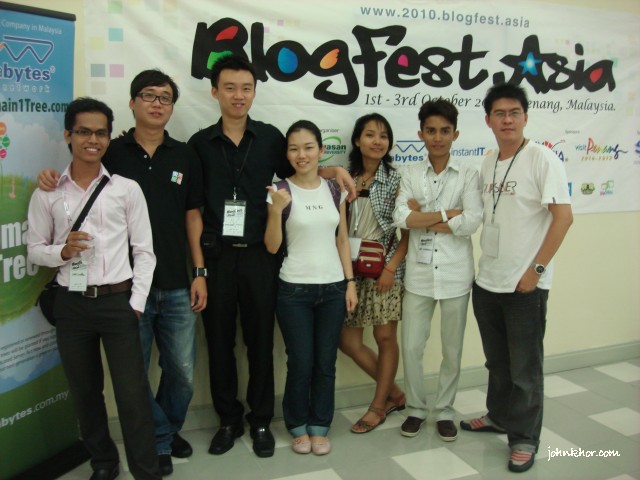 Cambodian & Penang bloggers & Blogfest Asia 2010 Chairman, Khan Kai.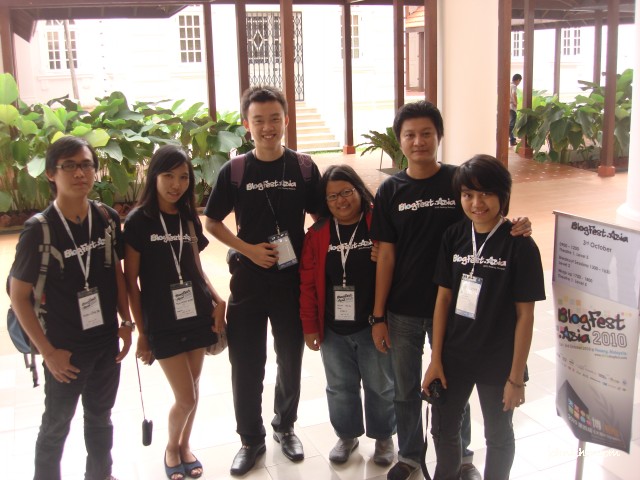 Myanmar Bloggers Society (MBS) members.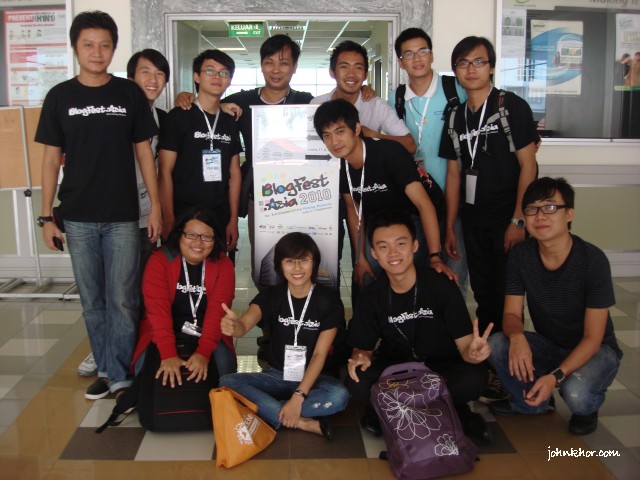 Myanmar, Phillipines, Vietnam & Penang friends @ Blogfest Asia 2010.
The Whole Gang of Bloggers.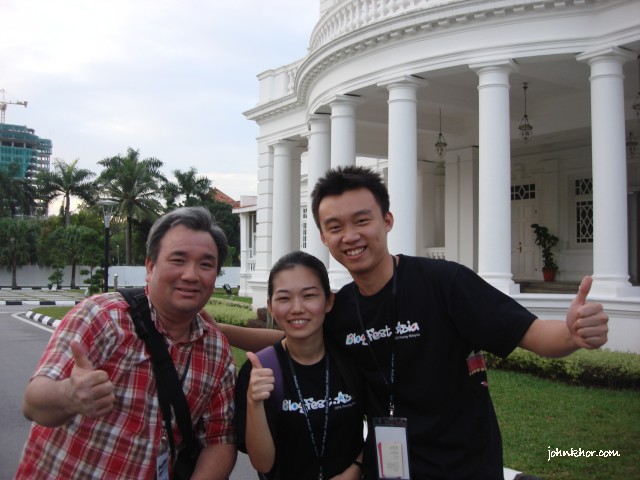 Penang Food Blogger, Alan Choong.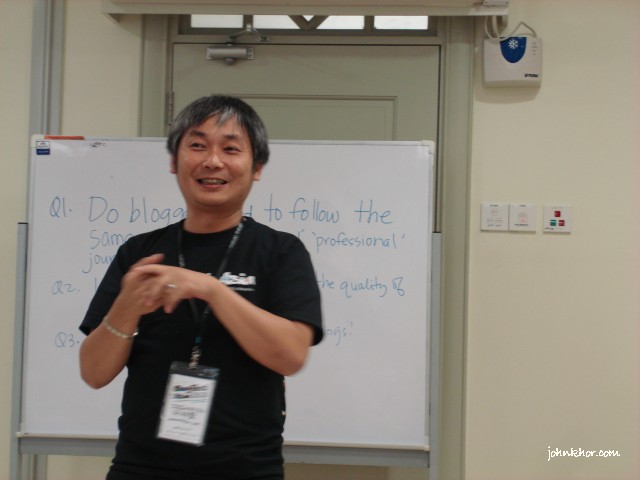 Jeremiah Foo, mybloggercon.com Founder.
I really hope that we as participants of any subsidised or sponsored events will not be so critical and be more grateful of the organiser's efforts.
As it turned out, BlogFest Asia 2010 was one of my most memorable event in my life as not only I met a lot of great new friends, learnt a whole lot more about blogging and even winning a blogging contest and getting myself and my blog being featured in local newspaper.What more could I ask for? I am really blessed. Thank you Blogfest Asia 2010 for giving me such an opportunity and opened up more opportunities to me after winning the Let's Blog contest.
I am suprised in how our life takes turn. To me, it's taking a good turn now and hope it stays the same.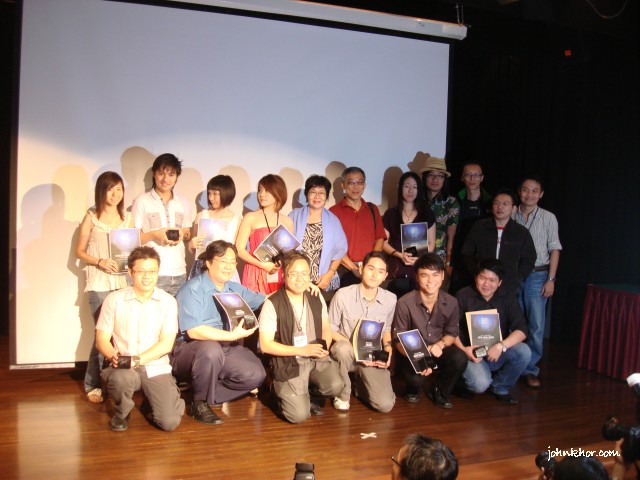 Winners of mybloggercon Bloggers Awards @ Wawasan Open University.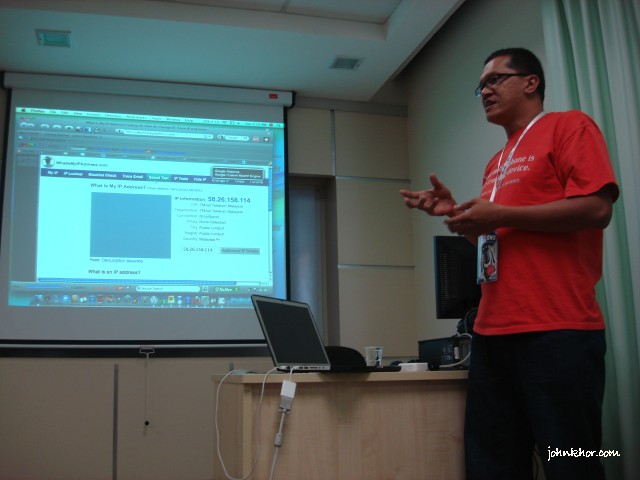 Learnt a great deal about internet security, privacy issues and password security from Bobby!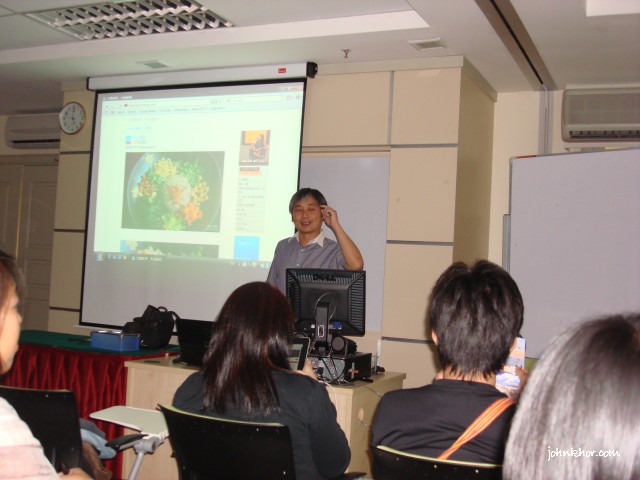 Learnt more about photography and travelogue skills from Jeremiah Foo & Jess Cheng. By the way, I get to see Leica M8 through Jeremiah. Cool!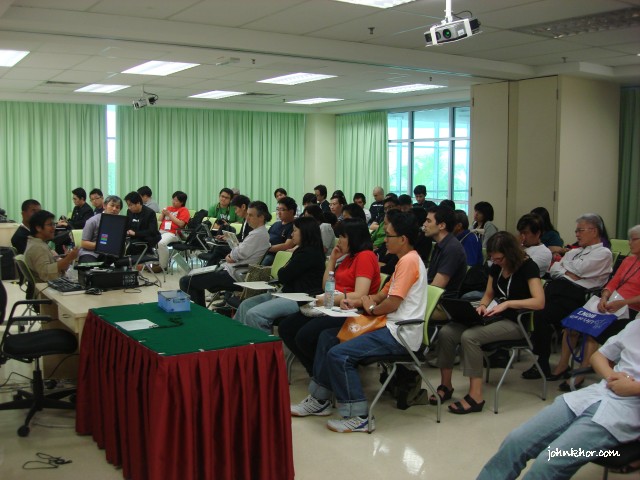 Learnt how to use social medias to help promote a cause through Empowering Social Media mini-seminar.
See you at the next BlogFest Asia or the next bloggers event.
More post about BlogFest Asia 2010 will be coming. Stay tuned!
Blogfest Asia 2010 @ Penang sucks!!! is great!!! I revised my comment!
If you agreed with what I say or disagree, please comment! I would like to hear what you think about this post! Thank you!