AirAsia Free Seat is Back! It's only for Asia countries!
Yes. Be prepared to look like panda.
Certainly you won't become like Kungfu Panda, duh. Sitting in front of the computer doesn't make you a kungfu master, right?
Why?
Because of your sleepless nights, trying to book the best deal for your dream vacations.
Free Seats to:
Malaysia
Thailand
China
Singapore
Indonesia
India
Vietnam
Cambodia
Laos
Myanmar
Sri Lanka
Phillipines
Booking Period: 9-14 Nov 2010
Travel from: 1 Jul – 10 Nov 2011
Free seats and promo fares exclude airport taxes and other fees.
AirAsia, the World's Best Budget Airline! Also the best airline to make a lot of us lose sleep. 🙂
We love freebies right? Thanks to AirAsia smart marketing, we can now enjoy free seats, not free flights, cause we still have to pay for the airport taxes and other fees.
I have managed to book my free seats flight to Singapore with my girlfriend. It only costs us RM252 for the return tickets after 1 hour of searching. Thank God! We are going to visit the Sentosa Island! Yeah!
Nowadays, AirAsia has become sneaky. They charge us for convenience fee for using the credit cards, debit cards and charge cards for payment. And it's quite expensive. Talking about no frills tickets.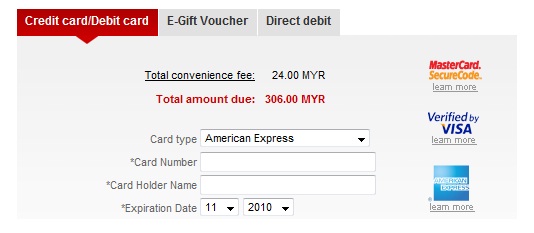 It's RM12 per passenger for the convenience fees. This is totally insane. They charge by per passenger per trip. So, it's RM3 per person per trip. Imagine if we were a big family?
I am hopeful that AirAsia will take away this convenience fees and make our payment easier and our life easier. This is very bad for consumers.
Anyhow, AirAsia is still a great airline. Just hopefully they will become better.
What about you? Care to share your experience in booking for the free seats?
P/S: I searched before for a return flight to Taipei, Taiwan for RM300, isn't it cool? Too bad, I don't have time to go. 🙁