Official Launching of TGV Gurney Paragon & Guinness Record Attempt of 'The Largest Gathering of People Dressed as Spider-Man'!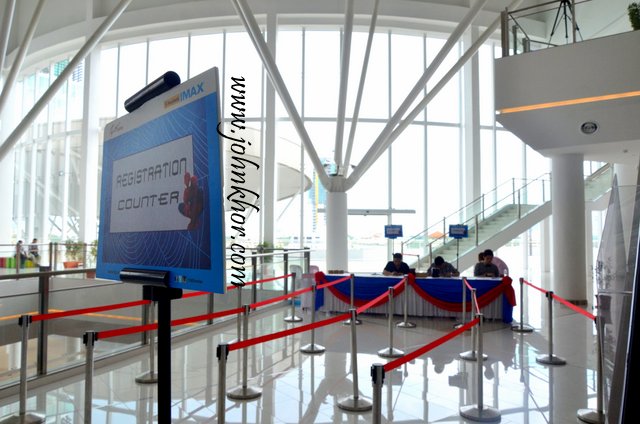 This is johnkhor.com's 2nd invitation for première screening of movie and my 1st time's invitation for TGV Cinemas' official launching for the newest cineplex in Penang, Malaysia! TGV Cinemas has prepared a lot of activities for this official launching of TGV Gurney Paragon. They have prepared for the medias and bloggers TGV IMAX Trivial Challenge, Spiderman Posing Photo Session, some refreshments and most attractive one which is the première screening of The Amazing Spider-Man 2: Rise of the Electro movie in IMAX 3D!
I am rather early when I reached TGV Gurney Paragon and the TGV team is finalizing a lot of the details. So, I went to take more photos of TGV Gurney Paragon. I am early so that I can co-ordinate with other bloggers who were invited too. I was tasked by TGV team to help them to find and organize bloggers for this event and hopefully *eyes BIG BIG* their future events also. If you need bloggers for your event, do let me know! 😛
TGV Gurney Paragon is the 1st cinema in Penang to offer IMAX 3D Theater. This is TGV Cinemas' 4th IMAX theater in Malaysia. The 1st one is in Sunway Pyramid, the 2nd one in One Utama, and the 3rd one and also the largest one is in Johor Bahru. So, what's the hype with IMAX? What difference does it really make? Watch the following video to understand more about IMAX, you will definitely enjoy it as it is a Malaysian production. Damn nice!
IMAX uses ceiling to floor and wall to wall screen, 2 state-of-the-art projector and 6 laser aligned loudspeakers to give you a very different level of movie-watching enjoyment! TGV Gurney Paragon will offer movie-goers 1 IMAX theater (292 seats), 1 Beanie Hall and 7 standard halls totalling to 1,287 seats!
And good news to Penangnites, TGV Gurney Paragon is having offers/discounts for its IMAX 2D and 3D movies starting from 4th April until further notice. Check out the prices!
Normal Price

Promo Price

EARLY BIRD
Before 12Noon
RM7
RM5
BEFORE 6PM
RM9
RM8
AFTER 6PM
RM11
RM10
SUPER WEDNESDAY
RM8
RM7
BLOCKBUSTER
RM14
RM13
WEEKEND
RM14
RM12
IMAX BEFORE 6PM 2D
RM19
RM17
IMAX AFTER 6PM 2D
RM24
IMAX BEFORE 6PM 3D
RM23
RM19
IMAX AFTER 6PM 3D
RM28
BEANIE
RM46
RM38
KIDS
RM8
RM6
SENIOR
RM9
RM7
STUDENT
RM9
RM7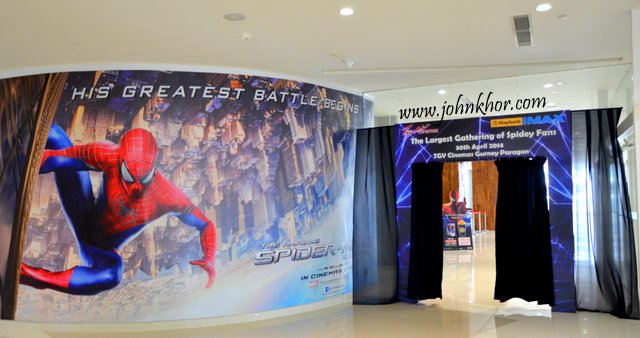 And besides that, TGV Gurney Paragon attempts to create a Guinness record for 'The Largest Gathering of People Dressed as Spider-Man'. Over 400 people registered for the event but they can only accomodate 342 participants! Those movie-goers who participate in this event will receive complimentary popcorn and drink, exclusive IMAX and movie premiums and an opportunity to watch The Amazing Spider-Man 2: The Rise of Electro movie in IMAX 3D!
Do like look like Spider-Man? *Dreaming mode* Hahaha 🙂
There is a corner besides the makeshift door that lets you take photo acting as Spider-Man. A very smart & attractive move! Many Spider-Man wannabes and fans never miss the chance to take photo and they receive a complimentary printed photo.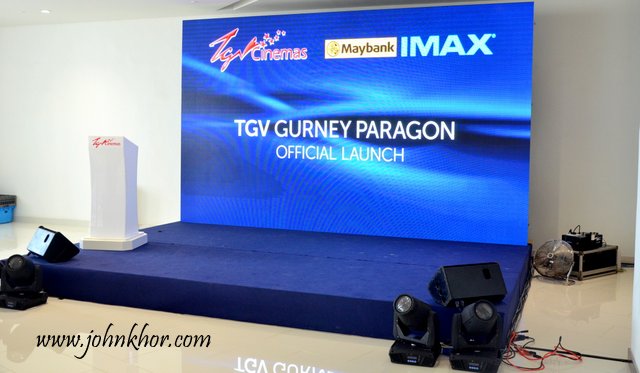 The MC with the Spider-Man colors warming up the crowd and welcomes the media & bloggers and business partners to the official launching of TGV Gurney Paragon.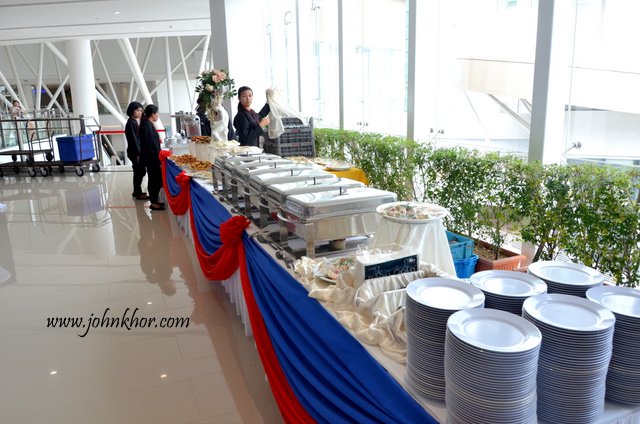 There is a light refreshment provided by Eden Catering. The fried chicken is damn good! And their service is impeccable. They even serve iced lemon tea to you instead of you having to walk over to fill the drink. Too bad, they dun deliver the food to you 😛 Just joking! Haha.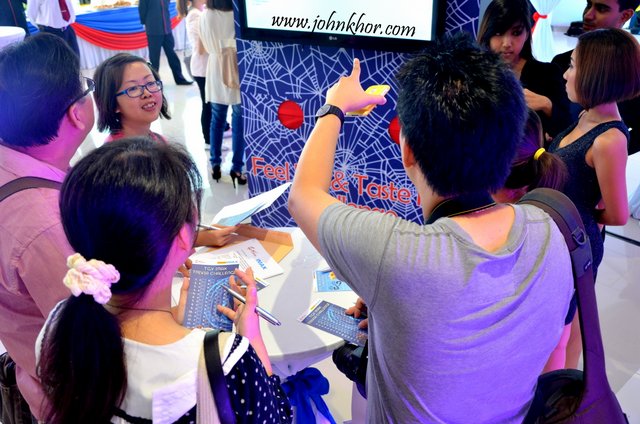 Medias and bloggers were busy answering the 15-questions trivia challenge about TGV IMAX theater and its technology. Besides that, you will also need to test your Spider-Man senses by touching some replicas to identify the object (it's either spider or lizard! Following the Spiderma's theme. Too bad they didn't put in electric eel. Haha :-P) and tasting their popcorn. All of you have a great time playing the games and also sharing the answers. 😛 I got an umbrella as a prize for answering 100% for the challenge! All thanks to the bloggers team effort. 🙂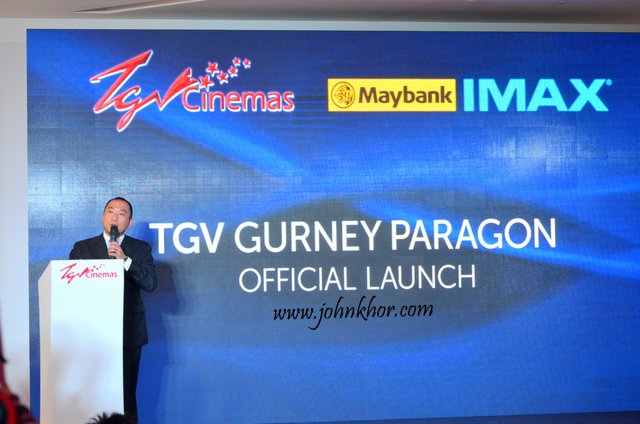 After the games, Tamon Iwasaki's Director of Theater Marketing in Asia was invited to go on stage to give a speech about IMAX development!
After that, the CEO of TGV Cinemas, Gerald V. Dibbayawan went up the stage to give his speech. I personally get a chance to speak to him after the movie and I am impressed that he is a very humble person and a movie buff! 🙂 DC or Marvel? Haha 😉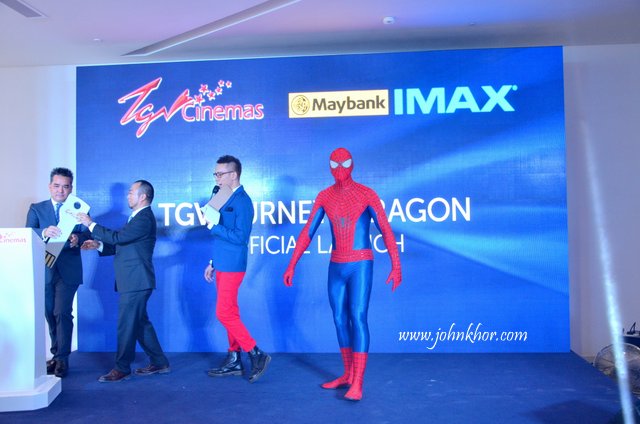 Spider-Man faces some problem with the official launching of TGV Gurney Paragon. The launching did not happen even after the VIPS slots in the key. Something is wong! Suddenly Electro shows up!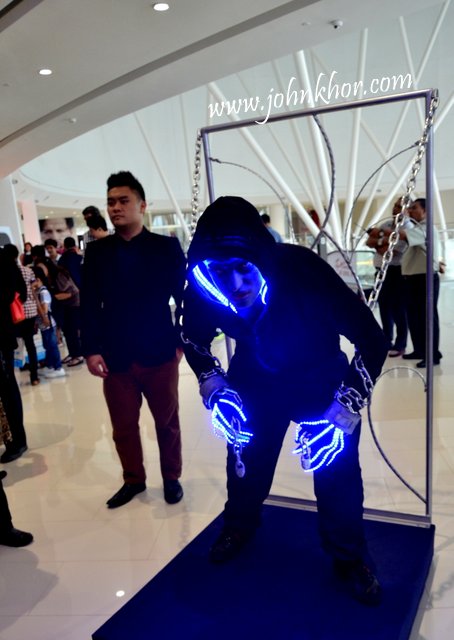 One of the villains in The Amazing Spider-Man 2: Rise of the Electro, Electro!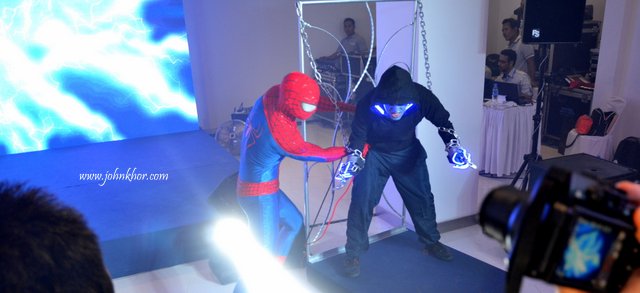 And they fought! And Spider-Man has a better idea. He borrows the current from Electro and as the VIPs slot in the key and the launching happened! That's some awesome possum stuff that the TGV team has come up with! Bloggers and medias are impressed! Such a cool opening! Applause! Even before the movie, we are being treated with a great show.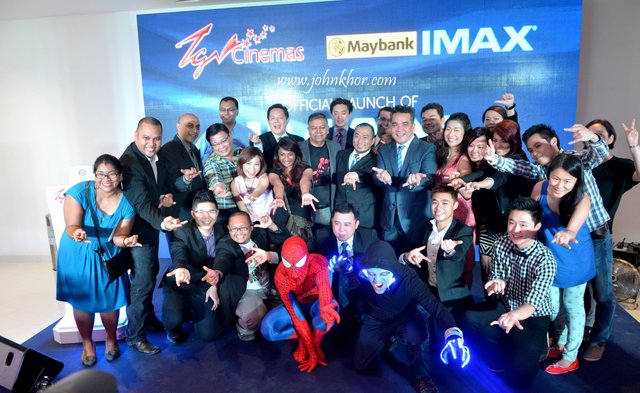 The TGV team and their business partners together with Spider-Man and Electro.
After the opening, we are ushered to TGV Gurney Paragon IMAX Theater. We are given such a big passive 3D glasses! Haha. My cousin said you don't have to worry that you face will look big in the photo because the big passive 3D glasses will make your face look small!
A short review of IMAX 3D & The Amazing Spider-Man 2: Rise of Electro without spoilers:
The IMAX 3D experience is surreal. The screen is BIG! Damn BIG! As what you have read just now. Ceiling to floor and wall to wall! One thing to take note is that not all seat positions are optimized for IMAX 3D experience. Hence to have a better quality control, some of the seats are not sold. So, don't be surprised when the ticketing officer tells you that it is full house but when you enter the IMAX Hall, you will see empty seats. Don't worry, those seats are not for our 'brothers' and 'sisters'. Haha 😛 The 3D experience is definitely more real and as what one of my friend said, 'On your face' kind of experience. So, boyfriends/husbands, you know where to bring your girlfriends/wives when there is a blockbuster movie coming up? 😛 Leg space is good and wider arm rests so that you don't have to fight for the armrest.
The Amazing Spider-Man 2: Rise of Electro is 142 minutes movie. Quite long I would with some scenes that drag movie. It definitely builds up the plot for the 3rd one and there is an unexpected ending in the later part of the movie. Overall, the movie delivers what the fans want: lots of action, plot development, history of Richard Parker and lots of emotion involved. One blogger told his followers to bring tissue. Haha 🙂
After the movie, I took photo with the famous Kwong Wah Yit Poh journalist, Ewe Chin together with the top management of Gurney Paragon. Very powerful lady but she insists on keeping low profile. 🙂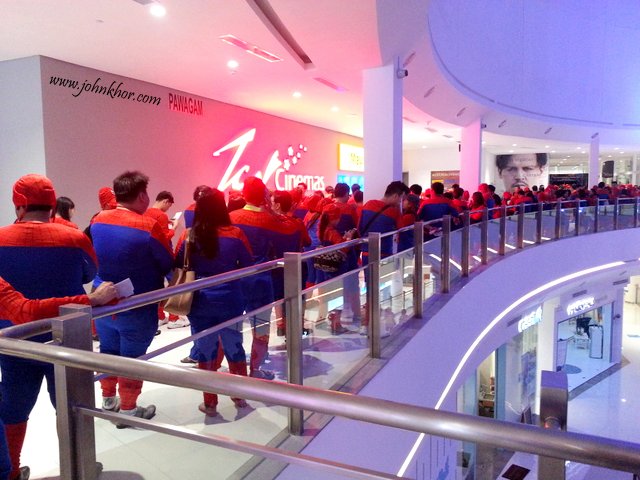 Look at those Spiders! So many Spider-Man wannabes! 🙂
Oh.. Spidey-Kid. Haha So cute! 🙂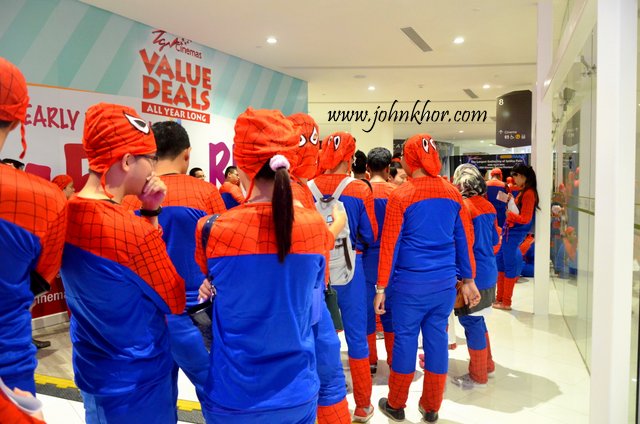 They are here for 'The Largest Gathering of People Dressed as Spider-Man' Guinness Record Attempt!
And here is my Spider-Sis and Spider-Mum. My mum who is 58 years old this year is still young at heart. She dons the Spider-Man costume without hesitation. You are awesome, mum! Love ya! 😉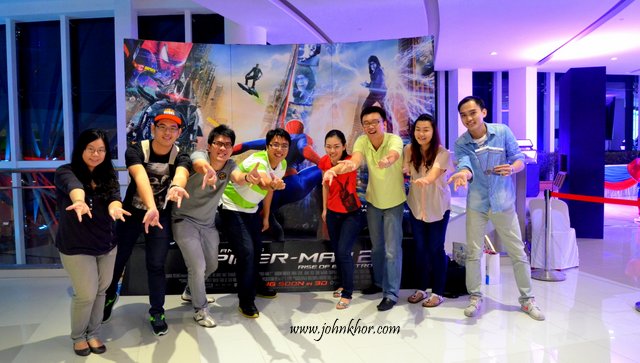 Finally, a group photo of the bloggers who attended the event! Well done to all of you! 🙂 Let's hope for better things to come. 🙂 *Special thanks to Sui Yien for the taking photo. Kesian her that she has to take 5-6 cameras at once! 🙂
Special thanks to Celeste, Senior Marketing Manager & Regina Robin, PR Manager of TGV Cinemas for extending the invitation and for hosting me during the event. I had a great time enjoying the event and the movie! 🙂
TGV Gurney Paragon IMAX 3D
1, Level 8
Gurney Paragon Mall
163-D, Persiaran Gurney, 10250 Penang, Malaysia
Tel: 1300 22 2848
Website: www.tgv.com.my
Facebook Page: www.facebook.com/TGVCinemas
business hours
Daily
10:00am – 12:00am