Invited Event: Yes Life for iOS Launch Event @ National Geographic Store & Cafe
Amazing things DO happen when you say YES!
I was invited to Yes Life iOS bloggers event at National Geographic Store & Cafe at Lot 10 last Thursday. It was the gathering of all top geeks, influential social media people and tech bloggers. All the people behind the tech blogs, twitterers and Facebookers are now 'alive' in front of me. 😛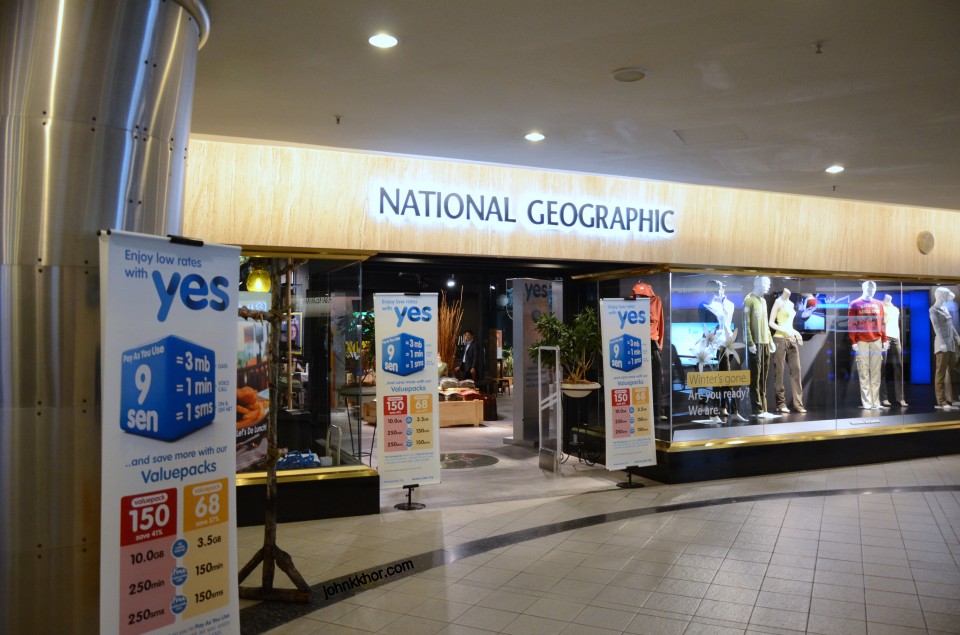 First time to National Geographic Cafe & Store @ 3rd Floor,Lot 10.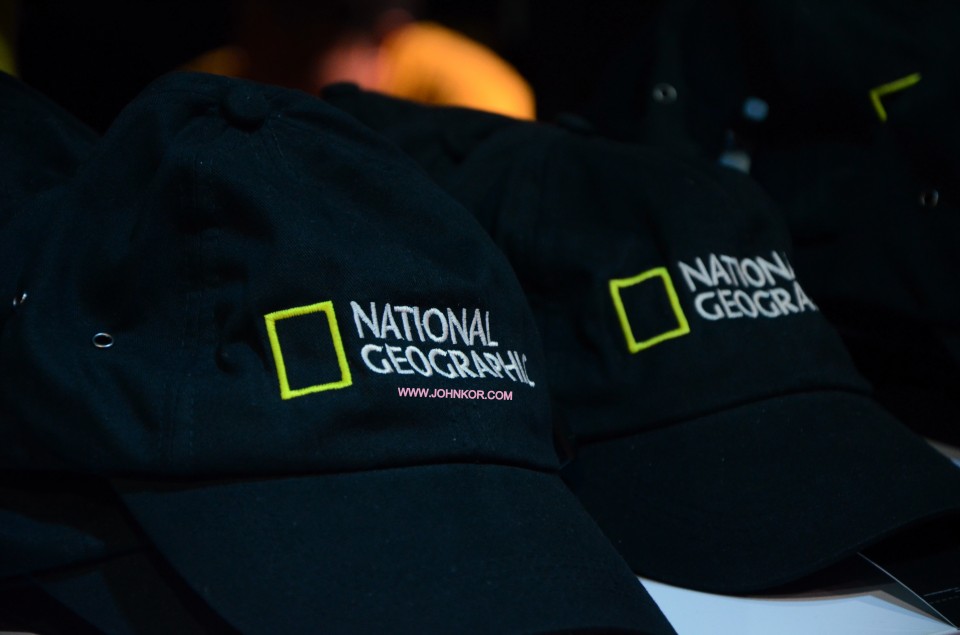 The 2nd National Geographic Cafe & Store outlet in Asia and the 4th in the whole world. Must check it out!
We arrived very early. We were the 1st two bloggers to register for the event. We got a goodies bag from Yes 4G, consists of a recycle bag, a informative booklet about Yes Life iOS and best of all a RM50 Yes Starterpack.
The technical guys are preparing something? Are they trying to make the Apples talk? Hmm… let's wait and see.
While waiting, we went over to YTL phone booth. It's powered by Yes 4G and iPad. So cool! My girlfriend called her aunt in Singapore. Her aunt can listen to her voice very well but my girlfriend's voice is delayed around 1-2 seconds. Maybe the conncection for Yes 4G is a bit bad due  to many people using it.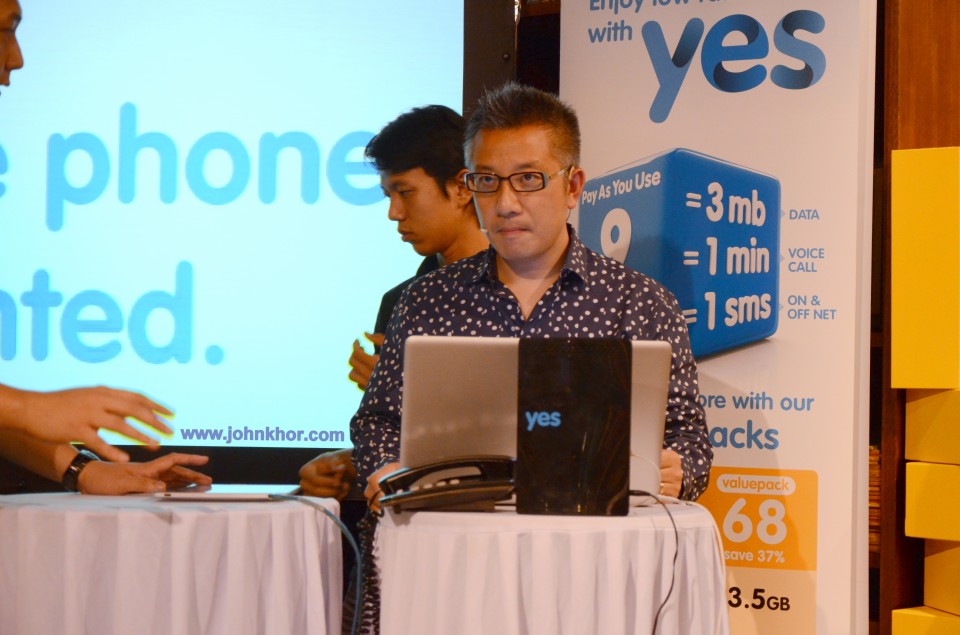 After a while, the handsome CEO of YTL Communications, Wing K. Lee is here. Looking serious!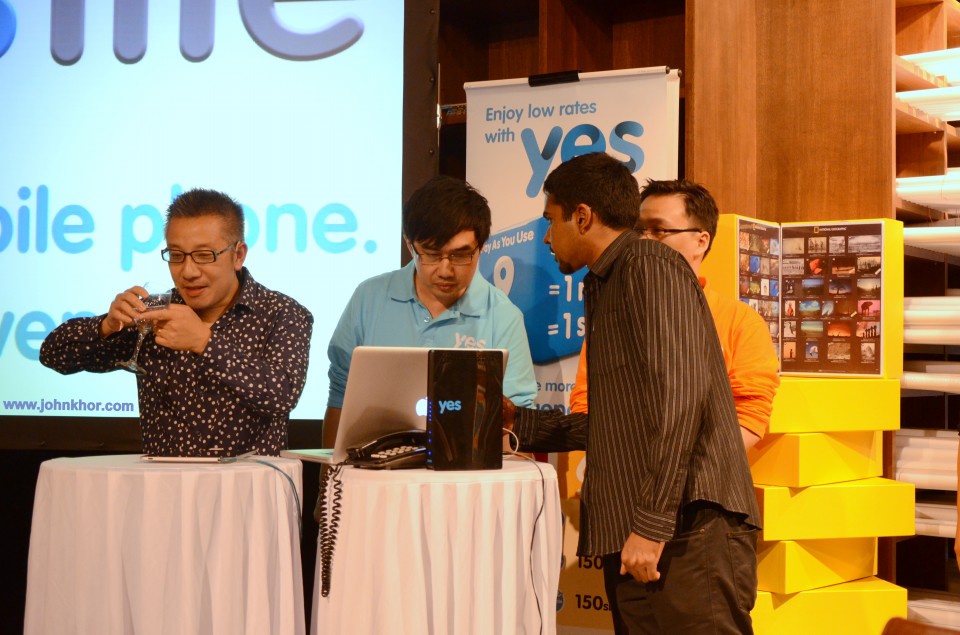 After making sure everything is in order, the charming smile of the CEO is back.
Tan Sri Francis Yeoh is also there and he was the 1st to give us a presentation about Yes 4G. I can really feel his passion in this Yes 4G.
After that, the CEO of YTL Communications, Wing K. Lee talked about current Yes 4G achievements and about Yes Life for iOS.
A few interesting things to note or so called insider's information during the Yes Life iOS event:
1.Yes Life App will be available for Android and Blackberry smartphone users. The Yes Life app for Android will be available early next month. So, iPhone and Android users will have 2 handphone numbers. 🙂
2. Yes Life for iOS became the Top Free App in APp Store within 24 hours after launch. It seems that Yes 4G is gaining some strong foothold here in the Malaysian market.
3. Yes 4G Android smartphone will be available somewhere August. Can't wait!!! Yes 4G Android smartphone is said to be able to do FaceTime-like video conference with 3 persons simultaneously. Actually, I asked Wing, CEO of YTL Comms personally and he told me that the prototype of the Yes 4G Android smartphone is already here in Malaysia and he is currently testing it out but he won't show it to me. 🙁  Very suspensela. 😛
4. Yes 4G growth in 6 months time has been AMAZING:
Data: 104TB –> 226TB (+117%)
Voice: 1 Million Minutes –> 1.75 Millions Minutes (+75%)
SMS: 670K SMS –> 855K SMS (+28%)
Customer satisfaction: 81% –> 87%
5. Yes Life App is FREE. Your iPhone, iPad and iPod Touch can become phone after installing this app. Call rate is 9sen/minute and 9sen/SMS. No roaming fee is needed. You just need a connection: 2G, 3G or WiFi. That's cheap! Your family members or friends can install this app overseas and call you at 9sen/minute or SMS you at 9 sen. Call globally, pay locally.
6. Yes 4G will introduce reload cards in denominations of RM10, RM30, RM50 and RM100 to ease the process of reloading. Previously, users will have to go online or go to 7-11 or e-Pay merchants to reload their account. This will also save time  because some  users complained that their online reload is not reflected immediately in their account. It is said that this new option will be introduced in 2 weeks++ time.
7. Yes Life App will use 800% less battery life than Skype. That's more juice for you to use.
8. Video chat option for Yes Life is coming for both Windows and Mac platform. It will start with computer-computer and will go to smartphones in the future.
9. In the future, users will have the Port-In or MNP feature. Yes 4G is currently dealing with MCMC for this feature.
10. Just for fun: Wing K. Lee loves the Sisters char koay teow in Penang. Wing, let me know when you are coming to Penang and I will bring you to eat more great foods in Penang! 🙂
11. Yeah, I almost forgot. Yes Life is now available for Mac OS platform. It seems that many are more interested in Yes Life for iOS. 🙂
Everyone is listening so attentively. The photographer is from theStar, Brian Moh.
Wing K. Lee is so happy with the customer satisfaction of Yes 4G. See the thumbs up? 🙂
Great event is only complete with great food, right? The food are great and I particularly liked this cheese cake. Tasted so rich and creamy.
After that, Yes 4G organised a game that tested our speed and accuracy of texting and there are 2 iPad 2 for grab. I didn't win. 🙁
Anyhow, my girlfriend and I had a great time and one thing to note that Tan Sri Francis Yeoh is very passionate about Yes 4G and he's there for both Yes 4G events that I have attended. And the CEO of YTL Communications, Wing K. Lee is a very nice, humble, down to earth guy. He practically go to every tables to shake hands and talk to you,  even though he doesn't really have to.  I mean how many events does CEO personally attend and talk to you? And one more thing, he does read our tweets and blogs too. I am very impressed by him.  Way to go, Wing!
Yes 4G has been bringing innovations and innovations to the telecommunications industry. First, fastest mobile speed with voice. Then, coverage for North-South Highway and railways too. Cheaper mobile internet. Yes Life and now, Yes Life for iOS devices. I am proud of this Malaysian company. Bring more innovations and breakthoughs to Malaysia.
What's your say?