Barcamp Penang 2011 @ May 14, 2011, KDU Penang!!!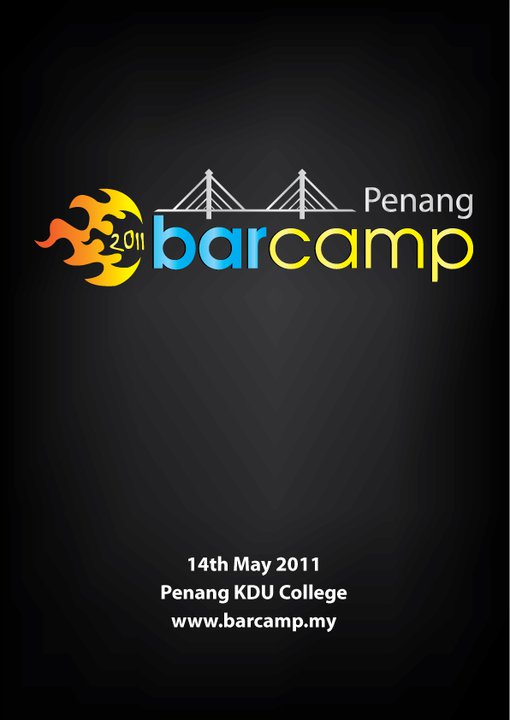 A very cool and stylish poster of Barcamp Penang 2011.
Attention all bloggers, BarCamp Penang is back!!!
It is happening on 14th of May 2011! This time, it's going to be held at Kolej Damansara Utama (KDU) Penang from 9.00am – 6.00pm!
There are 4 rooms with 10 time slots for sharing session, hence, you can listen to 40 different topics in BarCamp Penang 2011. And of course, you can be the speaker too, sharing your knowledge and skills!
What is BarCamp?
BarCamp is an ad-hoc gathering born from the desire for people to share and learn in an open environment. It is an intense event with discussions, demos and interaction from participants who are the main actors of the event. BarCamp is not a traditional conference, but it is an "un-conference" that helps change makers to network with one another and build connections to promote social innovation. There is no audience. Only participants! This is unlike any conference you have been to before. It's new, it's different and it's going to happen in our city. Anyone with something to contribute or with the desire to learn is welcome and invited to join.
BarCamp Penang is open to everyone and it is Free!
When you come, be prepared to share with BarCampers.
When you leave, be prepared to share it with the world.
Join BarCamp Penang on Facebook and get the latest updates
http://www.facebook.com/BarCampPenang
For registration, please visit
http://barcamppenang.eventbrite.com/
You may visit BarCamp Penang's Blog too
http://barcamppenang.blogspot.com/
And, read about BarCamp worldwide
I get to know about Barcamp when I was in Blogfest Asia 2010, held in Penang. That's when my blogging passion being ignited. I never knew that blogging is SO fun! I met with a lot of people, get invited to many great events, earned some $$$ along the way and most of all, learnt a lot of new things. Blogging is something that I will continue and leaving my footprint, or should I say virtual text-print in the Internet. Do come and join us in BARCAMP PENANG 2011.
What's your say?