A Couple's Day Out in Gurney Paragon Mall @ Gurney Drive, Penang!
*This is going to be a long post. More than 50 photos. :P*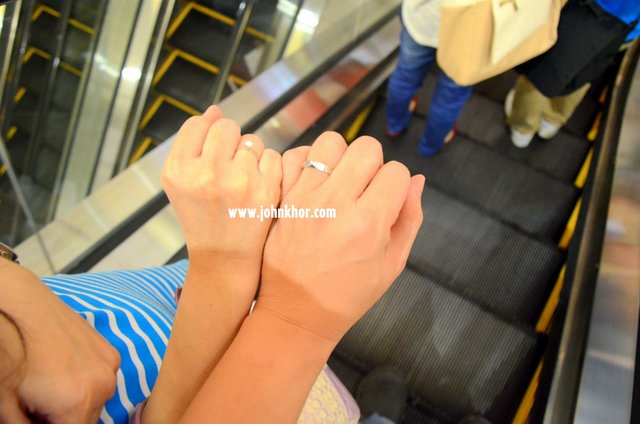 Since, I am married already, I have read about a strategy that will help to strengthen and flourish your marriage which is 'marriage time'. Marriage time is a time where both husband and wife set to allocate a few hours just for each other in order to keep the passion alive. This marriage time must be fun and something that both will enjoy a lot. And it can be weekly event or a monthly event. Since we are always busy with our work, personal life and children, we tend to neglect the most important person in our lives who is our spouse.
So, last Sunday, johnkhor.com brought my wife to Gurney Paragon Mall for a couple's day out. We had a Japanese food marathon followed by shopping at Cotton On and Urbanedge for furniture viewing. For those of you who are not familiar with Gurney Paragon, it is Penang's latest premier and luxury mall combined with two high-end residential towers and an office tower. It is a mixed development with a whooping 700,000 square feet.
We were rather hungry when we reached Gurney Paragon. The parking system is a bit haywire but has improved quite a lot after their opening. The parking fee is rather reasonable. RM2 for 4 hours and subsequent 1 hour or part of is RM1. We started our lunch with Rakuzen, the super Japanese dining experience. It is the high-end Japanese restaurant. Rakuzen, Sushi Zanmai and Pasta Zanmai are in the same group but with different management and company.
Rakuzen, Sushi Zanmai and Pasta Zanmai are located side by side at the 6th floor of Gurney Paragon Mall.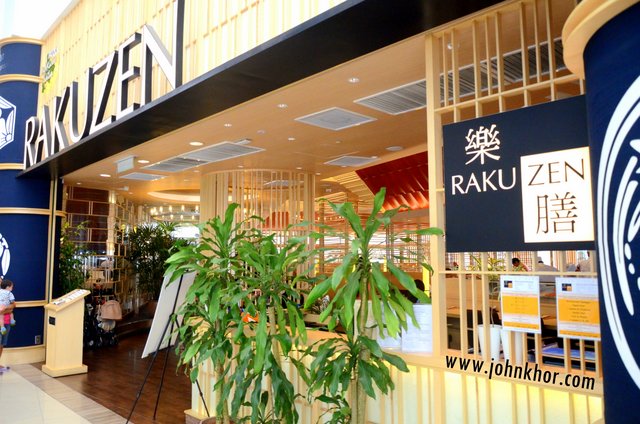 The entrance of Rakuzen.
Rakuzen has an open concept kitchen whereby customers can see how they prepare and handle their food.
There are open tables for customers to choose from.
They have a special counter to serve the private rooms in order to serve them better and faster. 
The beautiful view of Gurney Drive beach from Rakuzen.
There are also individual rooms for personal function or company gathering. if I am not mistaken, there is one room that can accommodate 10 to 12 pax.
We are ushered by the manager of Rakuzen into a private as soon as we reached. Very thoughtful of them. The decoration for Rakuzen and also their other restaurant utilize a lot of wood to give the natural and homey feel. I liked this kind of atmosphere. 🙂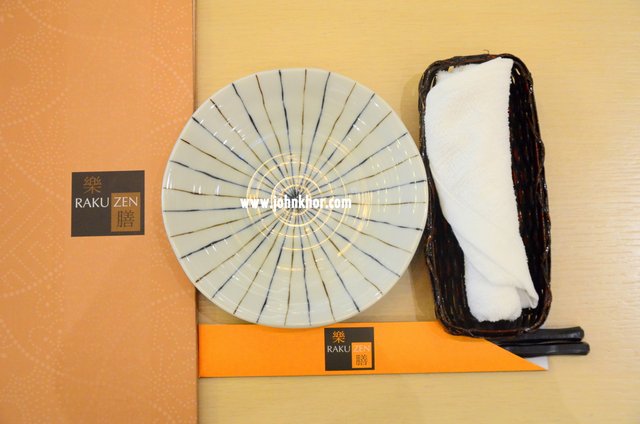 They prepared a warm towel to refresh ourselves and get ready to order their food. Indeed, it gives a classy feel to their customers. It is always the small small thing that makes customer feels good. 🙂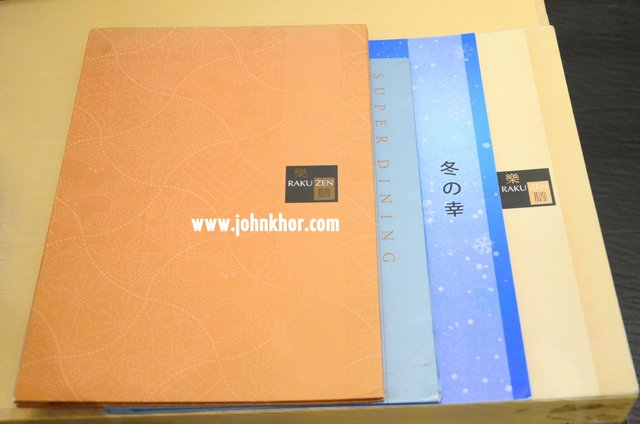 Here are their menu. They have separate menu for their food and drinks.
Calpis Kyoho Shake RM10
Iced Green Tea Latte RM8
This was the drink that my wife ordered. This is a must try drink! It is very refreshing and has a grape aftertaste. The Green Tea Latte is rather normal. 🙂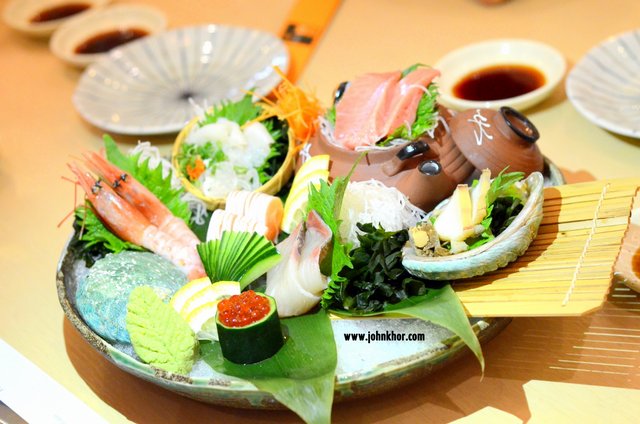 Sashimi Moriawase RM100
They will prepare 8 types of seasonal sashimi which is enough for 2-3 pax. What we had were – Otoro Sashimi (Tuna Fatty Belly), Awabi Sashimi (Abalone), Kampachi (Amberjack), Ikura (Salmon Roe), Amaebi (Sweet Shrimp), Toro Salmon (Salmon Belly) and Fugu Sashimi (Puffer Fish).
The presentation of the sashimi is very beautiful and grand. The presentation itself is worth some $$$ already. The highlight of the dish is tuna fatty belly. So smooth and sweet! If you are the daring one, you can try the Putter Fish. We survived after eating it. Hehe 😛 This is a very great dish to impress your friends, colleagues or business partners and clients. 🙂
Sanshoku Don RM55
This dish is rather mild in taste and you need to mix all the ingredients and you find that the taste is much better. The rice is commendable. We always loved Japanese rice. Short and big. 😛 It is a rather healthy choice.
Dragon Roll RM30
You really can see the dragon in this sushi roll. Great effort in designing this dish. This is dish is one of their bestsellers. The prawn meat is fresh and the overall taste is decent. Nothing very special to shout out but a safe bet.
Edamame (Boiled Green Soybean) RM8
This is a must order dish. The portion is big and the price is reasonable. The edamame tasted fresh and we loved it!
Wagyu Sirloin Steak 60g RM65
This is MUST TRY dish! The beef steak is as soft and easy to chew like chicken meat except with the taste of beef. That's how soft and nice the steak is. Most of the time, beef steak are quite tough and chewy but this is not. My wife who seldom takes beef steak cannot stop eating it. This is also Rakuzen's bestseller.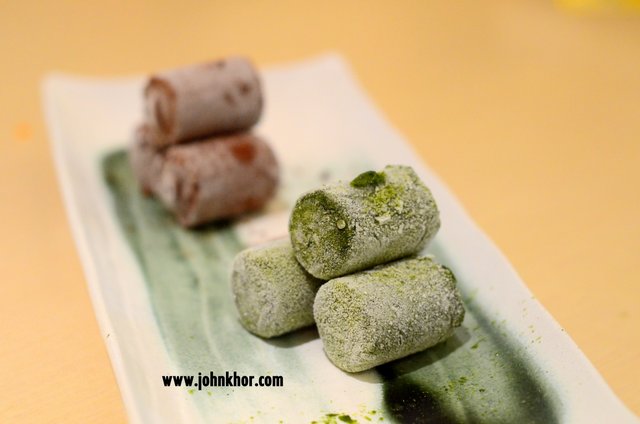 Nama Choco Ice (Macha, Chocolate) RM13
A very sweet ending for our meal in Rakuzen. This is also one of our favorite dessert. All their ice creams are imported directly from Japan including Sushi Zanmai and Pasta Zanmai desserts. We personally preferred the chocolate flavor. The whole thing is quite soft and easy to chew. The flavor is very strong and leaves a good aftertaste.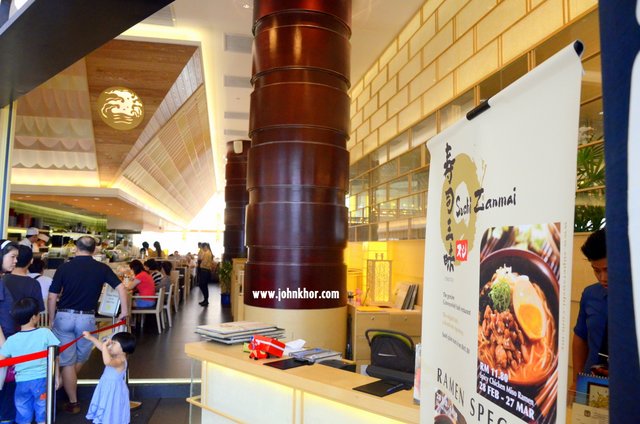 After our awesome time at Rakuzen, we moved to Sushi Zanmai. This is the Japanese restaurant in the group that has conveyor-belt. Conveyor-belt sushi has been the landmark of Japanese restaurants. We love conveyor-belt restaurant whereby so many beautiful and tasty sushi are displayed to you continuously. Too bad, we are not seated near the conveyor-belt as the queue for this restaurant is quite long. There is always a queue whenever we walk pass Sushi Zanmai. Luckily the queue moves fast.
Mentaiko Spider Roll RM13.80
Aburi Zanmai RM13.80
Salmon (5 piesces) RM10.80
We had a very good time here. We can get the direct view of the Gurney Drive beach. The dishes that we are recommended are the bestsellers in Sushi Zanmai. One of the attractions of Sushi Zanmai is their price for their sushi and sushi rolls. The price of their sushi starts from RM1.80.
The dishes that they serve for us are decent. Nothing that stood out but of good taste. The cut of their salmons are rather thick also and the price is reasonable. 🙂
The last stop of our Japanese food marathon is Pasta Zanmai, the fusion of Western and Eastern. If you love Western food with a touch of Japanese, then you should try this!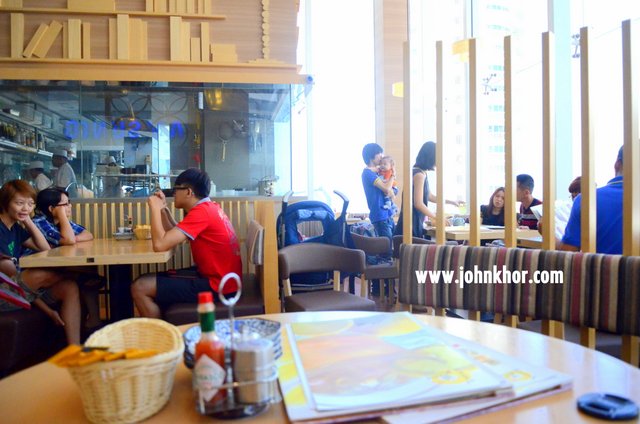 You get to view the two residential towers from some of the tables. They should put blinds in order to reduce the glare from the bright sun. 🙂
Ice Fruit Tea RM8
Ice Fruit Juice RM9
Mocha Mocha RM8
Two drinks that are worthy are Ice Fruit Tea and Ice Fruit Juice. Very refreshing! The Mocha Mocha has strong coffee taste and the chocolate taste comes only from the chocolate on top of the drink. We prefer stronger chocolate flavor.
Ebi Tempura no Gomadare Shitate Pasta RM16
Tori Karaage to Garlic Rice RM15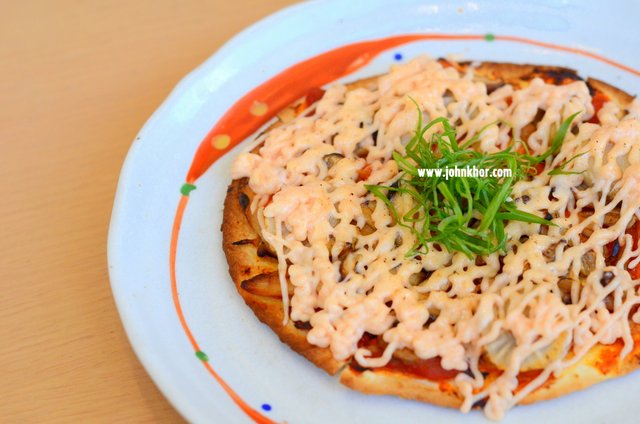 Hotate to Kinoko no Mentaimayo Pizza RM16
Ebi Tempura no Gomadare Shitate is the highlight of the dish! If you are comfortable with sesame taste, then this is a must try dish. The sesame taste is strong and sweet. The spaghetti is soft and Q and tempura is fried to perfection with crackling sound when you bit it. 🙂 The Tori Karaage to Garlic Rice's chicken is well cooked and we love the mayonnaise. The down of side of this dish is the garlic rice. It seems to lack wok hei (the pan's heat) and the garlic flavor is not strong enough. Hotate to Kinoko no Mentaimayo Pizza is rather special dish. How often you see pizza with scallop? 😛 Thank God they use thin crust pizza and the combination is well done. 🙂 Crunchy and scallop madness.
Choco Banana Parfait RM16
Again, we end our food adventure with dessert. I love the top part of the Choco Banana Parfait but dislike the lower part. 😛 I prefer if they make the parfait in a bowl, so that I can mix all the cornflakes together with the chocolate ice cream and the whipped cream and enjoy them better, rather than enjoying all the good stuffs on top and finally have to finish the cornflakes without additional flavor.
After the Japanese food marathon, we are very full. It's time for a bit of walking. 🙂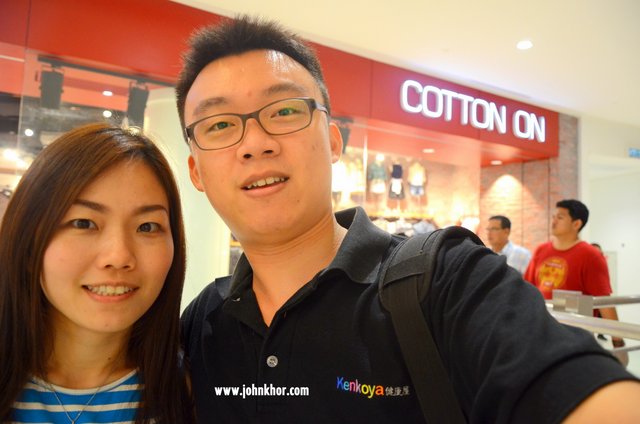 After our hearty meal, we needed to start walking to help to burn the fat that we had taken in so much! We went to Cotton On, a successful Australian fashion retail chain that has around 12,000 stores in 12 countries, according to Wikipedia. Cotton On is located at Level 2 of Gurney Paragon Mall.
There is an on-going promotion for the guys now. RM80 for 2 of these good design T-shirts! Go check it out!
After shopping for the trendy fashion apparels, we went over to check out latest furniture. As you grow older, you start to take notice of certain things that have been trivial to you. Well, last time I am not so interested in furniture but after owning a home, you start to learn more about furniture. Urbanedge offers contemporary, high-quality and modern and competitively-priced alternative to a broad range of European designs. This is definitely an outlet that you need to check out if you are looking for good and quality furniture.
Console RM4,4480 1600*390*840mm
Both of us had a good time at Gurney Paragon Mall that offers everything, well not everything but almost, to every couple's needs. A great place to escape the heat also. 😛 We look forward for another such outing again and maybe with other shops and eateries. 🙂
contact information
Gurney Paragon Mall
163-D, Persiaran Gurney, 10250 Penang, Malaysia
Tel No: +604-2288 266
Website: http://www.gurneyparagon.com/
FB Page: https://www.facebook.com/gurneyparagon
Rakuzen
37, 37A, Level 6
Gurney Paragon Mall
163-D, Persiaran Gurney, 10250 Penang, Malaysia
Tel No: +604-218 9900
Website: http://www.superdining.com.my/
FB Page: https://www.facebook.com/superdining
Sushi Zanmai
36, Level 6
Gurney Paragon Mall
163-D, Persiaran Gurney, 10250 Penang, Malaysia
Tel No: +604-218 9300
Website: http://www.supersushi.com.my/
FB Page: https://www.facebook.com/sushizanmai
Pasta Zanmai
38, Level 6
Gurney Paragon Mall
163-D, Persiaran Gurney, 10250 Penang, Malaysia
Tel No: +604-218 9600
Website: http://www.superpasta.com.my/
FB Page: https://www.facebook.com/pastazanmai
Cotton On
21, Level 2
Gurney Paragon Mall
163-D, Persiaran Gurney, 10250 Penang, Malaysia
Tel No: +604-218 9050
Website: http://asia.cottonon.com/
FB Page: https://www.facebook.com/cottonon
Urbanedge
13, Level 4
Gurney Paragon Mall
163-D, Persiaran Gurney, 10250 Penang, Malaysia
Tel No: 04-218 9848 / 04-218 9948
Website: www.urbanedge.com.my
FB Page: https://www.facebook.com/urbanedgehomegallery
business hour
Gurney Paragon
Daily
10.00am – 10.00pm
Rakuzen
Daily
11:00am – 3:00pm
6:00pm – 10:00pm
Sushi Zanmai
Daily
10:00am – 10:00pm
Pasta Zanmai
Daily
11:00am – 10:00pm
Cotton On
Daily
10:00am – 10:00pm
Urbanedge
Daily
10:00am – 10:00pm