Live Blogging for my 1st time: YES 4G the Great Penang Food Hunt!
We kick-start our the Great Penang Food Hunt today with a talk from Tan Sri Francis Yeoh and also CEO of YTL Communications, Wing K Lee. Each of us is given a YES Huddle to test YES 4G. Stay tuned with my blog for more information about the YES 4G Great Penang Food Hunt.
Tan Sri Francis Yeoh started the talk by talking about mobile Internet tsunami. He joked that his mobile tsunami actually created the Japan's current tsunami. Now, his friends are afraid of him talking about tsunamis. Tan Sri predicted the next wave will be mobile Internet after broadband.
Tan Sri Francis Yeoh played a video of Apple iPhone 4 FaceTime TV commercial about a man looking at his newborn grandson using FaceTime.
Then, he showed us a video of how Steve Jobs demo on iPhone 4 FaceTime failed due to the undedicated WiFi network.
With YES 4G, Steve Jobs dream of getting FaceTime mobile has become a reality. Tan Sri Francis Yeoh was so happy to say that, "Mr Steve Jobs, YES 4G has fulfilled your FaceTime dream!"
YTL Communications will be partnering with mobile phone manufacturer(I think it's Samsung) to bring their own version of Android 4G smartphone. Tan Sri said that the Android smartphone will be able to support up to 3-party video conference. And it's rumored that the Yes 4G Android smartphone will be launching soon within a few months time!!! All 4G lovers, this is going to hit your G spot! Save your money now!
I missed the update of the 1st part of the talk. I will update it later.
YTL Comms CEO Wing K. Lee came up to talk about YTL Comms & YES 4G.
Wing talked about YTL Group's commitment to YES 4G. US 4G network gets US$5.2 billion to  expand their 4G network to all US. YTL Group committed US$850 million to expand YES 4G to all over Malaysia and that's 1/6 of US's 4G commitment! And Malaysia is not even 1/6 the size of US. That kind of commitment attracted Wing to join and head YTL Comms!
Malaysia has 30%++ boardband penetration!
And the median age of Malaysian population is 26. And they are hungry for mobile Internet. That's where Yes 4G comes in!
Wing talked about convergence. One YES ID for all. Your house telephone, handphone and also Internet. All for one and one for all.
Wing said that YES Zoom has the most powerful antenna, -27dB
YesLife is coming to Macintosh in a few weeks time! Things are getting more interesting.
Wing FaceTime-d with Tan Sri without any lag! That's so cool!
Wing shared the statistic of YES 4G:
After 108 days, YES 4G has more than 100, 000++ active subscribers.
1 million Voice minutes, 670,000 SMS and 104 TB and counting.
YES 4G has 81% customer satisfaction from 600++ users.
Tan Sri Francis Yeoh believes that everyone who has smartphone should not buy smartphone with bundled data packages.
Tan Sri Francis Yeoh believes that business models should be based on the abundance model not the scarcity model. Internet is the model of abundance.
Tan Sri Francis Yeoh guarantees that he will bargain with other retailers to get discounts for any products that we, the YES 4G users wish to buy as a group purchase. Maybe we should ask Tan Sri to get iPad 2 from US at a cheaper price for YES 4G users. Agree?
Malaysia is 1st country to be able to run FaceTime using mobile Internet. Europe and Singapore is not even there yet. Isn't that cool? Malaysia really BOLEH this time!
After that, all of us are given a YES Huddle and a YES account. There's RM150 credit in it. Isn't it cool?
Then we left Ritz Carlton and 3 Toyota Alphard and a pimped van called Sprinter are bringing us to Penang! Penang, here we come!
I setup my YES Huddle in Alphard and started doing speedtest.
Yes 4G @ Jalan Duta Toll speed test.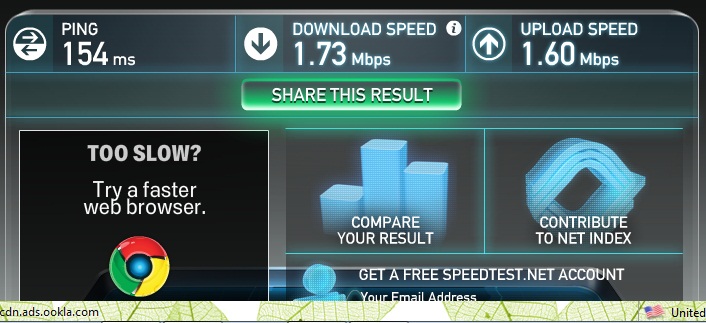 Yes 4G @ Sungai Buloh speed test.
Yes 4G @ after Rawang speed test.
Yes 4G @ after Rawang speed test using San Francisco server.
First stop, Bidor! We had our Pun Chun duck noodles in a Indian restaurant. Haha! My first experience eating Pun Chun duck noodles is eating it 'tapao' (take away in Hokkien) in an Indian restaurant. This is so cute!
After that, Twitter and speedtest.
We stopped in Ipoh to buy salted chicken. After buying salted chicken, we drank soya bean milk at Funny Mountain soya bean milk stall. They serve drive-through for their soya bean products.
We skipped Taiping to make time for Penang. It was raining cats and dogs.
Reached Queensbay Mall, Penang to visit YES 4G roadshow.
Arrived at Vistana Hotel, Penang. Checked in and rest for a while before going for our dinner with Wing.
Had our 8 course dinner. Quite full. Wing and some of the YES team need to leave early. Said goodbye and exchanged contacts. Found out that YTL Comms CEO, Wing is a really friendly, nice and humble person! He practically shook hands with all of the bloggers and checking on whether we had a good time or not. This is so nice of him! With such a person at helm, I believe YES 4G will soar to great heights. You are the best, Wing!
Left Vistana Hotel and home sweet home!
That's my first time doing a live blog! Phew, it's really stressing but a good experience!