P1 (Packet One Networks) Finally Launched Their Own MiFi, MF230!
It's definitely the right time for P1 to rise in the personal broadband hotspot or MiFi category in the telecommunication industry. Almost all other telco players have launched their own MiFi modem. Moreover, with the increasing usage of tablets and smartphones, the demand for MiFi is growing.
By the way, what is MiFi? MiFi actually means My WiFi or some will call it as my personal WiFi. The first MiFi device was introduced in US by Novatel Wireless in May 2009. Basically it's a compact device that acts as personal hotspot. Usually, MiFi can be connected up to 5 devices at one go but doing so, usually will slow down the Internet speed.
Packet One Networks (Malaysia) Sdn Bhd or more popularly known as P1, launched their own mobile hotpost device called MiFi MF230 on 27 Jun 2012. They partnered with The Dark Knight Rises movie to market MiFi MF230. Brilliant move, I would say since this movie is one of the most anticipated movie of the year!
Here is the promotional video of P1 MiFi MF230 together with The Dark Knight Rises.
http://www.youtube.com/watch?v=qKcxa_8SJbs
They are pairing the device with their ToGo Plans. You can get unlimited speed with ToGo 69 Plan with 6GB quota and ToGo 99 Plan with 10GB quota and only 1Mbps speed with ToGo 39 with 2GB quota.
To get P1 MiFi MF230, you need to top up RM100 when you subscribed to P1 ToGo Plans, if not you will be getting a USB modem only.
Here are the ToGo plans and additional details that I have taken from their website.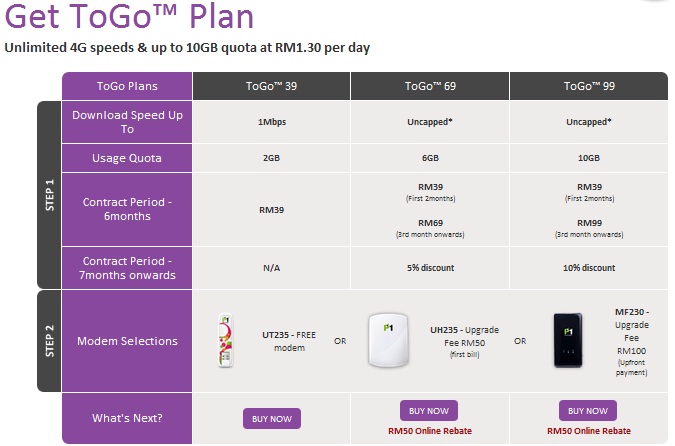 There is a sweet deal from P1 for those who subscribed to ToGo 69 and ToGo 99 plans whereby from 7th month onwards, they will be enjoying 5% discount off their monthly subscription for ToGo 69 and 10% discount for ToGo 99. Quite nice, I would say.
I always love competition. This way, we as consumers will be getting more benefits for our money. If you are still wondering you are getting a good deal or not or which P1 MiFi plan to go with, you can go to this page of their website where they have done a comparison with other providers.
What's your say?