Clash of the Titans: YES 4G vs Maxis vs Digi vs Celcom vs U Mobile
The aftermath of YTL's YES 4G Official Launching.
There have been mixed reactions from various groups of people. Some said YES to YES, some said NO to YES. Hell, some even created a Facebook fan page to say NO to YES.
So, after all the hoo-hahs and hype, it's time to sit back and digest all the facts that have been given.
First all, there's no speed test of YES 4G given by YTL. Despite all the hype and all the discussion about the prices and rates of YES 4G, I can't find anyone showing the speed test of YES 4G in the Internet. That is the one of most important factor to consider whether I should subscribe to YES 4G. None. Anyone who is using the YES 4G, especially the KLites can help?
Now, let's see whether you should jump into the bandwagon. Analysis of the rebates/discounts of YES 4G prices if you are still confused with what pricing.
YES 4G prices and rebates.
From the chart, I can conclude that YES 4G is meant for light to medium bandwidth mobile users. For those heavy bandwidth users or home users, well, it's DAMN expensive. Those of you who love to download HD movies, PPS or torrent, well, you might still need to stick to Streamyx or Unifi. Who says that Streamyx is bad? At least you don't get throttled down or being charged extra for the extra bandwidth. There are worse guys out there. =P
Now, let's compare 'the most affordable' YES 4G with other mobile internet providers.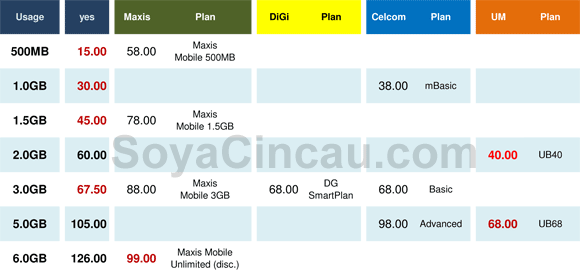 YES 4G vs Maxis vs Digi vs Celcom vs U Mobile – in terms of mobile internet plan.
It seems that U Mobile leads in term of pricing. Note that, in that chart, we are comparing the price only with factoring other consideration like the network coverage and the speed. YES 4G is indeed cheaper than the main 3 telco players.
YES Buzz, a 4G phone from Samsung and YES Zoom, home gateway still have no price tag yet.
The issue now is that who are willing to forgo their current handphones and smartphones just to enjoy YES 4G. Those iPhone users, Android users and Blackberry users will certainly not willing to let go their devices unless there's a newer version with 4G capabilities, right?
I am actually waiting for YTL to bring HTC Evo 4G to Malaysia. Any chance?
Ok. Now, let's compare YES 4G with the boardband plan provided by telco companies.
Still, YES 4G is cheaper in certain ways but becomes more expensive when the data usage goes up. My conclusion is still the same. YES 4G is for those on the go and light to medium usage.
I would like to stress that there is no bad or good Intenet provider but  only the right Internet provider for us. Although by overall standard, our broadband speed and customer service level are not up to par. Still, there's nothing much we can but to look at the bright side of it, right?
I might consider using YES 4G on its YES Go because it's really cheap and I don't use that much data when I am on the go. It's kinda nice to be able to use the Internet when you are travelling the North South Highway or while you are sitting in a train.
That's all for now.
What's your say?
Picture are courtesy of www.soyacincau.com.
[SOURCE]