Maxis Starts Pre-Registration for Blackberry Q10!!!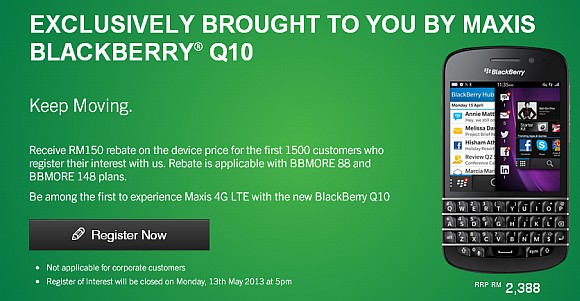 A bit late to post this up as johnkhor.com was having something important to settle. Very sorry ya.
As expected, after Celcom start its pre-registration for Blackberry Q10, other telcos will soon follow suit.
Next telco offering pre-registration of Blackberry Q10 is Maxis. Blackberry Q10 is bundled with Maxis' BBMore plans. Maxis is giving RM150 rebate for the first 1,500 early birds who register their interest with Maxis.
You can enjoy Maxis LTE with this device. Interested to buy one? Click here for more information. Blackberry Q10 will be officially be available in Malaysia starting next Wednesday which is 15th May 2013
What's your say? To Berry or not?