You can pre-book your iPad 2 NOW!!!
Good news! You can now walk to Apple retail stores or Apple resellers to pre-book your iPad 2. There's someone who had managed to pre-book iPad from Mac Studio at Low Yat Plaza. Here's the picture.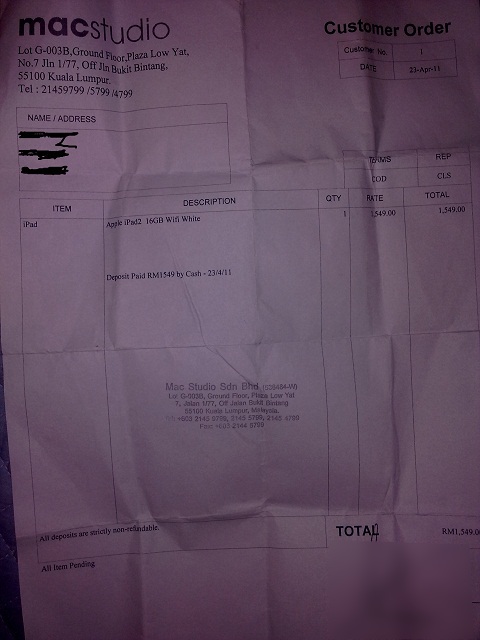 The person said that they will sell you the same price as the launching price of iPad last year first. And if iPad 2 is sold more expensive or cheaper, they will make the necessary changes. That is so nice of them. But now you cannot book your iPad 2 in Mac Studio, Low Yat Plaza because it's full already.
That person also has a list of rumored price list of iPad 2 and Smart Covers:
iPad 2 16GB WiFi – RM1,599
iPad 2 32GB WiFi – RM1,899
iPad 2 64GB WiFi – RM2,199
iPad 2 16GB WiFi + 3G – RM1,999
iPad 2 32GB WiFi + 3G – RM2,299
iPad 2 64GB WiFi + 3G – RM2,599
Smart Cover Poly – RM150
Smart Cover Leather – RM250
Well, that's RM50 more expensive that the original launching price of iPad in Malaysia last year. Anyhow, that's just the unofficial price only and we shall wait for the official price of iPad 2.
Currently there are some Apple resellers that do not receive pre-booking. I am not sure about others but Switch, an Apple reseller in Penang does not accept pre-book. I have called one of Switch staffs and he said that he didn't receive any news about iPad 2 pre-booking.
So, one piece of advice if you are going to pre-book your iPad 2. Check and double confirm with the staff of the Apple reseller and make sure you have a legal receipt and pay the lowest deposit possible to reduce your losses in case, *touch wood* anything happens. 😛
What about other states and do you know where we can pre-book iPad 2 in Malaysia? And also Singaporeans, Hong Kongese and Koreans, do you have your rumored price of iPad 2 already and do you get to pre-book your iPad 2 too? Please let me know! 🙂
What's your say?