Will there be enough iPad 2 for International Markets? iPad 2 International Market Launch delayed?
"Demand for the next generation iPad 2 has been amazing," Apple spokesperson Trudy Muller, told The Loop. "We are working hard to get iPad 2 into the hands of every customer who wants one as quickly as possible."
Now, you have to wait 4-5 weeks for your iPad 2 when you order through US Apple Store.
US residents who ordered iPad 2 from the Apple Store online have to wait 4-5 weeks instead of 1 -2 weeks. This is how strong is the response for iPad 2. The lines in front of Apple Store in various location is still very long even after a week after the availability of iPad 2 in US.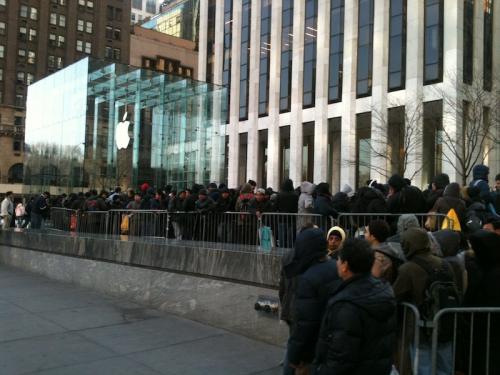 iPad 2 line at Fifith Avenue, Manhattan.
It is said that 70% of the buyers of iPad 2 are non-iPad owners. This time Apple has done it right again. Incredible. Indeed, 2011 is the year of iPad 2.
So, will there be enough for the international markets as planned? Japan's iPad 2 launch has been delayed due to the 9.0 earthquake but will other international markets iPad 2 launch be delayed too?
There has been rumors that supply of some of the key component of iPad 2 has been disrupted due to the recent earthquake in Japan. A website claimed that 3 keys components which are display glass layer, battery and digital compass are from Japan. iPad 2 production might be affected. This issue will cast doubts on whether Apple is able to launch iPad 2 in 25 international markets on March 25, 2011.
As I have said in my previous post about iPad 2, if Malaysia wishes to have iPad 2 launch as soon as possible, then we must pray that there's no shortage in supply. With the current situation, I really doubt that Malaysia will their iPad 2 soon. Even Hong Kong, Taiwan, Singapore will not be getting their iPad 2 soon. This is so sad. 🙁
I can't get my iPad 2 already. Missed the Japan's chance and now, the chance of Malaysia iPad 2  launch sooner is getting slimmer. 🙁
What's your say?
Via [SOURCE]