iPhone 5 will only be available for sale as early as October 7 2011?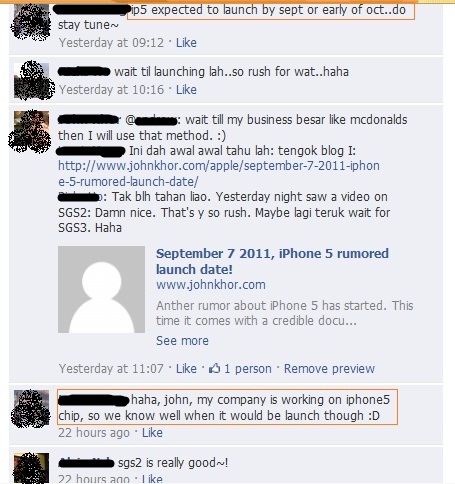 According to my friend, iPhone 5 will be launched in September or October. He is working in a company that handles iPhone 5 chip.
This clarifies the rumors that iPhone 5 might be launched in September/October.
From what I understand, I believe that iPhone 5 will be launched in September 2011 as rumored but will be available to consumers in October 2011.
Another rumor that iPhone 5 will be available for pre-orders as early as end of September 2011 adds weight to the statement above
Everything's still a rumor. iPhone 5 is rumored to have A5 chip, new design and a 8-megapixel camera.
So, now that everything is cleared, let's wait for the launching of iPhone 5 in coming September 2011 and see whether all this rumors are true. 🙂
If iPhone 5 availability is delayed to October 2011, the availability of iPhone 5 in Malaysia might be delayed too. Previously, I was predicting that iPhone 5 might be coming to Malaysia in December 2011/January 2011. Now, January 2011/February 2011 will be a safer bet.
Looks like iPhone 5 will not be my Christmas present but a Chinese New Year gift. 😛
What's your say?