iPad 2 with 1.2Ghz CPU, Camera, Thunderbolt Port, Bluetooth?
Last minute leaked information about iPad 2 within hours before Apple Media Event: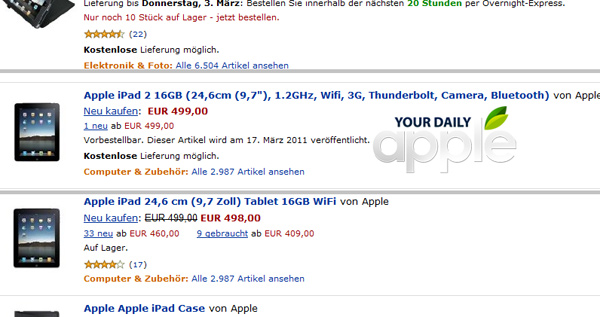 YourDailyApple managed to capture the picture above before the iPad 2 link been removed from Amazon Germany listing. This suggests to us that iPad 2 might have the features below:
– 9.7-Inch Display
– 1.2GHz CPU (Dual-core?)
– 3G
– Wi-Fi
– Thunderbolt Port
– Camera
– Bluetooth
– Available from March 17 onwards
So, there will be no retina display for iPad 2? 🙁 No exact information about the rear camera megapixel also. Never mind. The Apple Media Event in will start in a few minutes time. Let's wait and see. 😛
What's your say?
Via [SOURCE]