iPad 2 coming to Malaysia on April 29, 2001 & Maxis to launch Motorola Xoom just before iPad 2!!!
This time it's getting more real. With this screenshot from Machines' fanpage in Facebook, I can be sure that iPad 2 will be launched in Malaysia on April 29, 2011.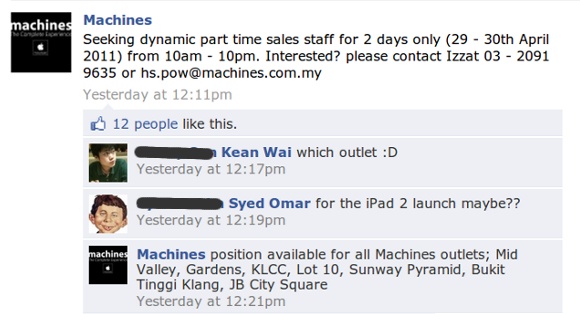 Machines, one of Apple premium reseller in Malaysia has put out this advertisement in their Facebook fanpage which has been taken down after a while. This strongly suggests that iPad 2 is coming to town!!! Let's pop some champagne, Apple fanboys in Malaysia & Singapore!!!
Now that April 22, 2011 is certainly not the launch date for iPad 2 in Singapore, Hong Kong & Korea, we can safely say that iPad 2 will be launched on April 29, 2011 for those countries and also the 'additional countries' that Apple had mentioned.
Malaysia is one of the countries to have the cheapest iPad and is expected that iPad 2 price will follow the same trend. The prices of iPad 2 will range from RM1,549 – RM2,599 for the lowest model, 16GB WiFi to 64GB WiFi + 3G models.

At the same time, another rumor has surfaced about Motorola Xoom in Malaysia. One source claimed that Maxis will launch Motorola Xoom just before the rumored iPad 2 release date in Malaysia.
This strategy might give Motorola Xoom a little bit more time to capture the tablet market in Malaysia but it might seem a bit futile, giving the prices that Malaysians are willing to pay the grey markets just to get iPad 2 first. Well, maybe Maxis might be able to give a good bundle plan for Motorola Xoom to attract those who are Android lovers.
Well, tablet market in Malaysia is getting crowded with Samsung Galaxy Tab, recently launched HTC Flyer and Motorola Xoom and iPad 2 to make their way into Malaysia. Who will emerge the King of tablets?
I bet iPad 2 will be the KING of tablets. Call me Apple fanboy but iPad 2 is simply too IRRESISTABLE. 😛
[SOURCE]