iOS 4.3 launching on March 10, 2011?
Yup. iOS 4.3 will be launching on March 11, 2011 March 10, 2011. iOS 4.3 will launch a day earlier than iPad 2 release date. The rumors have been around the blogosphere these days.
iOS 4.3.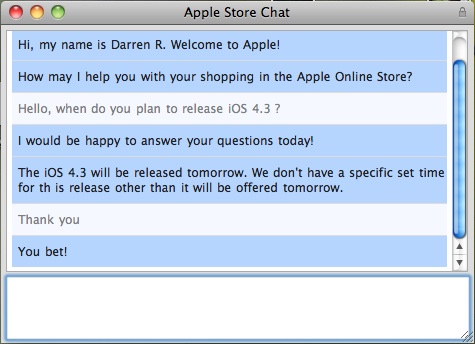 This chat from one of MacRumors.com readers with Apple support suggests that iOS 4.3 might come on March 10, 2011.
iOS 4.3 has been announced in the iPad 2 keynote. iOS 4.3 has a few new features such as better AirPlay, faster Safari browser, iPad side switch (mute or rotate), the Personal Hotspot feature available only in iPhone 4 (That's sad, what about iPhone 3GS? 🙁 ) and iTunes Home Sharing.
I am so happy that Apple finally put a personal hotspot in iPhone. Last time, I was so impressed with HTC Evo 4G's hotspot ability and also the HDMI output function that I was considering to get HTC Evo 4G instead of iPhone 4. Now, I need to focus on one phone only. That is iPhone 5. 🙂
The new features are detailed here:
– Faster Safari – The Nitro JavaScript engine that Apple pioneered on the desktop is now built into WebKit, the technology at the heart of Safari, and more than doubles the performance of JavaScript execution using just-in-time compilation.
– iTunes Home Sharing – allows iOS 4.3 users to play music, movies and TV shows on an iPad, iPhone or iPod touch® from their iTunes library on a Mac® or PC over a local Wi-Fi network.
– Enhancements to AirPlay – With iOS 4.3 you can stream additional content including video from third party apps and web sites, videos from the Photos app and previews from the iTunes app to your TV.
– Personal Hotspot – This feature in iOS 4.3 lets you bring Wi-Fi with you anywhere you go, by allowing you to share an iPhone 4 cellular data connection with up to five devices in a combination of up to three Wi-Fi, three Bluetooth and one USB device.
iOS 4.3 is compatible with iPhone 3GS, iPhone 4 GSM, 3rd Gen iPod Touch, 4th Gen iPod Touch, iPad, and iPad 2. It will be available for download starting on March 11th. or maybe March 1oth? The iPhone 4 CDMA (Verizon) seems to be excluded from the compatibility list.
So, standby at the Apple website and let me know if the rumor above is true.
Via [SOURCE]