[INVITED REVIEW] SWITCH: Belkin Kitchen Series Accessories for iPad 2
Recently, johnkhor.com was invited by Belkin Malaysia to review Belkin Kitchen Series iPad 2 accessories. This is event is co-organised by Switch, a leading premium Apple reseller in Malaysia.
Here are the two products that we are reviewing. Belkin Tablet Stand and Smart Stylus and Belkin iPad 2 Wall Mount.
Belkin Tablet Stand & Smart Stylus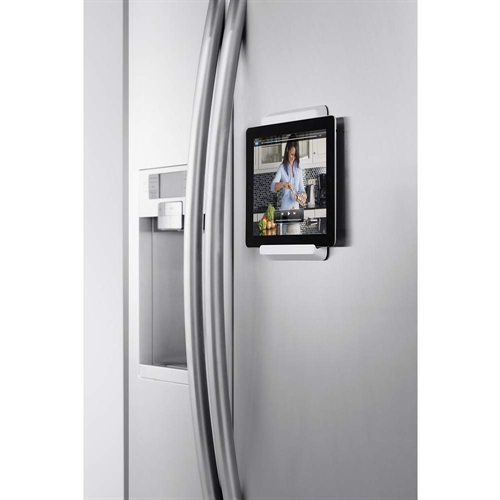 Belkin iPad 2 Wall Mount
Here is the review for Belkin Tablet Stand & Smart Stylus.
If you are lazy to read. watch my video reviews of this product.
The design of Belkin Tablet Stand looks very stylish and cool with its silver coating. One down side with the silver coating is that it attracts smudge easily. So, there must be constant cleaning to make it look clean and shiny.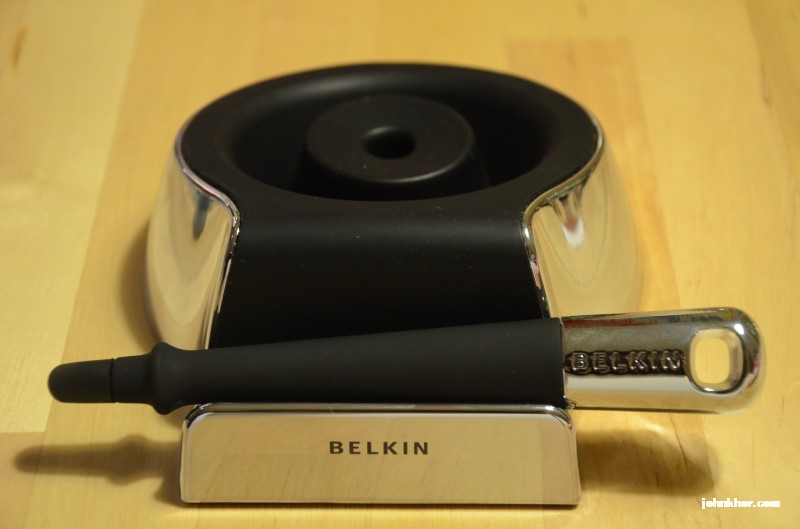 The rubber used to resist slip is of high quality. The rubber made the tablet stand secure and steadfast. You can rest assured that your iPad will not slip easily.
The ability to wake up iPad 2 or new iPad (iPad 3) with just a swipe or sometimes a few swipes is very cool. Also, it is very convenient for chefs or mums to use their iPads while cooking.
You need to constantly clean the tip of the stylus to get better performance. Sometimes you need to push a bit harder to swipe. Another thing to note is that the stylus is designed to swipe and not for Draw Something. So, don't be disappointed when you try to use the stylus to draw. Overall, the build of the stylus is solid and swipes quite well.
This Belkin Tablet Stand & Smart Stylus will be a waste if they are just used in the kitchen. Actually, they can be used at the reception area, restaurants, hotels, or anywhere that you can display your company's products. They will make your place more stylish.
The price for Belkin Tablet Stand & Smart Stylus is RM129.
Here is the review for Belkin iPad 2 Wall Mount.
If you are lazy to read, watch my review video.
The instructions given are very clear and easy to understand. I don't have the 3M Command Strips when I was reviewing the product, so I can't give any comment but I have used the ordinary adhesive strips and they worked very well. Just in case you are still afraid, you put screws into the wall mount for extra security.
Belkin put in extra effort to make sure that your iPad 2 or new iPad (iPad 3) will not slip out of the wall mount easily. Belkin put a strong magnet at one side of the wall mount just to do that. I am quite impressed and when you try to take out the iPad, it's not easy.
Another thing that impressed me is that the adhesive strips are very easy to remove from the wall mount. Just do exactly as what they say. Pull it out diagonally and experience yourself the magic.
This Belkin iPad 2 Wall Mount usage is definitely not contained at the fridge door. There are a lot of ways to use the wall mount such hotel lobby, toilet doors (Haha :-)), under the bunk of a double decker and so on. The possibilities are endless.
The price of Belkin iPad 2 Wall Mount is RM129.
I have done videos on the unboxing of Belkin Tablet Stand & Smart Stylus and Belkin iPad 2 Wall Mount. I am still editing the videos and will upload to YouTube and update them in my blog. Stay tuned.
By now, you might ask where can I get Belkin products? Well, the answer is very obvious, it's Switch. You can visit their stores all over Malaysia; the latest store is at Taiping, Perak.
By the way, Switch is having Belkin Week from 27th April 2012 (Friday) until 1st May 2012 (Tuesday) at all their stores nationwide.

If you purchase more than RM100 worth of Belkin products at Switch, you will be given a FREE desk stand for your iPad worth RM79. My, my, this promotion sounds too good. You are paying ONLY RM21 for RM100 worth of Belkin product. That's a steal!
So, for those of you who just got the new iPad (iPad 3), now is the time to accessorize your new iPad (iPad 3). Or bored with your old iPad 2 case, you can change a new one also. 🙂
And if you don't have enough money, there's a chance for you to win yourself Belkin products. Just head over to Gurney Plaza, Penang starting from 27th April 2012 (Friday) and play with the Belkin products and write a review for the Belkin product. You can review all 5 Belkin products to have higher chance to win.
Belkin Week Review & Win Contest

A velvety new iPad casing? A colourful and juicy iPhone 4S casing?

Yeap! You stand a chance to win the above goodies by Belkin! Just visit Switch @ Gurney Plaza, head to the Belkin Island and play around with our 5 featured products displayed.

Submit a write up with some pictures or even record a video review about the products displayed!

Go crazy! Be creative! Email your entry(s) to belkinweek@switch.com.my. Winners will be announced on the 7th of May 2012.

More chances to win? You can review all 5 products separately!

Winners will receive either a new iPad casing + video stand (for reviewing the tablet stand, wall mount and iPad 2 casing) or a iPhone 4S casing + video stand (for reviewing the camera grip and Mic).

Terms & conditions apply.
That's all. Hope you enjoy my review.
What's your say?