Download AppShopper for iPad/iPad 2/iPhone/iPod Touch!!!
Looking for FREE apps from AppStore but don't like to scroll one page by one page?
Want to know which apps prices have been dropped or changed?
Want to know which paid apps have become FREE for a limited of time?
Download AppShopper app for iPad/iPhone. Because of this app, my number of apps in my iPad 2 has increased a lot. 🙂
Best of all it's free. 🙂 But it's ad-supported for the free version. 🙁 But if you really like this app, you can purchased Appshopper at US$0.99 to get the ad-free version.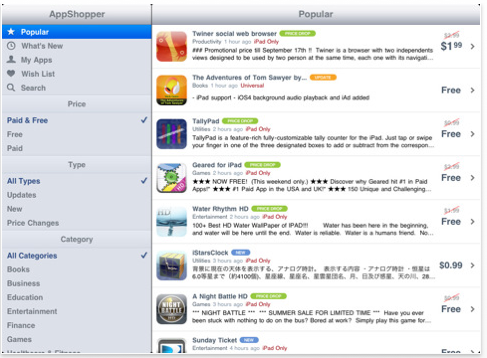 It's much user-friendly than AppMiner which I have download before I found AppShopper. AppShopper has a much simple design and easier to use menu. I don't like the design of AppMiner and the overall usability.
You can also ask AppShopper to notify you of any apps that you wish to get it if the apps become free or the price has been dropped. To use this feature, you must register an account with AppShopper.com. I find this feature to be handy as certain popular apps like Asphalt 6 Adrenaline HD and Dungeon Hunter 2 HD has crazy promotions which they slash their apps in rock bottom prices. At that time, you can save a lot of $$$. 😛
Just today, Appshopper has been updated to version 1.4. Updates will be available in a few hours depending on which location you are.
Now, you can view the Top 200 for either paid or free category. Yeah!!! That's one of the feature that I was expecting. Hope to get more updates for AppShopper. 🙂
The full list of what's new in this update is as follows:
Top 200 rankings
App Ratings
Links to 3rd party app reviews
Automatically loads apps when scrolling to the bottom of a list
New filters for search
Email notification settings
Disable push notifications during certain times of the day
In-app AppShopper account registration
Share an app's info via Twitter, Facebook, email and more
Various bug fixes
To download Appshopper, click this link.
This is one of the apps that you must download for your iPad/iPad 2/iPhone or iPod Touch.
What's your say?