[Tech Kaiju] Ninetology U9X1 VS Samsung Galaxy Note 2 – Simple Comparison!
Two weeks ago, johnkhor.com had the opportunity to review Ninetology high end smartphone series, U9X1. And Ninetology asked me to do a comparison with my current phone which is Samsung Galaxy Note 2.
Well this is actually not a very fair comparison to compare a mid-range smartphone with a high-end smartphone but this comparison will at least let you, yes, you, the potential buyer who are looking for information about this unknown yet attractive phone model and brand some key points to note before you decide to splurge RM1K++ for this Ninetology U9X1. Yes, for all the specs, the phone is only RM1,099.
Here are the specs and the official introduction video of U9X1:
Dimension
Height – 137.8 mm, Width – 69.9 mm, Depth – 10 mm
Weight
160g
Colors
Black & Red
Form Factor
Full Touch Screen
Platform
CPU – Quad Core 1.2GHzGPU – PowerVR SGX544
Operating System
Android 4.2
Memory
Internal – 16GB ROM / 1GB RAMExternal Storage – MicroSD, up to 32GB
Display
Size – 4.8 inchResolution – 720 x 1280 HDTechnology – Super AMOLED HD, Capacitive 5-point,     IPS Touch Screen, 309ppi
Connectivity
Network – GSM 90/1800MHz, WCDMA 2100MHzSIM 1 – GSM / WCDMASIM 2 – GSM / WCDMAData – HSDPA≈Up to 42.2M, HSUPA≈Up to11.5M, EDGE & GPRS – class 12

Wi-Fi – Yes ( 802.11 b/g/n)

Bluetooth – 3.0

GPS / AGPS – Yes / Yes

Camera
Rear Camera – 13.0MPFront Camera – 2.0MP 720p HDFeatures – f2.0 Aperture, 2nd Generation BSI, HDR, Zero Shutter Delay, Panorama shooting, Face Detection, Fast Burst Shot, HD video recording(Video Effect)
Sensor
Proximity sensor, Motion sensor, Magnetic sensor, Ambience sensor
Connectors
USB – USB 2.0SD Slots – YesAudio Output – 3.5mm Audio Jack
Power & Battery
Capacity – Li-Ion 2200 mAhTalk Time – Up to 8HrsStand-by Time – Up to 400Hrs
Multimedia
Player – 3GP / MP4 PlayerAudio Format – MP3 / MIDI / WAV / AAC / AMRVoice Recording – AMRVideo Format – 3GP/ MP4 / MKV / AVI

Video Recording – 3GP / AVI (1080P@30fps)

Features
FM Radio, Smart Call, Flip to Mute, Dual Mic
Apps
Social Network – Facebook, We Chat, Google +, Google HangoutsProductivity & Utilities – File Manager, Adobe Reader, ThinkFree Office Viewer, Flash Light, NQ Mobile Security, NQ Vault, M WarrantyEntertainment – YoutubeAppstore – Google Playstore

Browser – Android Native Browser

Accessories
Charger, USB Cable, Battery, Earpiece, Screen Protector (Clear), Protection Case, Quick Start Guide, Warranty Card
Packaging
Premium Gift Box
After sharing about U9X1 specs, now let the comparison between Ninetology U9X1 and Samsung Galaxy Note 2 begins. I will be comparing only the photo quality and the packaging and also some comment after using the phone for a week.
Let's start with the packaging.
Ninetology definitely wish to make an impression for their buyers. You see, even though Note 2 is way bigger than U9X1 but the U9X1 box is way bigger than Note 2. And the design of the box is simple yet striking with its red color. Ninetology sure knows how to make its buyer feels worth it since they are getting something so big. 😛 Whereas Samsung Galaxy Note 2 design is also nice and the standard for nowadays.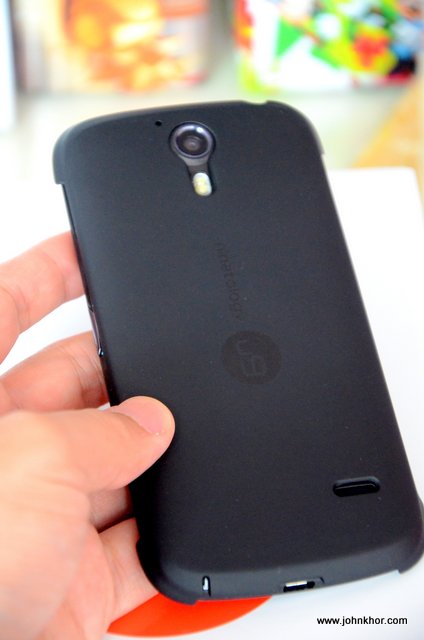 And one thing that will make buyers happy is that Ninetology provides a casing for their phones. This will definitely please the buyers since they do not need to go out and spend for another casing and they can use it right away. This is the right move. Hopefully Samsung will do the same also for their phones.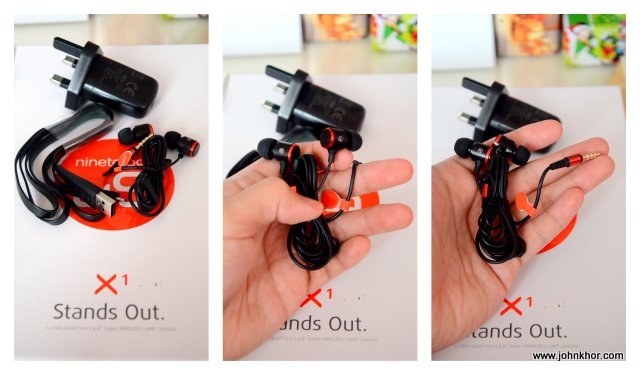 *johnkhor.com didn't take photos of the accessories of Samsung Galaxy Note 2 as I have misplaced them T_T Hehe*
And another that I like is that U9X1 really lives up to its statement, 'Stands Out'. I love the design and feel of their earphones. Damn cool and modern with the shiny red color. One thing to note is that U9X1 gives noodle flat cable to reduce tangling. And they also give you screen protector that comes with screen wiper cloth and plastic card. Thumbs up. 🙂
"Packaging: U9X1 wins hands down with its big and striking box, flat noodle cable, casing and so many extras"
Next is the specs.
The thickness of U9X1 is rather comparable with Note 2 although Note 2 is slightly slimmer. 🙂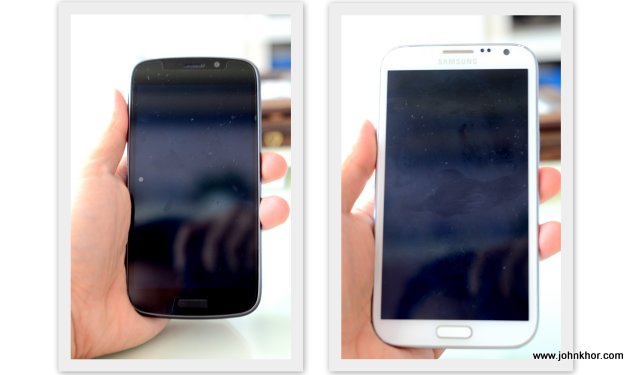 U9X1 fits well on my hand and whereas Note 2 is a bit too big for my hand.
Through Antutu Benchmark Test, as expected Note 2 wins! Well, sometimes numbers are quite deceiving. 😛 U9X1 is using MediaTek processors.
*Specs: It is very hard to select a winner as the price and specs given are different for both models. All I can say is that U9X1 packs a great deal for its price."
Now, the last part is the photo quality.
U9X1 sports a 13MP whereas Note 2 only has 8MP and both front camera has 2MP. Let's check out the photo quality. Both photos are not edited and only re-sized. 🙂
Under bright sunlight, both camera performs very well. 🙂
Indoor wise, Samsung Galaxy Note 2 has some edge with its slight more saturated colors.
Inside a store, Note 2 seems to be able to capture more light but the quality of both pictures are almost the same.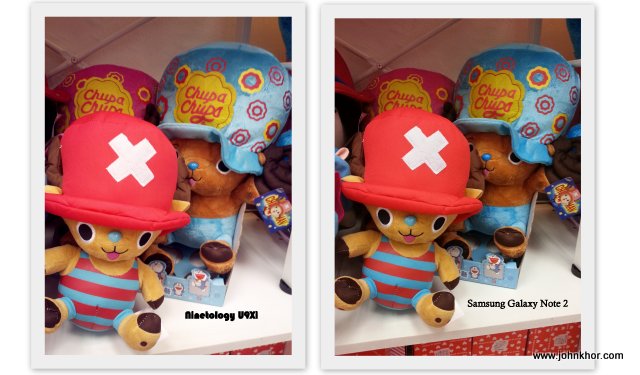 Again, the color of Note 2 photo is more saturated. 🙂
In a very dim lighted room, U9X1 stands out with its Aperture 2.0 and aspheric Lens capturing better lighting compared with Note 2. I am always disappointed with Note 2 low-light performance.
"Winner: U9X1 is a clear winner with its Aperture 2.0 and aspheric lens. Its price is also one of the winning factor"
U9X1 operates Android 4.2 and Note 2 currently is running Android 4.3. Ninetology does not bloat the operating software and it quite vanilla whereas Note 2 is a bit bloated. Although bloated, Note 2 does have some cool features such as swipe print screen and others. U9X1 and Note 2 speed and smoothness of usage is comparable.
Final conclusion
U9X1 definitely packs a lot for its price. With RM1,099, you are getting a rather high-end spec phone with a lot of extras thrown in I would say. If you are looking for a mid-range smartphone, this is definitely one that you can consider. 🙂 The phone size is just right and the screen is good. You might feel that I am more inclined towards U9X1. Well, it is since I cannot really compare to Note 2 and the price is more than half of Note 2 (compared with when I bought the phone. RM2,299). 🙂
Ninetology Malaysia needs more time to market their brand and to convince the market that their phone is really of good quality. Customers don't really know them well yet and still prefers global brands such as Samsung, Lenovo, Huawei and so on. Customers might be wary and will take the waiting stance to see whether the phone really works or not. Still, with their latest marketing efforts, I believe more and more Malaysians will get to their phones and Ninetology brand. I even see their advertisement in cinemas. Good job, Malaysian company! Malaysia Boleh! 🙂
I am actually a member of Tech Kaiju, an initiative of Ninetology for bloggers and its subscribers. Do subscribe their newsletter to get the latest information such as promotion, contests and prizes from Ninetology. 🙂 Click the banner below for more information. If you are a blogger, you can click the banner and join their bloggers review program.