Maxis Motorola Xoom launch date in Malaysia CONFIRMED!!! This Thursday, April 28, 2011!!!
Yeah. Just read in soyacincau.com about Motorola Xoom launch date.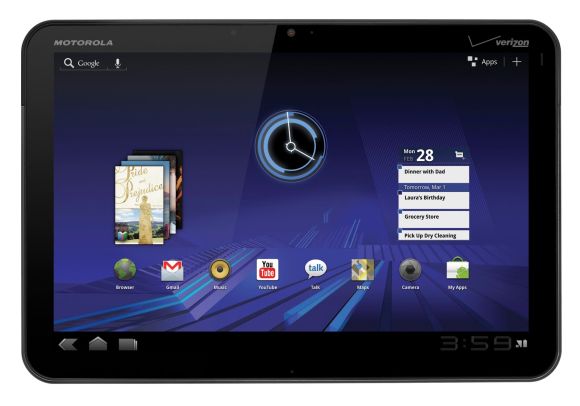 They have received media invitation to Maxis Motorola Xoom launch on Thursday, April 28, 2011. How will Maxis bundle their data plans with Motorola Xoom as currently only WiFi model of Motorola Xoom is available still remains an interesting question. Don't worry, in 2 more days, we will know about it. You have waited for so long already, right? Why don't wait extra 2 more days? 😛
Motorola Xoom. The first tablet running Google's Android 3.0 Honeycomb in Malaysia. With 10.1 inch screen, 32GB internal storage, 2MP front camera & 5MP rear camera (This is where iPad 2 loses badly), 1GHz dual-core processor & 1GB RAM, this is the closest competitor of iPad 2. Will Motorola Xoom win iPad 2 in Malaysia? Or indirectly Android VS iOS. Haha. We shall wait and see.
With the launch date of Motorola Xoom in Malaysia confirmed, now the only question left is what is the price of Motorola Xoom in Malaysia. In US, Motorola Xoom WiFi only sells at US$599. That's roughly RM1,791++ for direct conversion. Motorola Xoom WiFi + 3G sells at US$799 which is around RM2389++.
The price is actually quite competitive as iPad 2 32GB is rumored to be selling at RM1899. This might cause some people who are thinking of buying iPad 2 to make an U-turn because of this. So, how much will Maxis sell its Motorola Xoom? Is this the reason why some Apple resellers are allowing pre-booking of iPad 2? Hmph. 😛
Talking about soyacincau.com, I am so envy of them for being invited for so many technology & gadgets events and being able to review all the gadgets before all of us. T_T (Crying… just in case you don't know what this symbol means :-P) When will I have my chance to be invited to media events for all the gadgets?
What's your say? Xoom xoom or Pad Pad? Or Droid Droid or OS OS?
[SOURCE]