Maxis HTC Desire S Price Revealed!!!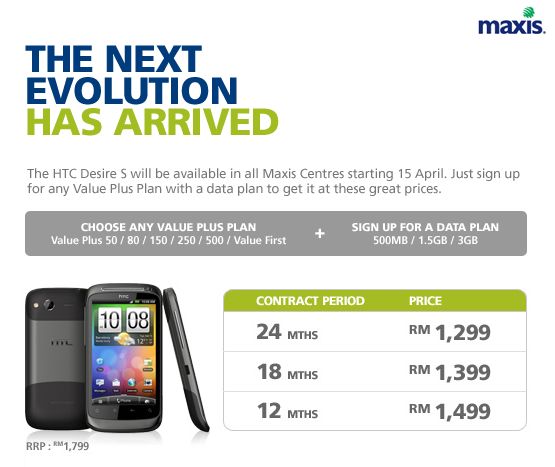 Recommended Retail Price(RRP) for HTC Desire S is RM1,799.
This information comes from Maxis when you signed up for the HTC Desire S Registration of Interest (ROI). You can get HTC Desire S for only RM1,299 if you sign up for their 24 months contract, RM1,399 for 18 months contact and RM1,499 for 12 months contact. Why get tied up for another 6 months when the difference is only RM100? That's weird.
To be elegible for the contract price, you need to subsribe to their Value Plus plan and Data plan.
Anyhow, Maxis will launch HTC Desire S tomorrow together with HTC Flyer. Still no news about the price of HTC Flyer. Never mind, another day to go before the official price for HTC Flyer is out!
What's your say?