Asus PadFone: A hybrid of Smartphone and Tablet, is slated to launch this Christmas 2011!!!
Finally something very innovative is going to happen in the smartphone and tablet market and it's not from Apple. 😛 This is going to change the game and create new rules!
Introducing Asus PadFone. A smartphone inside your tablet. How cool is that?
Earlier, Asus teased us with their 'Pad or Phone?' photo in their Facebook Fanpage after their launch of Asus Eed Pad Trasnformer.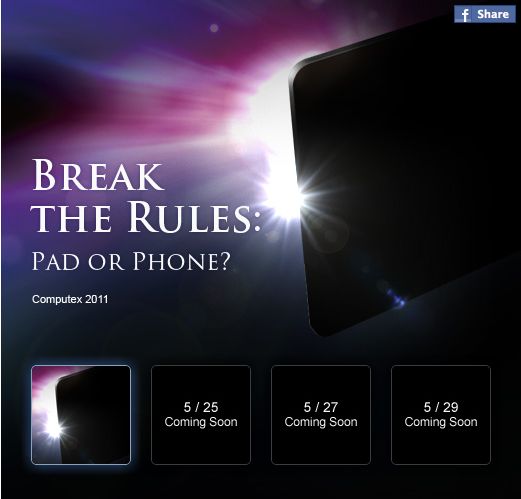 And now, it's confirmed that Asus is going to launch their PadFone somewhere around Chirstmas and most probably the PadFone will ship with Ice Cream Sandwich, Android's latest OS.
The tablet screen is 10-inch and the smartphone will have 4.3-inch display. And you can dock the smartphone into the tablet and you can use the smartphone's 3G network to go online. No need for multiple simcards! And the tablet can charge your smartphone when your smarphone is docked in the tablet and this serves as an extra battery, giving you maximum usage while on the go.
Anyhow, let's enjoy Asus PadFone official videos while we are waiting excitedly for the launching of Asus PadFone in Malaysia. Maybe somewhere around March 2012? And the most important question is, 'What is the price of Asus PadFone in Malaysia?'
http://www.youtube.com/watch?v=mRcx1rxTLG8
Asus PadFone commercial.
http://www.youtube.com/watch?v=z5aAOKJGBjo
Asus PadFone. Behind the Scenes.
What's your say?
[SOURCE]