3rd Honeycomb tablet coming to Malaysia!!! Asus Eee Pad Transformer!!!
I thought it was another iPad ciplak (copy cat). 😛
Eee Pad Transformer is a tablet from Asus. The 3rd Honeycomb tablet to be launched in Malaysia. We Malaysians are spoilt for choices already. These kind of launches certainly come at the right timing espcially when iPad 2 is always out of stock.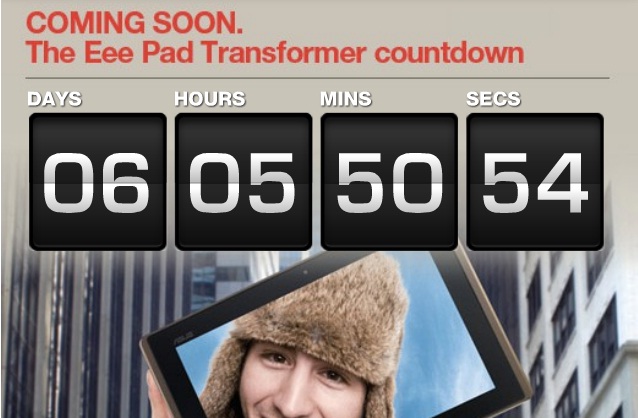 Asus Eee Pad Transformer will be launched in Malaysia at 8am, Wednesday, 18 May 2011. The location of the launched is not yet revealed. So, you gotta come back here to check it out, OK? 😛
Here are the specs of Asus Eee Pad Transformer:
Android 3.0 (Honeycomb)
NVIDIA Tegra 2 Dual-core processor
10.1-inch IPS (In-plane Switching) touchscreen display, 1280 x 800 resolution
1 GB RAM
16GB / 32GB Storage, Unlimited cloud storage with ASUS WebStorage
1.2MP Front-facing camera for video conferencing
5MP Rear-facing Auto-focus camera, HD video recording and playback
Optional Docking Station with integrated Full QWERTY keyboard
WiFi, 802.11 b/g/n
3G (optional)
Bluetooth 2.1 + EDR
Mini-HDMI
3.5mm audio jack
2x USB 2.0
Micro-SD Card
Stereo Speaker
G-sensor, Light sensor, Gyroscope, Electronic compass
GPS
10.6 x 6.9 x 0.51"
1.49 lbs (with battery)
24.4 Wh Li-Polymer battery
Almost similiar with Acer Iconia Tab A500 right? Now the most important aspect of Asus Eee Pad Transformer: price. It's rumored to be selling at RM1700++for 16GB Wifi only model with the keyboard dock. And 32GB WiFi only might be selling at around RM2000++. For 3G models, there's still no information about them.
Well, the pricing is the killer blow to iPad 2. With so many manufacturers sharpening their 'swords' (I mean their tablets), I really wonder 2011 is indeed the year of iPad 2. Well, to be fair, it's still a long way to go but one thing for sure is Steve Jobs has to think 2X harder to come with a better innovation to their iPad to be ahead in the market.
For those of you who still could not make your mind, let me make you more indecisive. There are more tablets that are coming to Malaysia and one of it is Samsung Galaxy Tab 10.1-inch. Can you wait?
Oh ya, with more tablets coming in, the price will become more competitive and maybe some tablets' prices might drop. 😛
Anyhow, let's enjoy their videos, Asus Eee Pad Transformer Story. Nice to watch though it might be a bit long, ya.
http://www.youtube.com/watch?v=LBmq2knUL_Y&feature=relmfu
http://www.youtube.com/watch?v=Zc9zbeAR4LI&feature=relmfu
http://www.youtube.com/watch?v=yLuwp13MUEY&feature=related
http://www.youtube.com/watch?v=YrGksoJlZlA&feature=relmfu
What's your say?
P/S: If you already have a tablet or quite tight with your money, maybe you can try your luck in Asus Facebook lucky draw where you can win one Asus Eee Pad Transformer 16GB WiFi only with keyboard dock. Click here.